December 3, 2022  February 27, 2023
Spiral Scene Event Overview
---
Are you looking for a break from questing, or points for your Scroll of Fortune? Wizard101 keeps us busy with a new event every week, with unique tasks and rewards. Click on the Gamma the Owl icon in the top right corner to get started. We've already talked about Beastmoon Hunt, Beastmoon Mayhem, Deckathalon, Pet Promenade and Spiral Showcase. This week, it's time to focus on the Spiral Scene!
What is the Spiral Scene?
---
The Spiral Scene event encourages you to explore the wonderful world of Wizard101 Castles! Many players spend a lot of time decorating their houses, with some extraordinary results. This week, it's time to fully appreciate the castle decorating scene whilst doing some other typical daily tasks. By completing any of the Spiral Scene tasks, you receive special event points. When you accumulate a certain number of points, you can unlock unique rewards. These special event points also count towards the Scroll of Fortune, which is a great incentive!
Points & Activities
---
The Spiral Scene will reward you for performing housing-related activities, including visiting and rating castles, as well as daily tasks. Each task will reward you with a different number of points. You can get a maximum of 100 points per day. The top reward will unlock at 500 points, so make sure you are logging in for at least 5 days if you intend to get it. Because the event runs Tuesday-Tuesday, you can earn up to 800 points total. To get started, head to Myrella Windspar in Castle Tours in the Commons.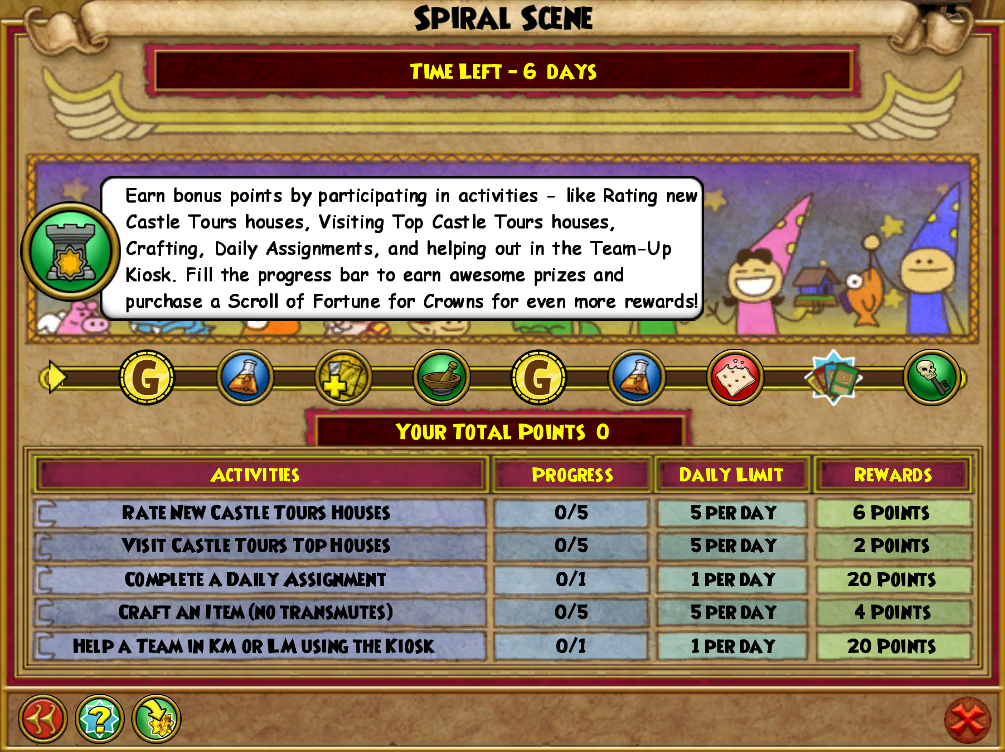 Rate 5 New Castles (30 points per day) – In Castle Tours, talk to Myrella Windspar and select Visit Castle and Rate a Castle. You must spend at least 30 seconds in each house and explore both the inside and outside areas. Then, use the star icon in the bottom right to rate the castle out of 4 stars. Repeat this until you have rated 5 per day!
Visit 5 Top Rated Castles (10 points per day) – Whilst you're at the Castle Tours, check out some of the top rated castles by selecting Visit Castle, then Top Rated, and picking 5 houses from any of the categories. If you want to save time, you can teleport back to Castle Tours using the event tab once you load into the house and receive your points. If you have some time to spare, most of the top rated castles are really fun to explore!
Complete the Daily Assignment (20 points per day) – This one is pretty simple, and many of you may be doing your Daily Assignments anyway. If you aren't, you might be missing out on some cool rewards! Talk to Aegon Statz in Ravenwood to get started.
Help a Team in the Kiosk (20 points per day) – This one is simple too, just head to the Kiosk outside of the Bazaar. Usually, this task only applies to helping teams in your character's most recent 2 worlds. If you are looking to save time, select shorter instances. You'll only earn the special event points after you finish the final fight.
Craft 5 Items (20 points per day) – This is my favourite special event task. There are two easy options if there isn't something specific you want to craft. If you are a Beastmoon player, simply craft 5 Beastmoon seeds in the Arena. If you aren't a Beastmoon player, I've found the easiest thing to craft is the Rock and Roll Candy pet snack. The recipe can be purchased from Yachi in Mooshu. It requires 2 Dark Sprite, 4 Simple Vial and 9 Black Coal to craft, which are all reagents that can be bought from vendors (The Commons Library or Base Camp, Celestia) or the Bazaar for gold. Easy peasy!
The Rewards
---
The more points you have, the more rewards you get! If you are earning the maximum 100 points per day, then you will unlock at least one reward every day. Let's see what you can expect at each milestone.

20 points – 1,000 Gold
40 points – 4 Blueprint Tokens
80 points – 3 Eye of Bartleby Cards
120 points – 3 Mega Reagents
180 points – 5,000 Gold
240 points – 6 Blueprint Tokens
320 points – 3 Snacks from Mega Snacks
400 points – Professor's Hoard Pack
500 points – Gold Key
Are they worth it? At first glance, these prizes might not seem like much. However, considering that you only need some reagents and a few minutes out of your day, I say that they are more than worth it! You might be doing some of these activities daily anyway, so it's nice to have some extra rewards just for playing. Of course, if your main goal is to gather points for the Scroll of Fortune, then this is one of the easiest and quickest events to participate in!
For all you badge hunters out there, rating Castles and helping in the Team Up Kiosk will also count towards badge totals, too. If you are a castle decorator, the Spiral Scene event is the perfect time to submit your creations to Castle Tours. With many more people regularly rating castles, you may find that yours makes it into the Top 100 for your category! However, due to a larger number of people submitting castles during this week, your castle might also fall out of the leaderboards quickly. Good luck!
What are your thoughts on the Spiral Scene?
Let us know in the comments!