Yuletide Mornings (2021) Pack
---
The Yuletide Mornings Pack made its original appearance in the Christmas period of 2020, and then was revamped during the Christmas period of 2021. Let's explore the highlights from this pack, including new pyjama and formal outfits, four new mounts, spellements, lots of festive housing items, and more! The pack now includes 6 different wands, 3 sets of jammies, 3 sets of tuxes, and 3 sets of dresses, up to level 150. Personally, I did a test opening for this pack with 12,000 Crowns and managed to get most of the items (and various repeats), including some spellements.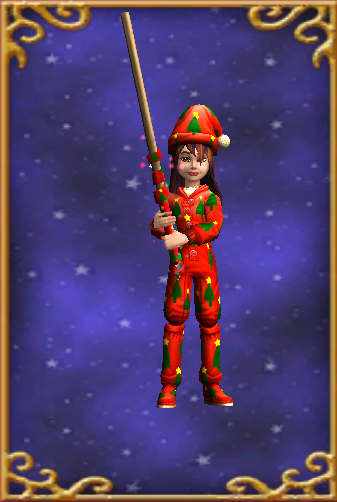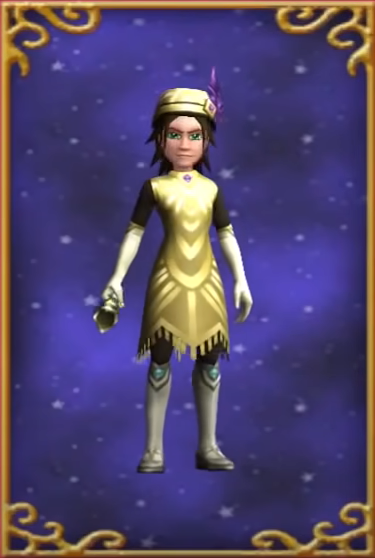 Jammies Gear
---
The Yuletide Mornings Pack has 3 sets of jammies gear to offer, so you will always be fashionable on Christmas morning. These pieces are adorable! In terms of stats, the robes are defence-focused, while the hats and boots are damage- and critical-focused. Interestingly, all pieces offer stun block rating. Overall, these gear pieces are not too far off from the best level 150 gear. Personally, I would want these just for the design!
Festive Set
Merry Set
Winter Set
Festive Set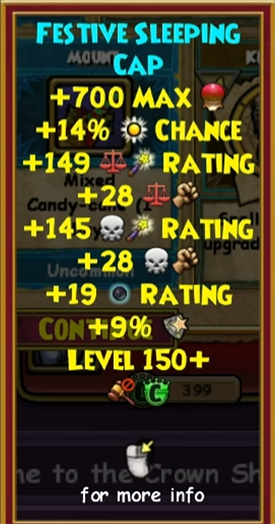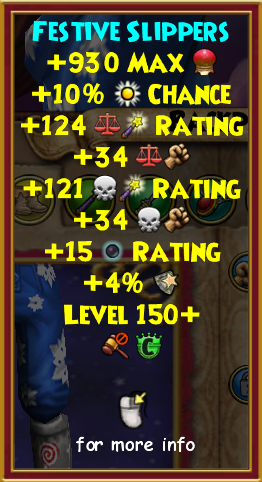 Merry Set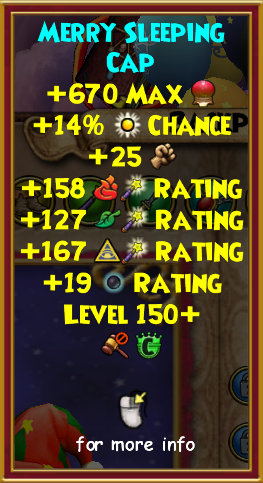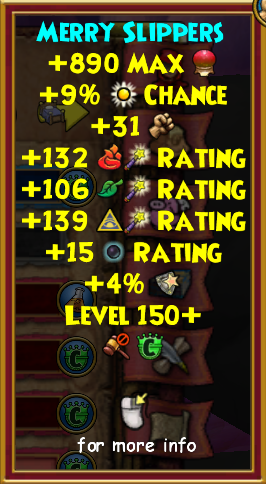 Winter Set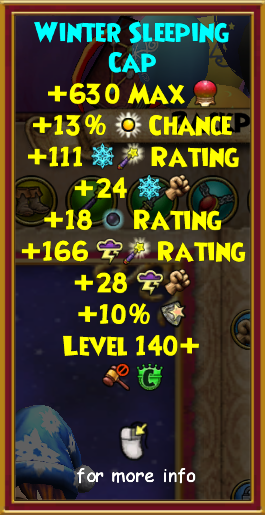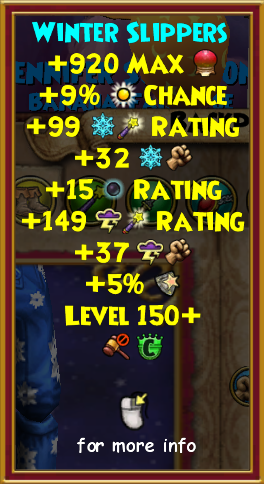 Formal Attire
---
In 2021, the New Year's outfits were added to the Yuletide Mornings Pack. There are three options (black, gold or white), and two designs (tux or dress). The tux set includes a Top Hat, Tux, and Wingtips. The dress set includes a Cloche, Dress, and Flats. Male or female wizards can wear either design, and no matter which design you get, the stats are the same.
Similar to the Jammies gear, the robes are defence- and critical block-focused, whereas the hats and boots are damage- and critical-focused. These pieces are all comparable to the best level 150 options, whilst offering dual or triple-school stats. If the stats don't interest you, the designs surely will. For any New Year's party, you can't get much more fashionable than a tux or dress!
Black Tux/Dress Set
Gold Tux/Dress Set
White Tux/Dress Set
Black Tux/Dress Set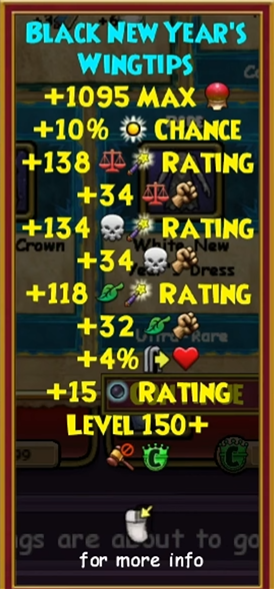 Gold Tux/Dress Set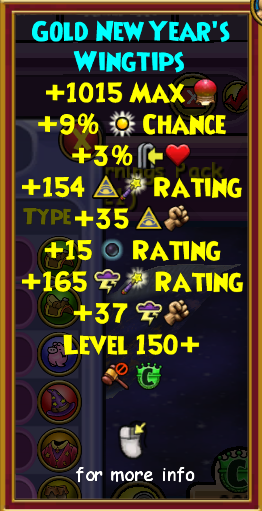 White Tux/Dress Set
Wrapping Paper and Noisemaker Weapons
---
The Wrapping Paper and Noisemaker wands give some great stats. They aren't the best possible wands available at level 150, but they are certainly comparable. The Noisemaker wands give high school-specific pierce, while the Wrapping Paper wands give universal pierce. All have high damage, decent pip conserve, and shadow pip rating, but are missing any critical rating. If you happen to get one of these wands, they are definitely worth using!
Wrapping Papers
Noisemakers
Festive Wrapping Paper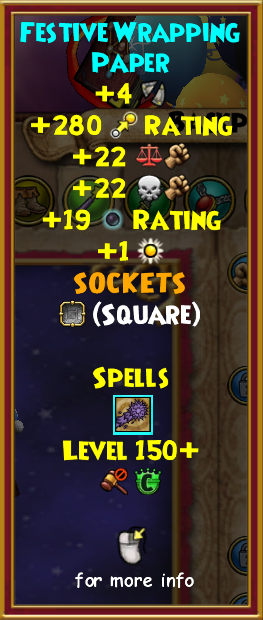 Merry Wrapping Paper

Winter Wrapping Paper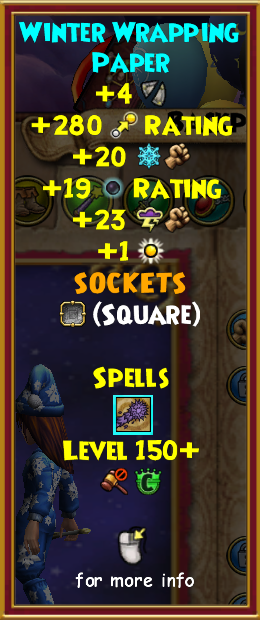 Black New Year's Noisemaker
Gold New Year's Noisemaker
White New Year's Noisemaker
Reindeer Knight & Krampus
Spellements
---
We have seen lots of changes to the spellements system in the past few years. Now, the only ways to learn the seasonal spells Reindeer Knight and Krampus are from the Gold Key Boss Krampus, or by obtaining their spellements. All the holiday packs will drop Reindeer Knight and Krampus spellements and TCs, including the Yuletide Mornings Pack. Personally, I got relatively frequent spellement drops from the pack opening, but not enough to unlock either spell. It really is luck of the draw with this one, as you may get 3 spellements at a time or up to 30.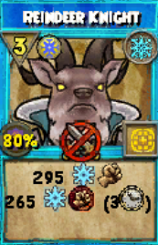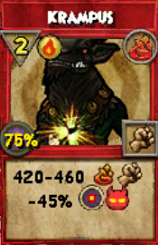 Mounts
---
As well as the usual candy-cane mounts found in most Yuletide packs, this pack contains four new mounts! There are three tricycles, which fit with the Christmas morning theme, and one other Auld Lang Syne mount to fit the formal party theme. I personally love all of these mounts, they are super fun to use and perfect for any time of year. All four mounts give a nice +40% speed boost.
Blitzing Tricycle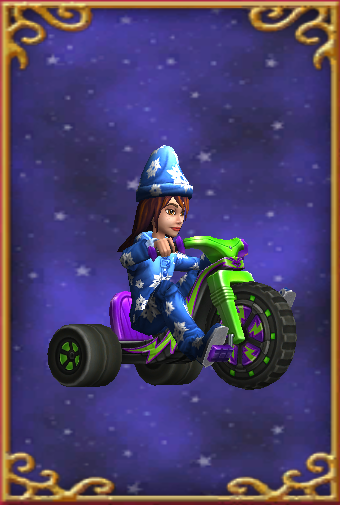 Racing Tricycle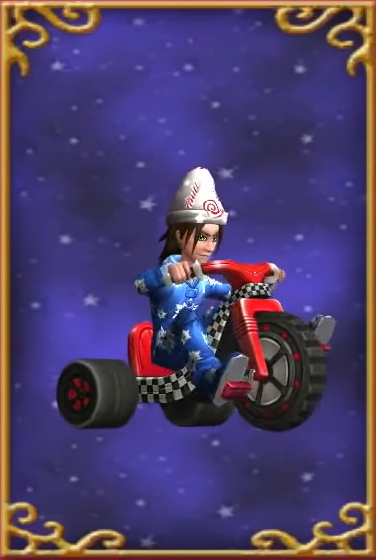 Scorching Tricycle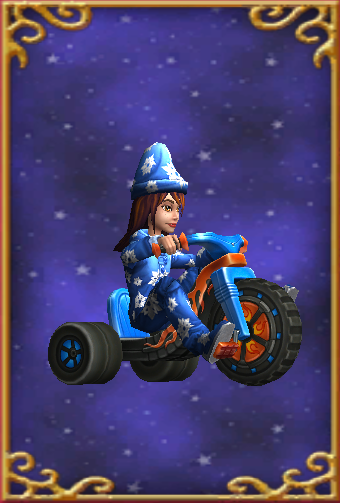 Auld Lang Sphere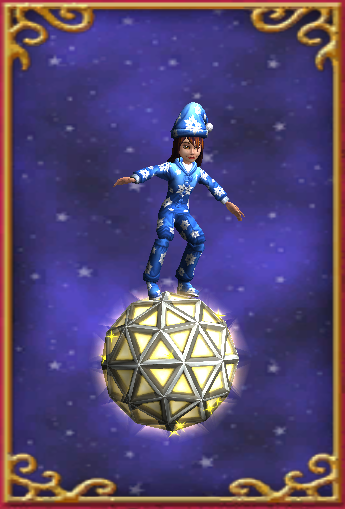 Pets
---
The Yuletide Mornings pack contains three new pets, fitting perfectly with the Christmas morning theme. The only question is, are they cats stuck inside boxes or are they boxes with legs…? Either way, I still think they're cute!
Festive Prrresent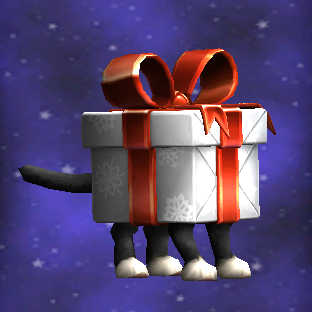 Merry Prrresent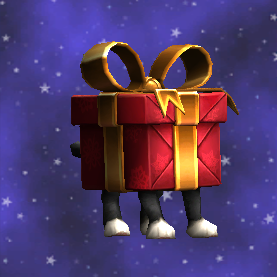 Winter Prrresent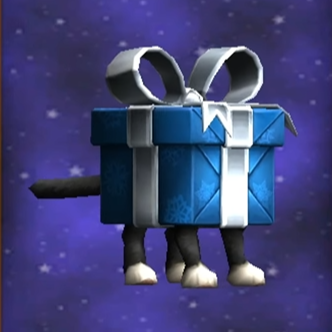 Holiday Gear and Furniture Items
---
Apart from the above pack-exclusive items, you will also find lots of cute little festive gear pieces and furniture items. If you open multiple packs, you will likely receive the Santa outfit and holiday themed wands. For all the decorators wanting to create a Christmas morning scene, there are also plenty of present items (in blue, green, red and purple), festive glasses, candles, snowy trees, sparkle globes and skating rinks to be found also. Looks like there will be plenty of presents round the tree this year!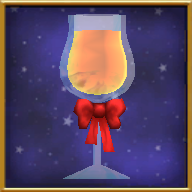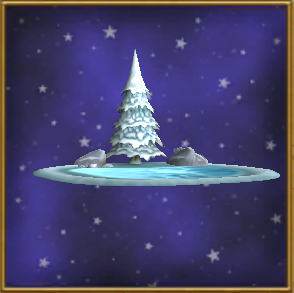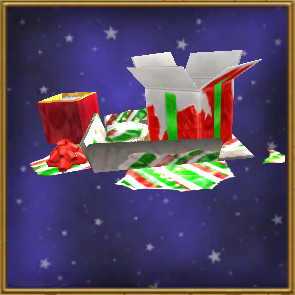 What do you think of the Yuletide Mornings (2021) Pack?
Let us know in the comments below!