October 22, 2019  November 26, 2022
Spiral Showcase Event Overview
---
This Summer's Wizard101 test realm introduced a brand new feature to the game: The Spiral Showcase. Much like the Beastmoon Hunt or the Deckathalon, the Spiral Showcase is a special, limited time event, released on Kingsisle's schedule. One can view this event by clicking on the Gamma the Owl icon in the top right corner next to your friends list.
What is the Spiral Showcase's purpose?
This event is intended to further reward everyone for doing daily tasks that you probably do subconsciously, such as crafting, pet training, fishing, helping others quest, and, perhaps the most obvious daily item, doing daily assignments. By completing any of these tasks while the event is active, you receive special event points. Once you accumulate enough of these points, you will be able to unlock specific rewards.
Points & Activities
---
As mentioned before, the Spiral Showcase features tasks that reward you with points simply for doing them. Let's face it, we all do some of these if we play Wizard101 on a daily basis. Training pets, catching fish, crafting, doing Team-Up and daily assignments are all essentials to maintaining a good Wizard101 account.
Fishing – For every fish you catch (up to 20), you'll get one point per fish rank. For example, a rank 3 fish will net you 3 points. I tend to go to Azteca and fish for death fish in Mangrove Marsh. Do you have any better tips as to where one can easily catch rank 3 fish with minimal energy?
Pet Training – Ideal if you are trying to train a lot of pets to adult in order to consume minimal energy. If you need to train a pet to Mega or Ultra it will simply be too easy for you. Points are awarded based on the pet's current maturity e.g. Epic get 5 pts up to a maximum of 20 everyday.

Daily Assignments –

Visit Aegon in Ravenwood and he will put you to work. It is usually a really simple quest: defeat a couple of basic mobs or even just visit a location! Completing it will win you 20 points!
Crafting – Craft 5 items and you will get 4 points from each, for a total of 20 points. No transmutes, no problem! A Dagger of Absolution is easier to craft than that 😉
Team-Up Kiosk – Help your fellow wizards to earn an easy 20 points! Be rewarded for kindness! Do note that this only applies in the two highest available worlds your wizard has unlocked.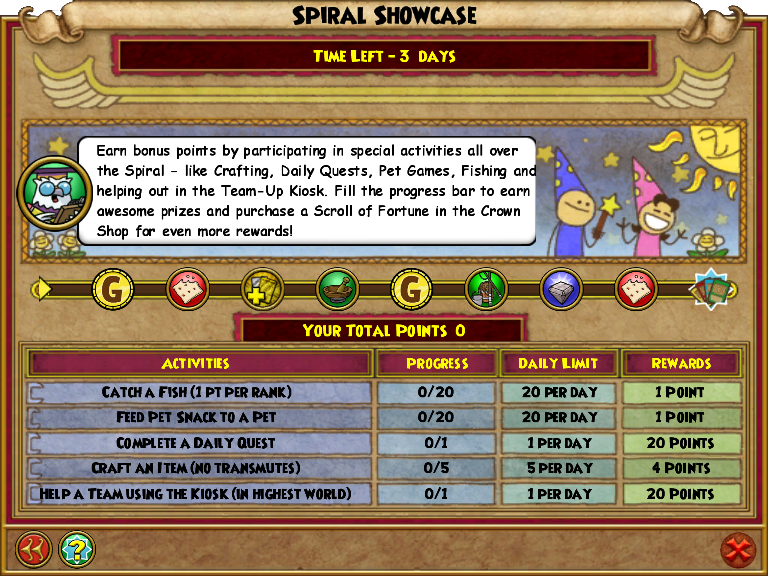 The Rewards
---
These are the current rewards available from the Spiral Showcase: gold, snacks, treasure cards from the Eye of Bartelby Pack, a Minor Fishing Luck Elixir, a mega snack pack, a Professor's Hoard Pack, and a Gold Skeleton Key. Are they worth it? Originally, my first impression of these rewards was that they were underwhelming. I was honestly expecting mounts, pets, gear- more valuable items. However, upon further evaluation, I concluded that these rewards are EXTRA simply for playing. I've already spent months doing these activities, so now I get extra rewards for them too! Additionally, it all helps gather points for the Scroll of Fortune special event which has some far more interesting rewards available within.
What are your thoughts on the Spiral Showcase?
Leave us a comment below!