November 22, 2019  February 23, 2023
The Beginner's Guide to Spellwrighting

---
Wizard101's Spellwrighting system is one the biggest updates that no one is talking about. This post will discuss the basics:
How you access it
What it currently offers
Its potential uses down the line
See our Spellements Guide to see all acquisition sources.
What is Spellwrighting?
---
At its core, Spellwrighting allows wizards to earn new spells AND to upgrade their existing spells. Using new reagents called Spellements, one can learn a new spell entirely or upgrade already learned spells along a predetermined upgrade tree. Each upgrade tier costs more and more spellement as one proceeds. Some Spellwrighting tiers offer differing, independent branches for players to choose from. Thus, it offers wizards a choice as to which way they would like to upgrade their spells. For instance, players may have to decide between a path that upgrades raw damage output or a path that alters or enhances a spell's utility.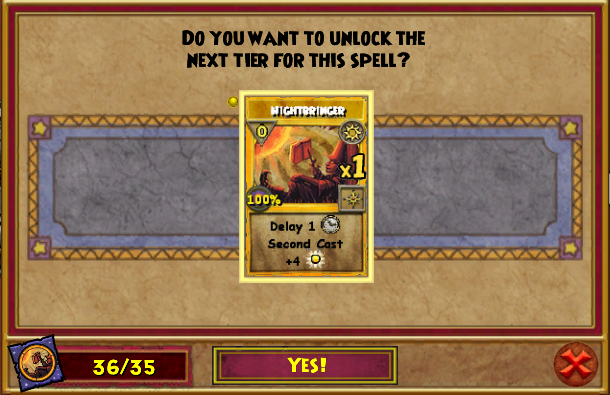 Accessing Spellwrighting
---
The Spellwrighting system is unlocked as soon as you acquire any type of spellement. Currently, the best way to get spellement drops is from elites or bosses in the Wizard City Underground side area, worlds beyond Karamelle, or Skeleton Key bosses.  Once you successfully acquire a spellement, a tutorial tip from Gamma will appear on the UI and a new spellwrighting tab will open in your spellbook. Navigating to this tab will show you how many spellements for each spell you have acquired, show all available upgrade trees, and give you an option to learn or upgrade your spells if you meet the spellement requirements. You can also reset any spells you have upgraded for a crowns fee.
What it Currently Offers
---
Two spells, Daybreaker and Nightbringer, are currently available in the spellwrighting system. One can acquire Spellements for these spells as drops from elites and bosses in the new Underground side area. In this way players can stockpile spellements while also farming for the new catacombs gear.
Potential Uses
---
This new system has the largest potential of any update added this fall. Utilizing this update, it is much easier for Wizards to earn spells on the correct wizard. Spellements are tradeable through the shared bank so something like farming Reindeeer Knight spellements on your Storm and using them to train Reindeer Knight on your low level Ice is entirely possible. In addition, virtually any spell can be upgraded in almost any way imaginable. We've already held a spellwrighting contest with excellent entries and winners. We have also had hints from the Developers that they will be considering player ideas. Judging from in game observations- it is likely that the Rank 1 mainline spells will be upgraded next. So if you have any ideas, post them on social media or the main boards!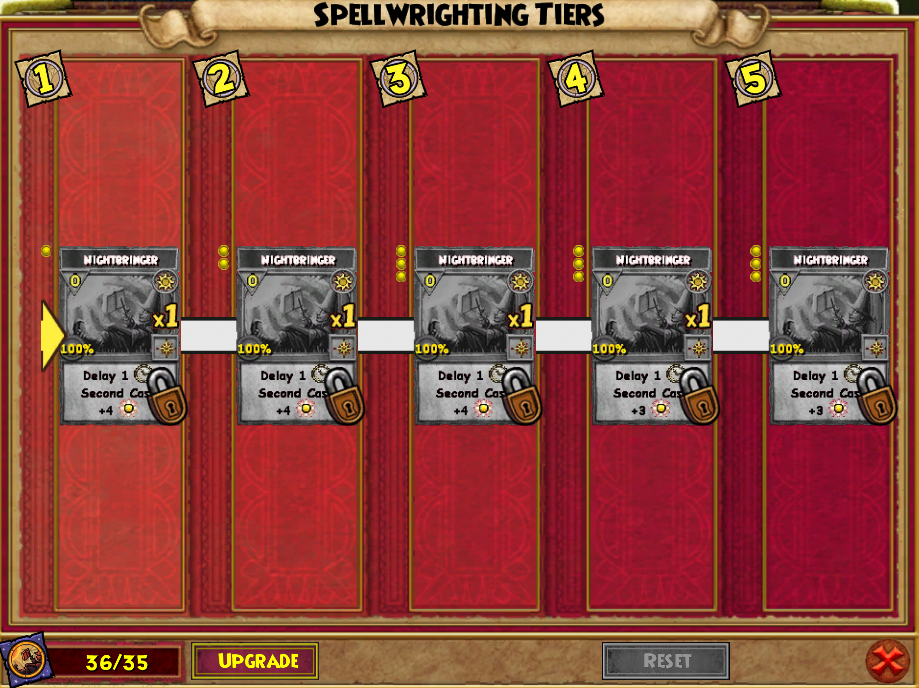 What do you think of Spellwrighting?
Let us know in the comments below