December 8, 2019  February 3, 2020
Wizard City Underground Farming Guide
---
Wizard 101's newest farming nexus is here. The Underground offers some of the best in new gear, as well as exclusive access to two new spells: Daybreaker and Nightbringer. This underground farming guide will show you where to farm for the reagents, gear pieces, and spellement you need. Happy Hunting!
Alchemical Reagents
Alchemical Extract
---
The easiest to acquire reagent is also the one you need the most of, possessing a small chance of dropping from mobs, a high chance of dropping from elites, and a guaranteed chance of dropping from bosses. Some great places to
farm for extract include:
Viggor's Drake
King Detritus
Lorekeeper
Alchemical Salts
---
The second reagent we need in high volume, alchemical salts are slightly harder to obtain. They have a moderate
chance of dropping from elites and a high chance of dropping from bosses. Thus, some great places to farm for salt are:
King Detritus
Viggor's Drake (Community Selection)
Alchemical Crystals
---
The rarest reagent and the hardest to obtain, Alchemical Crystals often require concentrated effort to acquire. They are an
extremely rare drop from elites, a low drop chance from weaker bosses (such as King Detritus), and a moderate chance of dropping from the "Big Three" bosses- The Devourer, Renegade Druid and Satharilith. As such, the best place to farm these reagents are:
Catacombs Gear
While it is no longer necessary to directly farm this gear due to the recipes now available (for both vanguard and dragoon gear), farming these gear pieces directly on the way to crafting can potentially save you a lot of time, reagents, and sanity. Thus, here are the drop locations for each piece of the Catacombs gear. Remember, the dropped gear is the Tier 2 version-you will still need to craft the Tier 1 gear.
Vanguard's Hat
---
Dropped from King Detritus– A fairly easy boss and thus a popular farming location. King Detritus is in the "Abandoned Backyard" instance.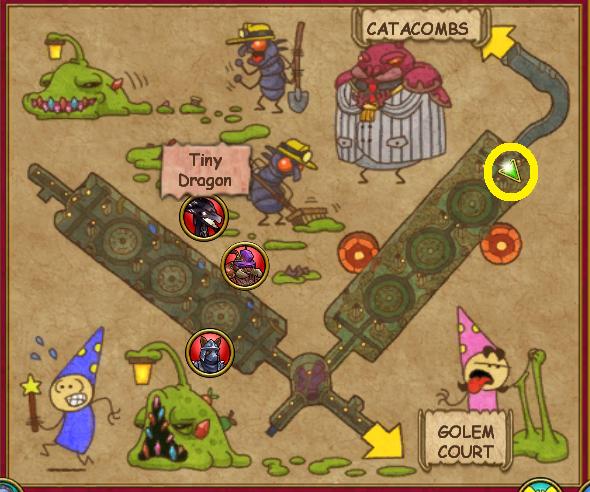 Vanguard's Robe
---
The Vanguard's robes drop from the Greggors, a moderately challenging boss fight. This enemy is located in the "Foetid Crypt" instance.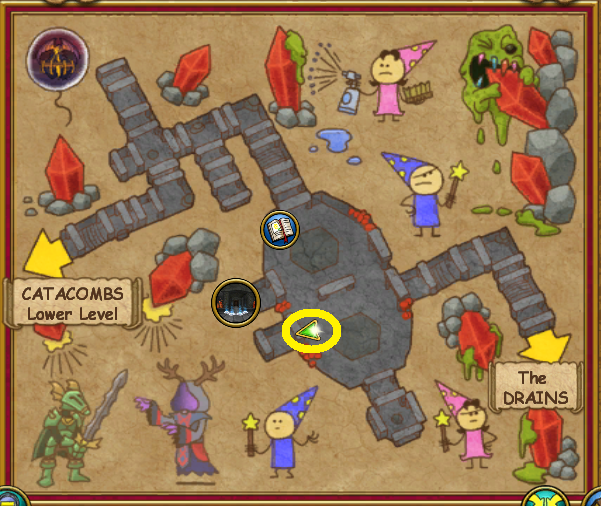 Vanguard's Boots
---
Prince Viggor is the man (or corrupted soul recording-your pick) that you need to see for the boots. He is a moderately difficult boss, about on par with the Greggors. However, he isn't too difficult with a full team and some planning. Prince Viggor is located in the "Viggor's Tomb" instance.
Vanguard's Athame
---
This is one of the hardest items to farm and is therefore a top candidate for crafting instead of farming. Why, you may ask? Well the Renegade Druid, the boss who drops it, happens to be one of the toughest fights in the game. Like a challenge? Then he is the one you need to farm for a chance to get the Vanguard's athame.
Vanguard's Amulet
---
Another one of the big three, Satharilith is the boss you want to see if you want a shot at getting the dropped Tier 2 amulet. Thankfully, despite having the hardest name to pronounce, he happens to be the easiest of the Big Three bosses.
Vanguard's Ring and Vanguard's Wand
---
We finally wrap up the Catacombs gear drops at the final boss of the Big Three. Living at the edge of the spiral, it seems the Devourer has ingested both the ring and wand that you need. It's up to you to make him cough it out. Be warned though, the Devourer is a challenging fight, on par with the Renegade Druid.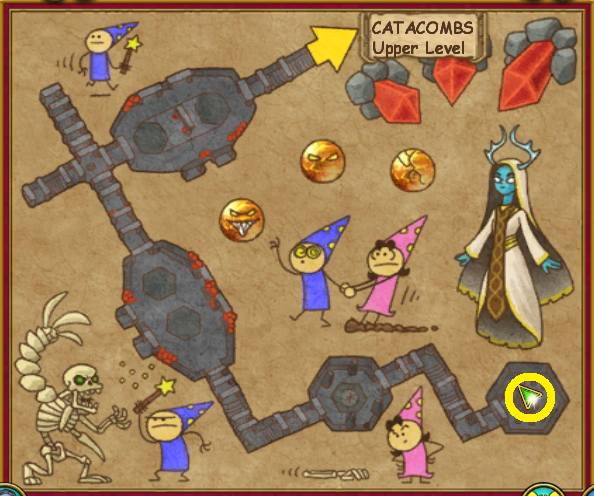 Spellements
Spellements for the spells Daybreaker and Nightbringer are acquired exclusively from the creatures present in the Wizard City Underground. Spellements seem to drop the most from bosses and certain elites. When farming spellements, it is best to look for a creature that is easy to farm so that you can get in as many repetitions as quickly as possible. Keeping this in mind, the best place to farm these reagents is:
My Recommendations
Now that we know where to farm for the materials we require, here are my top underground farming locations. Remember, to acquire a specific piece of gear you will need to farm the locations listed above. My recommendation list will simply provide locations I find most efficient generally. Happy Hunting!
General Greyflame(OUTDATED)
---
As of 1/21/2020-General Greyflame no longer drops spellements, alchemical reagents or the Vanguard's robe.
King Detritus
---
Why I farm him:
An easy Boss with mostly inconsequential cheats
Many players at team up at any given time means you often farm him with a full team
Drops Alchemical Reagents
Drops Spellements
Drops Vanguard's Hat
King Detritus is arguably the easiest mainline boss in the Wizard City Underground. As such, he is a popular farming location, making it is easy to find a team-up in record time. King Detritus comes with 2 pre-requisite fights. With a random team, he typically takes only about 5 rounds while with a structured team he can be taken out on round 2.
Satharilith
---
Why I farm it:
Has cheats that are more easily dealt with than Renegade Druid or Devourer
Frequently drops the rarer Alchemical Crystals reagent
Drops Alchemical Reagents
Drops Spellements
Drops Vanguard's Amulet
Satharilith is the easiest of the Big Three underground bosses for farming. Therefore, it's my go-to when I need to farm Alchemical crystals. He also drops spellements and has a chance to drop the Vanguard amulet. We have a guide to a Satharilith speed run right here, so check it out if you want to speed up your runs.
Will you be farming the Underground? Have your own go to spots? Let us know in the comments below