July 29, 2022  September 3, 2023
Baron Von Bracken – Skeleton Key Boss
---
The Summer 2022 Update is here and has brought massive changes to the Skeleton Key system. Six existing key bosses have been revamped with new level tiers, and 4 brand new key bosses have been introduced. All these bosses drop spellements for Lore spells. Let's take a look at Baron Von Bracken, the Wysteria key boss!
The Future of Skeleton Key Bosses
---
In future, Skeleton Key bosses will all be accessed by Gold Keys. Wooden and Stone Keys will eventually be phased out. Gold Keys can be dropped from bosses, crafted with Beastmoon or Deckathalon reagents, or received as Event rewards.
Skeleton Key bosses now have different difficulty tiers. If you access the boss from their normal location, the tier will scale to the lowest level wizard in the fight. However, you will only get spellements dropped if the boss is within the tier appropriate to your wizard's level. This means that if you are a max level wizard helping out a level 40 wizard, you won't receive any good drops.
If you access the boss from a Battle Gate in the Guild House, the tier will scale to the highest level wizard in the fight. Battle Gate keys are crafted from Gold Keys and Guild reagents, and allow extended access to the Skeleton Key boss.
Location
---
Baron can be found in Tanglewood Way, Wysteria. His Grove is located halfway up the street, on the right-hand side. Your team will need one Gold Key to enter.
The Fight
---
Not only does Baron have three powerful Life minions, he also has a lot of health. Like, a LOT. In fact, he has the highest health of any enemy we have seen so far!
Tier 4 – Levels 110+ – Baron is Rank 20 and has 2,000,000 health. The minions are Rank 19 and have 4,860 health.
Tier 3 – Levels 51-109 – Baron is Rank 14 and has 1,000,000 health. The minions are Rank 13 and have 3,940 health.
Tier 2 – Levels 36-50 – Baron is Rank 9 and has 200,000 health. The minions are Rank 8 and have 1,760 health.
Tier 1 – Levels 1-35 – Baron is Rank 7 and has 50,000 health. The minions are Rank 6 and have 1,055 health.
He is Death school, so resists Death spells, and is weak to Life spells. Check out the boss' other stats and possible spells below.
Note: all resist is death-specific. At all tiers, Baron casts a 70%/30% version of Mass Feint.
Baron Von Bracken (Tier 4)

Rank 20 Boss

Classification: Treant

Masteries

Hover or Tap stats for more details

Spells
Baron Von Bracken (Tier 3)

Rank 14 Boss

Classification: Treant

Masteries

Hover or Tap stats for more details

Spells
Baron Von Bracken (Tier 2)

Rank 9 Boss

Classification: Treant

Masteries

Hover or Tap stats for more details

Spells
Baron Von Bracken (Tier 1)

Rank 7 Boss

Classification: Treant

Masteries

Hover or Tap stats for more details

Spells
Cheats
---
It wouldn't be fun if the boss didn't cheat, right? As well as his high health, Baron has a few rules that you will need to stick to. These cheats are active in all four versions of the fight.
Casting Feint on the boss – he will either cast feint on you, or attack you with his Natural Attack. If you are going to feint, make sure you either have high health or it is one of the later rounds of battle. Mass feint does not trigger this cheat.
Not doing enough damage to the boss – he will heal himself back to full health and remove any damage-over-time ticks. Make sure you always hit for over half the boss's health. To avoid this cheat, aim to do at least this much damage:
Tier 4 – 1,000,000 damage per hit
Tier 3 – 500,000 damage per hit
Tier 2 – 100,000 damage per hit
Tier 1 – 25,000 damage per hit
In test realm, this cheat is not activated by Drain spells, such as Vampire, Scarecrow or Call of Khrulhu.
Strategy
---
The life minions cast endless bladestorms and pigsies, so I recommend getting rid of them first. Three blades and an AOE will take care of them nicely in the first round.
Similar to earning the One In A Million badge, to kill the boss, you will need lots of buffs. Here is a list of all potential buffs you can use to help you get enough damage.
Traps:
School trap
Elemental/Spirit trap
Hex (balance wizard)
Curse (death wizard)
Feint (see cheats above)
Mass feint – from Professor's Hoard Pack's Dworgyn's Havoc Hood
Mass school trap and/or mass hex (from Dragoon hats)
Fuel (fire only)
Backdraft (fire only)
Windstorm (storm only)
Before placing any traps, first try casting hit-and-trap spells such as Brimstone Revenant or Keeper of the Flame.
Blades:
School blade
School spear (cannot be sharpened)
Elemental/Spirit blade
Elemental/Spirit spear
Balance blade (balance wizard)
Bladestorm (balance wizard)
Dark pact (death wizard)
Dragonblade (item card)
Dragonlance (item card)
You can also try hit-and-blade spells (before any traps or blades are on), such as Rusalka's Wraith or Savage Paw.
As well as blades and traps, make sure you use the appropriate Global spell for your school as well as an aura (school specific or frenzy). You can also use Shadow Shrike for extra 50% pierce and 10% damage.
When you hit the boss for over half of his health, he will shout…
…and won't heal himself.
Top Tips
---
Use treasure cards. Every buff listed above has a treasure card version as well! The hitter should use school specific buffs such as blades or traps, while supports should use balance/death school spells and treasure cards.
Use Sharpened Blade and Potent Trap. If you are over level 86, you have access to the trained version. At level 130, use the Dragoon boots for another version of both spells.
Recruit a Balance wizard to your team. Balance wizards have access to many more blades and traps, and they are effective for every school. Everyone should have a balance friend!
Make use of buffs from pets and gear. Pets and gear can provide you with more than just stats. Every blade and most traps listed above can also be found on gear/pets, giving an additional version to use.
Be prepared to not kill, even with every buff you can think of. You may need to shuffle your deck, flee and re-join the battle, or pack lots of extra blades and traps.
Watch your health, too. Baron has a lot of outgoing damage and consistently hits for over 2,000 or 3,000 health. Supporting wizards can also pack shields, enfeebles and heals, just in case.
Rewards
---
Baron Von Bracken is the only free source of spellements from the Wysteria Spellement Pack. Usually 14-16 spellements are dropped per fight. These include Angry Snowpig (Ice), Ninja Piglets (Balance), and Pigsie (Life). Pigsie is a highly desired healing spell for any school, and now we have the choice of crafting it, buying packs, or getting spellement drops.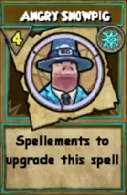 The boss also drops other items from the Wysteria Spellemental Pack, including Wysteria-themed housing items, various pets, and the Wysteria Warrior's gear for your level. See our Wysteria Spellemental Pack guide for more details. Another interesting drop is the Azoth treasure card, which is used to upgrade your Guild House.
After defeating Baron Von Bracken for the first time, you will receive the badge Bracken Clearer.
Final Thoughts
---
In summary, the new key bosses are a fun way to get precious spellements. We can now target which spellements we want to get (to some degree), and it certainly offers more variety than farming Loremaster over and over (only to get a spell you didn't want!). This fight may take some time, but is not too hard. And you don't have to wait until you are a high level to access it. Now… time to get farming!
What do you think of Baron Von Bracken?
Let us know in the comments!