August 29, 2022  December 18, 2022
Peppergrass Glen Bundle
---
Another Wizard101 Bundle is here, and this time we are returning to Khrysalis with the Peppergrass Glen Bundle! If you've been missing our old friend Dyvim, this is the bundle for you! Similar to its predecessors, the Peppergrass Glen Bundle Gift Card costs $39 from Gamestop. For that price, we get some insect-themed gear, a beautiful Castle, and for the first time, a housing guest! This bundle also features cosmetic-only versions of the gear set and weapons. The entire contents of the bundle are:
Whitehart Gear
Whitehart Blades
Hummingbird Pet
Poodle Moth Mount
Dyvim WhiteHart
Peppergrass Glen House
1 Additional Castle Elixir
5,000 Crowns or one month membership
Whitehart Gear
---
The clue is in the name – the Whitehart gear is styled after our favorite mouse, Dyvim WhiteHart. The gear is very heavily insect-themed, so it's not to everyone's taste. It is certainly not the look I usually go for, but I still think it looks very cool! As usual, the gear is tiered for every 10 levels, up to the current max level 150.
The stats themselves are decent, but underwhelming. At level 150+, the gear stats are not as good as their Merciless counterparts. Even the level 90+ gear is not as good as level 60 school-specific Waterworks gear. One advantage is that the damage is universal, so may be useful in fights like Lady Stonegaze, where universal stats are crucial. Ultimately, this gear is mostly cosmetic or collectable.
-
0
10
20
30
40
50
60
70
80
90
100
110
120
130
140
150
Whitehart Gear Design
Whitehart Helm, Armor, and Boots (Any Level)
Whitehart Helm, Armor, and Boots (10+)
Whitehart Helm, Armor, and Boots (20+)
Whitehart Helm, Armor, and Boots (30+)
Whitehart Helm, Armor, and Boots (40+)
Whitehart Helm, Armor, and Boots (50+)
Whitehart Helm, Armor, and Boots (60+)
Whitehart Helm, Armor, and Boots (70+)
Whitehart Helm, Armor, and Boots (80+)
Whitehart Helm, Armor, and Boots (90+)
Whitehart Helm, Armor, and Boots (100+)
Whitehart Helm, Armor, and Boots (110+)
Whitehart Helm, Armor, and Boots (120+)
Whitehart Helm, Armor, and Boots (130+)
Whitehart Helm, Armor, and Boots (140+)
Whitehart Helm, Armor, and Boots (150+)
From level 30 and above, the gear pieces come with the same utility cards. These are all Moon Shift cards, so are quite unlikely to be useful. However, I had a play with the spells and they are certainly fun to use! Especially with Shift Dread Paladin, it feels like Dyvim is aiding us in combat once more.
Shift White Fur (Whitehart Helm)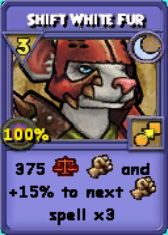 Shift Dread Paladin (Whitehart Armor)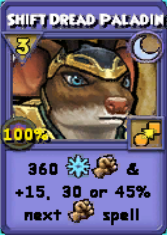 Shift Sugar Glider (Whitehart Boots)
Whitehart Blades
---
The design of this weapon is awesome. We have seen similar swords before, but I love the cleanness of this one. The design is vaguely similar to that of the Merciless wands. The stats are decent, but don't quite match up to the current best gear options. From level 10+, the Blade offers an extra starting pip, which is invaluable at that level. The spell cards are similar to that from other bundle wands, with wand hits and a small heal card. From level 30-100+, the Sacrifice spell is also given, and from level 110-150+, this is replaced by Kiss of Death, essentially an AOE version of Sacrifice.
-
0
10
20
30
40
50
60
70
80
90
100
110
120
130
140
150
Whitehart's Blade Design
Whitehart's Blade (Any Level)
Whitehart's Blade (10+)
Whitehart's Blade (20+)
Whitehart's Blade (30+)
Whitehart's Blade (40+)
Whitehart's Blade (50+)
Whitehart's Blade (60+)
Whitehart's Blade (70+)
Whitehart's Blade (80+)
Whitehart's Blade (90+)
Whitehart's Blade (100+)
Whitehart's Blade (110+)
Whitehart's Blade (120+)
Whitehart's Blade (130+)
Whitehart
's
Blade (140+)
Whitehart's Blade (150+)
But that's not all! The Peppergrass Glen Bundle includes 7 stat-less cosmetic wands, similar to those found in the Jewel Crafter's Bundle. These wands look just like the Whitehart's Blade, but with the colors tailored to each school. I think this is a great update to bundle gear, and hope to see more school-themed bundle wands in the future.
Whitehart's Balanced Blade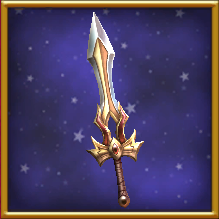 Whitehart's Deathly Blade
Whitehart's Fiery Blade
Whitehart's Icy Blade
Whitehart's Lively Blade
Whitehart's Mythic Blade
Whitehart's Stormy Blade
Hummingbird Pet
---
The Hummingbird pet is so adorable! This tiny bird will hover next to you, emit little pink sparkles, and occasionally do backflips. I love how colorful this pet is. It is definitely a must-have for any collectors of cute pets! The talents aren't anything special, but it does give a Leafstorm card, which would be useful for low-level Life wizards, or those without a 4-pip AOE.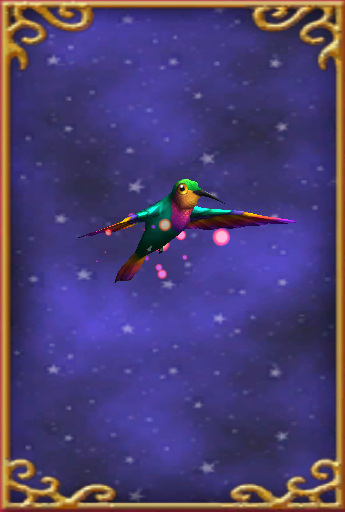 Hummingbird Talents
Talents
Pip O'Plenty
???
Defender
Life-Shot
Critical Striker
Life Shield
???
Ally Stun Block
???
Calm
Derby
Bombardier
Exhaust
Distract
Mega-Leech
Baffle
Scoot
???
???
Unbreakable
Big Hurry
Poodle Moth Mount
---
Based on the fluffiest insect there is, the Poodle Moth mount certainly puts on adorable spin on the insect theme. Even if you don't love real-life moths, you can't deny how cute this one is. The wings are constantly flapping, similar to the Hummingbird pet's wings. My favorite feature is the jumping animation of this mount: a full 360-degrees barrel roll!
Dyvim WhiteHart House Guest
---
I've been missing our friend Dyvim since we left him in Khrysalis. Although we can't ever collect animus from him to make our own house guest, this is the second best option. Place the Dyvim WhiteHart house guest in your Castle, and he will wander around the area, guarding your possessions. Unfortunately, he is not interactable, and he doesn't follow you or jump with you like pets do. But he does look very charming!
Peppergrass Glen
---
The Peppergrass Glen is one of the most beautiful Castles in Wizard101. When I first stepped into this house, I was honestly blown away! Similar to the Pepper Grass Glen, in Last Wood, Khrysalis, the area feels serene, private and peaceful. There is plenty of open outdoor space to play with, as well as lots of little indoor spaces as well. Alongside the Castle, you also receive an Additional Castle Elixir, in case you've hit your Castles limit. Let's take a tour!
Upon entering the house, the space immediately opens up into the beautiful green glade. You can go left or right towards the indoor spaces, or further down into the canyon towards the central hub and lake. Near to the Spiral Door, you will also find a Battle Circle for PvP, watched over by a giant Dyvim statue. The entire outside space is beautifully designed, and definitely left me wanting some of these pink and red trees as future housing items.

As is the trend in recent bundle Castles, instead of one house, you get five smaller indoor spaces to decorate. The inside houses are all the same except for a few little design differences. The space itself is relatively small, but they are all connected via an absolutely stunning indoor grotto area.

Daily Reward and Fishing
---
Now, here is my favorite part of the house. We all know that KingsIsle love to hide secret passageways behind seemingly-innocent walls, and the Peppergrass Glen is no exception. Behind the giant waterfall, you will find a secret door that takes you to the top. This is where we find what I think is the most unique Daily Reward ever – the Cliff Dive! So, hold your breath and make the jump! You can jump as many times as you like, but will only receive the Daily Reward once per day. This is usually a small amount of gold, treasure cards, reagents, or seeds.
At the bottom of the jump, in the lake below, you can find lots of fish to add to your collection. The most important is the house-exclusive fish, the Dyvim WhiteHart Doodlefish. He is Ice, Rank 2, and offers 1,400 fishing XP on the first catch.
Final Thoughts
---
Overall, while I'm not the biggest fan of the gear, I love everything else in this bundle. I like the new direction of including stitch-only wands for every school, so they can be used on any wizard. My favorite feature is definitely the new house. I can see myself spending a lot of time and gold to decorate here! Finally, let's take a look at the stunning concept art for this bundle.
What are your thoughts on the Peppergrass Glen Bundle?
Let us know in the comments below!