August 13, 2017  May 20, 2023
Tour of the House Arenas
Battle Circles
---
Welcome to the Tour of the House Arenas! We have quite a few houses in the Spiral these days that come with an arena. It's the perfect location to test new spells and mechanics. These arenas (or duelling circles) are also perfect for battling your friends in the privacy of your own home, or to organize PvP parties in.
There are currently 25 house arenas, if I got them all. Do let me know if I'm being a misthead again and forgot some! I have attempted to list the houses in the order from oldest to newest, so you get a peak into how Wizard101 has developed. It was hard to find information about their release dates though!
Massive Fantasy Palace (2010)

This stunning classic was the first house ever with a PvP arena. The arena is in a convenient location in the courtyard, right before the entrance to the house. It's a great location for large gatherings. If you want to, you can climb the walls and acquire a view down on the arena as well. I have good memories of this house, where I've attended a menu chat PvP tourney. I don't know if they planned it, but it was purely non-speaking people PvPing and spectating, quite interesting!
The Sun Palace (2011)
The Sun Palace's arena is uniquely located in an enclosed area behind the house. The torches and wall hangings give it a wild feel, as does the lush, leafy oasis around the house. You are able to both get close to the battle circle, or go up a ramp and watch from a higher viewing angle. This stunning classic is waiting just for you!
Sultan's Palace (2011)

The magnificent Sultan's Palace is a keeper with its pastel colors and stylish layout. Welcome to paradise! The arena is separated by a moat with beautiful turquoise water, giving it a more private feel. In this arena I faced my first polymorph, with its massive health and funny spells.
Celestial Observatory (2011)

Prepare to be stunned by the one and only crafted house with an arena! The battle circle is located in the very center of the area, impossible to miss! The typical celestial environment goes together beautifully with the sensational view of planets and stars. Let's enjoy this space journey together!
Winter Wind Tower (July 2012)

Located on a separate island only accessible through a teleporter, this arena is hidden away, while still offering a stunning view on the actual house. The handsome sturdy walls create an Avalonian air of romance and refinement. Be careful to dress appropriately as there is snow on the peaks of the mountains in this house. Bundle up!
Pyramid of the Lost Horizon (November 2012)

This beautiful arena, accentuated by a bright yellow star pattern around it, is the first thing you see when entering this enormous house. This is the perfect arena for PvP parties, with the complete lack of walls around the arena making it feel spacious and bright. It's a location I actually spent quite some time at during a Duelist101 PvP event.
The Acropolis (June 2013)

The Acropolis arena is located on stately rock which you access through a conveniently placed teleporter. It's a spacious area with spectator benches on two sides and a beautiful open sky opposite of the entrance. I crashed the afterparty of a Duelist101 event in this house, which was awesome because I was sad the event took place after my bedtime.
Amber Estate (November 2013)

This floating arena's soothing brown hive tile floor forms an amazing contrast with the turquoise clouds floating by. While this one is also only available through a teleporter, it's not hidden away at all and you can admire it in its full glory from the main land as well.
Botanical Gardens (October 2014)

This majestic mansion comes with a dark themed arena with a mysterious charm to it! One of the entrances to this secret garden arena is cleverly hidden by vines, which untangle as you approach them. All in all, this arena will keep out the faint of heart and guarantee you brave and honorable opponents. This arena is desirably tranquil.
Polarian Shipwreck (November 2015)

Time for some wintry fun in the polarian arena! This arena is cozily nestled right next to the majestic ship wreck. The floating mana whisps – though unnecessary for PvP – give the area an extra freezing atmosphere. Get ready to cast those Frost Giants and shatter Kevin the Noob to pieces!
Darkmoor Mansion (May 2016)

Another dark themed arena, it comes with a gloomy arena, perfect for death wizards who love to PvP! Don't lose, or you might end up under one of the grave stones around the battle circle. This area is spacious and the darker theme makes it easier to see the chat, which is always a plus in my books.
Shinobi Dojo (October 2016)

This oriental house arena is unique in the sense that you can place it in any of your homes! The Feng Shui is just right in this spacious dojo. The perfect place to cast some ninja pigs! As an additional advantage, you can get a daily present from the Great Moodha Statue.
Nomad's Camp (November 2016)

This stylish arena is nestled on a large rock with a stunning view of the rest of the area. Its prestigious location near to the Spiral Door makes this arena a personal favorite for many avid practice PvPers. The peaceful night sky will relax you and you don't need to worry about this arena getting too full; there's ample space to spectate.
Outlaw's Refuge (May 2017)

Avalon has never felt this peaceful and summery before! This spacious arena is another good candidate for any PvP party. It's a real wooded wonderland with an actual functional catapult for your spectators to fire at the height of battle. The area is green and bright for that perfect feel-good summer vibe.
Castaway's Bungalow (November 2017)
Ahhh, a rainy, stormy house, perfect! The sound effects in this house closely resemble the Storm House's. What I like about the weather in this house is that it changes! It's not raining all the time, as sometimes it slows to a drizzle. Very cool! Some might find this house a little bit sombre, but I think it's perfect.
Battlemage Keep Castle (May 2018)

Aero Village House (November 2018)
Everafter Village (May 2019)

Briny Deep Retreat (November 2019)

Heavenly Palace (May 2020)

Candied Isles Village (November 2020)

Blacksmith's Fjord (June 2021)

Sky City Estates (November 2021)

Peppergrass Glen (May 2022)

Guild House (August 2022)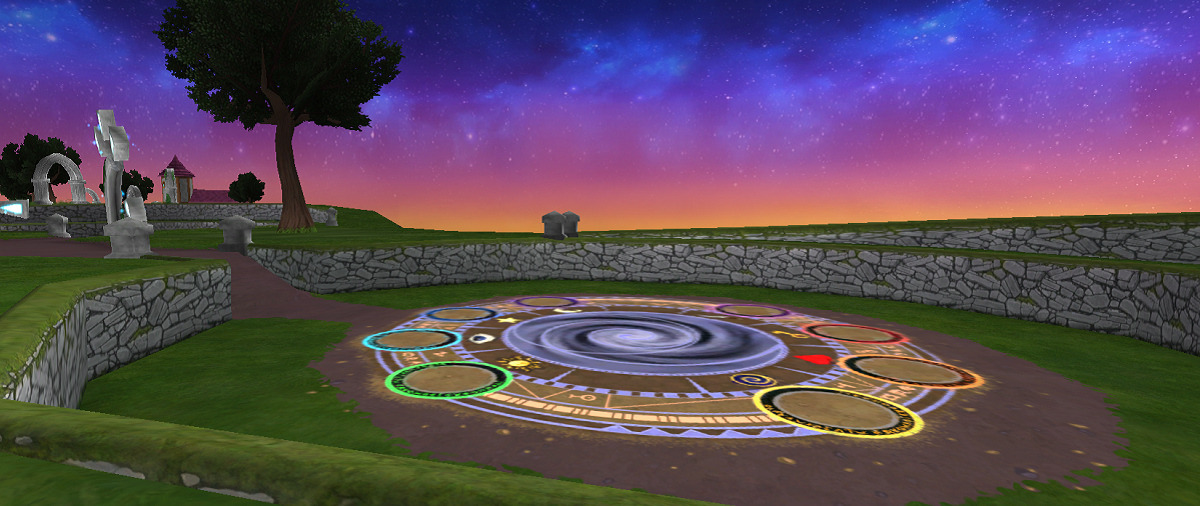 Lightkeeper's Estate (May 2023)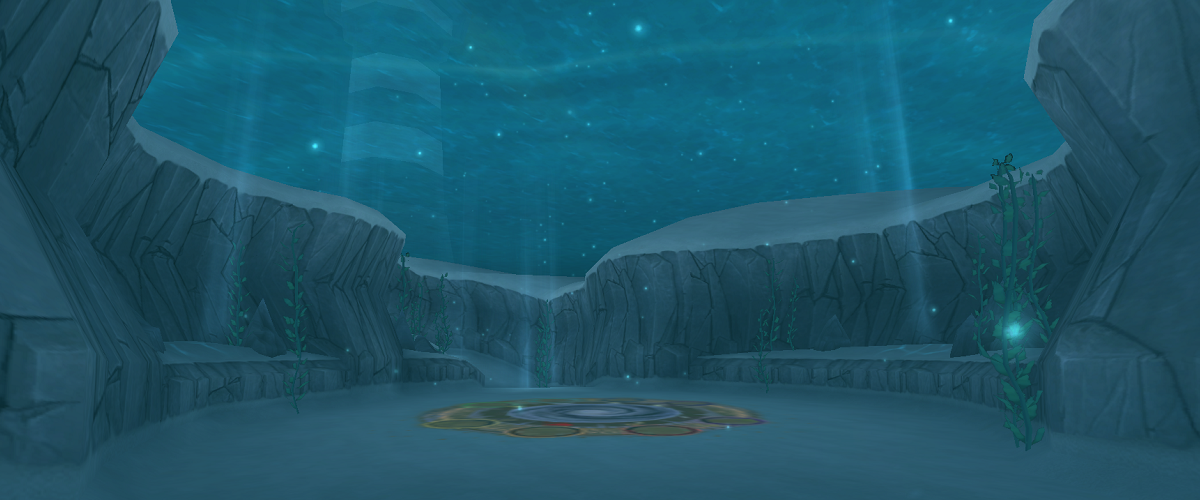 Which one is your favorite arena and why?