October 8, 2021  October 12, 2021
Wizard101 Teaser
Exclusive Spell Reveal
---
EDIT 10/12/2021: Even more spells have been teased! Click here to check them out!
October is finally here and along with colder weather, we also get closer to another Wizard101 test realm. Typically, it launches sometime near the end of October so we are sure to get some teasers throughout this month. Speaking of teasers, we have quite a surprise for you below – an exclusive spell reveal!
Some of you might have already noticed that there are rumors of new spells coming to the game and we are here to confirm those rumors. Ratbeard has been teasing some new spells throughout his various live streams on his channel, which are also detailed below. There have also been a couple more spells teased from active live streamers. However, we have 3 brand new spells to share along with those already teased! Moreover, we can confirm that these spells are not the spells being released as the ones for the new rumored world of Lemuria.
NOTE: All images below have been shared with us directly via Kingsisle, unaltered from their original state (take from this what you will).
Tranquility
Betrayal
Contagion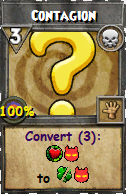 Putrefaction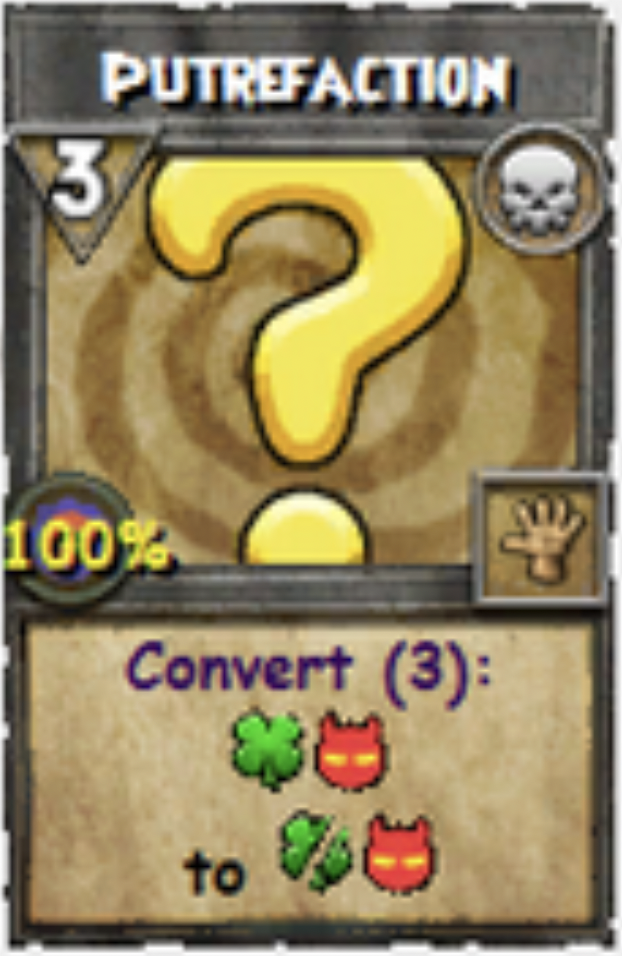 Oni's Morbidity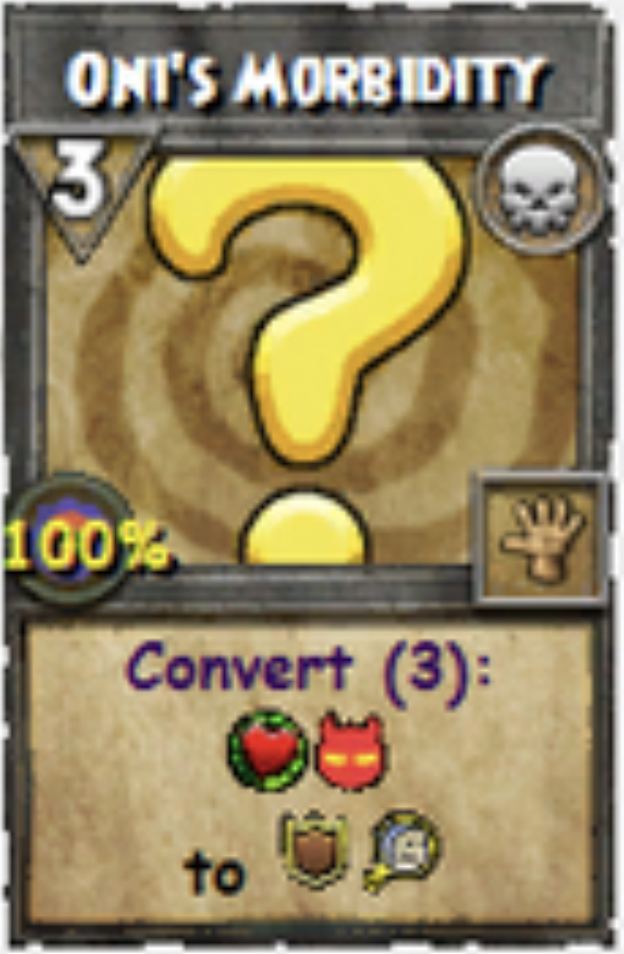 More spells to reveal…
---
It is safe to say that from the above teasers that the Death school has not been forgotten. So far we know that Death will be getting not one, but 3 different spells. This makes us wonder what is going with the other schools. No trace of any Elemental or Balance spell in sight! Well, we do have some good news for Storm and Ice wizards! Take a look below.
NOTE: The images below have been shared with us directly via Kingsisle, unaltered from their original state (take from this what you will).
Reap the Whirlwind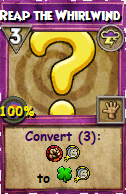 Oni's Attrition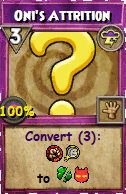 Wall of Blades
Hopefully this means that each school might be getting more than one spell per school. Death has three new ones so far. Dare we imagine that each school gets three spells?
Spell Overview
Tranquility

---

Pip Cost: 3
Level: ???
Source: ???
Spell Effect: Convert 3 negative wards (traps) on self into a heal over time on self. HoT values: 120 over 3 rounds if 1 trap removed; 240 over 4 rounds if 2 traps removed; 360 over 5 rounds if 3 traps removed.
Betrayal

---

Pip Cost: 3
Level: ???
Source: ???
Spell Effect: Convert 3 positive wards (shields) on opponent into negative wards (traps) on opponent.

NOTES: Stun Blocks should not be removed by this spell; the traps created should be standard school-specific 30% Myth Traps.
Contagion

---

Pip Cost: 3
Level: ???
Source: ???
Spell Effect: Convert 3 heal over times on opponent into negative charms on opponent.

NOTE: this spell should create standard 50% Infections.
Putrefaction

---

Pip Cost: 3
Level: ???
Source: ???
Spell Effect: Convert 3 positive charms (blades) on opponent into negative charms on opponent.

NOTE: this spell should create standard 25% Weaknesses.
Oni's Morbidity

---

Pip Cost: 3
Level: ???
Source: ???
Spell Effect: Convert 3 heal over times on opponent into positive wards on self.

NOTE: this spell should create standard 50% Tower Shields.
Reap the Whirlwind

---

Pip Cost: 3
Level: ???
Source: ???
Spell Effect: Convert 3 damage over times on self into positive charms (blades) on self.

NOTE: the charms created by this spell should be standard school-specific 35% Stormblades.
Oni's Attrition

---

Pip Cost: 3
Level: ???
Source: ???
Spell Effect: Convert 3 damage over times on self into negative charms on opponent.

NOTE: this spell should create standard 25% Weaknesses.
Wall of Blades

---

Pip Cost: 3
Level: ???
Source: ???
Spell Effect: Convert 3 positive charms (blades) on opponent into positive wards (shields) on self.

NOTE: this spell should create standard 50% Tower Shields.
The Roshambo Wheel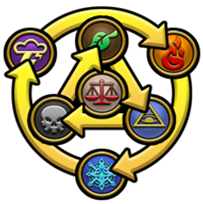 From Ratbeard, we know that the implications of this wheel will be making their way into the main game, beginning with these new utility spells. Those who are familiar with Beastmoon will know this wheel; the following information all comes from observing the wheel in Beastmoon. The basic structure of the wheel is similar to two games of rock-paper-scissors: Fire beats Ice, Ice beats Storm, Storm beats Fire; Life beats Myth, Myth beats Death, Death beats Life; Balance has no inherent advantage or disadvantage.
Now you might wonder what exactly it means for schools to have advantage over each other. School advantage in the Roshambo wheel system means more than an innate damage boost. School advantage is based on natural strategies and tendencies of each schools, with the spells of an advantaged school tending to counter those of a disadvantaged school. Furthermore, each school has one "leveraged hanging effect" that is meant to play an important role for their school's strategy:
Fire has DoTs;
Ice has shields;
Storm has blades;
Life has heals/HoTs;
Myth has traps;
Death has weaknesses;
Balance has manipulation of neutral resources (pips, +/- hanging effects).
Do elemental and spiritual schools intersect?
---
On top of the basic structure of the wheel, the elemental and spiritual wheels interact with each other in terms of soft counters and synergies. Soft counters can be read similarly to the basic wheels as follows: Fire soft counters Myth; Myth soft counters Ice; Ice soft counters Death; Death soft counters Storm; Storm soft counters Life; Life soft counters Fire. Synergies simply mean that adjacent schools on the opposite wheel share some attributes. In other words, a school will share attributes or interact with attributes of both the school it soft counters and the school that soft counters it.
Take, for example, the Storm school. Storm has synergy with Death and Life, since Storm soft counters Life and is soft countered by Death. Concrete examples of "synergy" appear in Beastmoon: the Storm Rat has a 0-pip weakness spell called Negative Charge (Death synergy); the Storm Wolf's Voltaic Phoenix's base damage is increased if the user has a heal over time (Life synergy).
It seems as though this system of school advantage and disadvantage will become more significant in the game going forward. This system is definitely worth understanding.
What Does This Mean for the New Spells?
Of the new utility spells we've seen, five of the seven create hanging effects based on their school's strength on the Roshambo wheel: Life's Tranquility creates a HoT; Myth's Betrayal creates traps; Death's Contagion creates negative charms; Storm's Reap the Whirlwind creates blades; Ice's Wall of Blades creates shields. As a note: this system treats Myth's specialty as traps rather than minions, meaning that Death will likely be weak to traps rather than a trap user as it is in Beastmoon. We're left to assume that Fire will have spells that create a DoT.
Now, take a look at the hanging effects converted (removed) by the following spells:
Tranquility removes traps on the user, meaning that it counters what was established as Myth's identifying feature. Since Life directly counters Myth on the wheel, this spell falls in line with what's expected.
Betrayal removes shields on the target, meaning that it counters what is likely to be established as Ice's identifying feature. Since Myth soft-counters Ice, this spell again falls in line with what's expected.
Contagion removes heal over times on the target, meaning that it counters what was established as Life's identifying feature. Since Death directly counters Life, this spell also falls in line with what's expected.
Putrefaction shows Death's soft-counter to Storm by removing blades on the target and creates standard Death-associated hanging effects.
Reap the Whirlwind removes damage over times on the user, meaning that is counters what is likely to be established as Fire's identifying feature. Since Storm directly counters Fire… you get the idea here.
Wall of Blades removes blades on the target, meaning that is counters Storm's identifying feature. Since Ice directly counters Storm, the math checks out.
What About the Other Spells?
---
Oni's Attrition is slightly more interesting. Of course, this spell is the second Storm utility we've seen, implying each school will get at least two utility spells. While notable, this isn't what I'm interested in. There's also the seemingly random reference to a monster (Oni) in the name of a utility spell. Again, interesting, but not why it has its own section here (I'll talk about the "Oni" a bit later). What I want to point out is that this is the only spell here that doesn't create hanging effects associated with the school to which the spell belongs. This is to say that the spell doesn't create blades on the user. Instead, it converts DoTs on the user into weaknesses on the opponent. Clearly, the spell's DoT removal aligns with Fire being directly countered by Storm. However, the spell creates weaknesses, which are a Death-associated hanging effect. This is all to say that Oni's Attrition references Storm's synergy with Death, making it the first teaser spell we've seen to leverage the synergies of the Roshambo wheel.
Oni's Morbidity was added to this article after drafting, but it shares similarities with Oni's Attrition. Apart from the naming, which further solidifies that an Oni-related boss or spell/shadow spell is likely on the horizon, Oni's Morbidity leverages Death's synergy with Ice by creating Ice-associated hanging effects.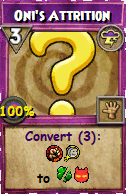 What this means is that there are plenty of options for other utility spells. Each school directly counters one school, softly counters another, and has synergy with two others. That means for other utility spells of this "convert 3" form, each school has 3 feasible options for created hanging effects and 2 options for removed hanging effects.
If we get every combination, then, that means we could be looking at 4 of these sorts of utility spells per school (yes, 4, not 6; there would be some repetition). Even if we don't get every combination this update, there's a fairly small pool of spells that would make sense based on this thinking (try figuring them out yourself!). We've seen that Death has at least 3 spells, and as such every school likely has at least 3.
The one wildcard here is Balance. Since Balance has no advantages, disadvantages, or synergies, it isn't easy to pinpoint what spells the school will get. We can assume that they will have something to do with pip manipulation/donation or manipulation of charms/wards without checking if they're positive or negative, but apart from that, there isn't anything to go off of. I'm looking forward to seeing what the Devs come up with.
In the Meta
I'll go through my thoughts the spells and system in PvP, while Cody will tackle PvE. First, though, I want to establish three main points:
There's nothing to indicate that these spells will be school-locked. This is to say that we have no reason to think that a Storm wizard couldn't train the Myth spell Betrayal. This is an entire new system being introduced into the main game, and we can't assume anything about it yet. Given what I know about Ratbeard's philosophy, I personally am thinking that the spells will not be school-locked (i.e., will be trainable by training point) and not available as treasure cards.
If the spells aren't school locked, they would absolutely be viable to use without a mastery amulet. At 3 pips, they're about as high as you'd want to go without a mastery. If you get good value, though, they'd be absolutely worth it in PvP or potentially PvE.
There is almost certainly a greater context to these spells than what we've seen. Going back to the name "Oni's Attrition," we can see that Ratbeard and Co. have added a monster's name to a utility spell. This would be strange unless it had something to do with an Oni. Perhaps there's a specific boss fight or another spell with which this spell is meant to be used in combination.
Before I jump into PvP implications, here's some critical information from our friend Shadow regarding how enchantments interact with these new utility spells:
When looking at these new spells, a big question came to my mind: how do enchantments interact with these spells? After a couple questions with the devs, there were a few answers. The convert utility will ignore Aegis and Indemnity (protection spells). This means that an Aegis Legend Shield will be removed in full by Betrayal. This is a big twist from spells like Shatter and Enfeeble that have infinite removal but cannot remove protected spells. Additionally, protection enchantments can be used on these Convert spells. This means in the same cast that removes an entire elemental blade, Wall of Blades can return 3 protected shields to self. Keep in mind, other Convert spells will still remove these protected shields, but that protection will hold against removal or steal spells. The new way these spells interact with utilities will bring a refreshing change to PvP and strategies like blade and trap stack along with shield spamming.
Thanks Shadow!
PvP
These spells (and the Roshambo wheel) have implications on PvP both immediately and in the future. In the current PvP meta, simply adding the spells to the game without changing anything else will heavily favor schools with spells that interact with charms and wards. It is worth noting that via clarification from Ratbeard, we know that positive charms and negative wards created by these spells are school-specific to the school of the spell (i.e., a storm spell creating positive charms will be storm-specific blades). It would be natural to assume that any negative charms and positive wards created by the spells would be universal.
Knowing these mechanics, it's worth looking at the specific spells we have here. Tranquility is bound to see play as an excellent trap removal option for Life and perhaps other schools. Trap stacking getting a nerf is long overdue. The HoT effect is interesting but likely not especially useful. Ratbeard did mention Life getting a new damage scion though, so who knows…
Betrayal seems like an upgrade to Shatter for Myth wizards, especially considering it bypasses Aegis. Some might question why Myth needs more offensive pressure; again, though, we don't know the full context behind these spells. It would seem that this spell is a worse version of Shatter for non-Myth wizards considering the traps it creates are Myth-specific (though it does bypass Aegis), but again we don't know the greater context.
Contagion would be unlikely to see use in the current meta given the lack of HoTs. We'll see how things develop.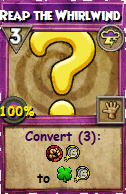 In the current meta, Reap the Whirlwind could be good as a Triage alternative for Storm wizards. It would not, however, be used by other schools, considering the high pip cost compared to Triage and the Storm-specific blades created. Oni's Attrition is in the same boat, perhaps stronger than Reap the Whirlwind because of its defensive effect (imagine using it to counter a Myth wizard using a King Artorious/Witch's Houscall combo).
Putrefaction would be an extremely strong spell in the current meta, completely outclassing Enfeeble treasure cards for Death and being worth considering over Enfeeble for every school. Having another tool to punish excessive blading (and bypass Aegis blades) will be interesting.
Oni's Morbidity is another extremely niche spell in the current meta due to the rarity of heal over times. I wouldn't expect it to see much use if it were dropped into the current meta.
Similarly to Putrefaction, Wall of Blades would be an extremely strong spell for Ice in the current meta as well as an attractive Enfeeble alternative for other schools. Simultaneously removing opposing buffs (protected or not) and defending yourself is an excellent counter to bladestacking.
Every school seems to have something to look forward to with the spells so far, with one major catch: we don't have the full picture. We don't know how many spells there are or what they all do. We don't know what the other context of these spells is; I'm still hung up on the name "Oni's Attrition" for a utility spell. I would avoid judging how "out of touch" the Devs are with PvP until you see everything, because there is definitely more. These are teasers for a reason.
What's clear is that there's going to be a lot more complexity with respect to hanging effects in PvP. It will become a clear advantage to use fewer hanging effects, and by extension "dead" hanging effects such as those from dual and tri blades, shields, and traps. Unlike pure removal spells like Shatter and Enfeeble, these utilities give a direct benefit to the caster in addition to clearing hanging effects from the target. In this sense, the spells are more similar to Supernova than Shatter and Enfeeble from a conceptual standpoint. Supernova was a spell that was incredibly dominant in PvP until relatively recently, due to nerfs. These spells will discourage excessive hanging effect usage, as Supernova once prevented the use of auras against Balance wizards.
Perhaps the most interesting implication of these teasers is the Roshambo wheel. It seems as though PvP is moving towards a system of built in school counters and synergies in the future. This is an interesting direction that I think could be great for the game. It will encourage adaptability and out-of-the-box thinking to overcome a natural school weakness both in terms of the micro-strategy within a match and the macro-strategy of deck, gear, and philosophy.
Beastmoon players are already familiar with this idea, though the added complexity of the main game compared to Beastmoon should quell any concerns about matchups being an insta-loss; for example, you could theoretically use a mastery amulet to shore up your weakness in 1v1 PvP whereas in Beastmoon you would need to pair up with a synergy school. There are many interesting directions the Devs could take the meta (yes, including masteries returning to viability), so we'll have to wait and see.
PvE
What can I say that Charlie hasn't already? The above basically covers what we are dealing with here, but as he said we still don't have the full picture yet. Which is why I'm just on the edge of my seat!
I believe the Roshambo wheel might basically revamp how we look at the schools of magic. Instead of the simple boost and resist (Life vs Death, Ice vs Fire, and Myth vs Storm) we are now being introduced to a brand new system that seems to be developed on a more complex level.
What might this mean for the future of PvE?
---
Realistically speaking, at the time being I don't see it changing much. Let's all face the simple truth that as the game stands right now alpha striking reigns supreme. Blade, Blade, Feint, AoE, Repeat. That is pretty much the motto for PvE in general. Does it get boring? Sure. Does it get the job done? Absolutely!
This is why I'm looking at the above spells in a different manner. As it stands I don't see myself using them much except for the occasional boss or perhaps some iconic cheater or two. Having so many mechanics to think about and choose from can be fun, but it may not always be efficient. What are the issues then? Simple. Deck setups and Pips.
Deck Setup
A very popular opinion in the community that I have seen over the years is "don't fill up your deck with too many spells". I agree. I tend to only pack what I need and nothing more. Thus, adding these spells to my deck may be… let's say… an inconvenience. Having something that I "might" use taking up space and possibly messing up my chances of drawing that Tempest or Epic spell is inconvenient.
Pips
3 pips. If all the upcoming spells cost the same amount of pips then it seems even more unlikely for me to use them. That means one or two rounds more of gameplay that we all want to avoid in order to speed up our farming or continue the storyline. Sure it might be useful, but so is alpha striking.
How will I be convinced to use these spells in PvE?
---
A tough question to answer. Personally, I always found the school characteristics fascinating (Charms, Wards, Minions, DoTs, HoTs, etc) and kind of a missed opportunity. The fact that this new system utilizes these as school strengths and weaknesses might just intrigue me enough to test them out. But will I need them? Regularly?
The only way I can see myself using them right now is be finding some clever way to use them against a boss and the cheats. Imagine countering the endless wards cast the Dark Sentinel – the tank minion to Omen Stribog. That is where my mind went right now. It sure seems fun to try out. On the other hand, these are certainly not things I see myself using for a D&C quest whilst doing the main storyline.
This brings me to two results. I could anticipate using these spells on bosses / iconic cheaters and side content. Thus, for now I wouldn't be shocked to see these spells being used for PvP alone. Personally, I do like collecting spells, so having access to these would be fantastic even though they might not see much daylight for now. Perhaps they will be implemented the same way the recent spell releases were – by having them available at school professors and possibly upgrading them with spellements accessible through events and PvP.
A final note…
---
Although these may be heading more towards PvP which I hope not, I do find this whole concept interesting. The strategies that can be created from these seem endless and that just makes it fun to think about. What could be the clever move that saves you and wins the match? Luckily, we seem to be enjoying the fruition and what could be an end result of the Beastmoon Hunt that basically served as a testing ground and ultimately the birth place of these new mechanics.
Special thanks to our friend Shadow for helping with this article!
More Spells!
But that's not all! Less than a week after this article was published, several more spells were revealed (including some familiar faces). Take a look at them below:
Backfire
Doom Oni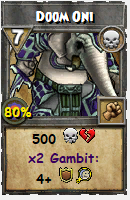 Scion of Fire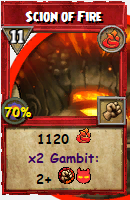 Scion of Balance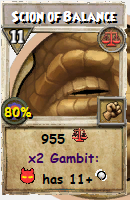 Spell Overview
Backfire

---

Pip Cost: 3
Level: ???
Source: ???
Spell Effect: Convert 3 negative wards (traps) on self into a damage over time on opponent. DoT value increases with number of traps removed, with the DoT functioning like Burning Rampage (something like 60 after 3 rounds if 1 trap removed; 120 after 4 rounds if 2 traps removed; 180 after 5 rounds if 3 traps removed). This DoT will count towards gambit conditions (see below).
Doom Oni

---

Pip Cost: 7
Level: ???
Source: ???
Spell Effect: 500 Death damage, convert half to health; x2 damage if 4 or more positive wards (shields) on self; if gambit condition is met, remove shields from self.
Scion of Fire

---

Pip Cost: 11
Level: ???
Source: ???
Spell Effect: 1120 Fire damage to target; x2 damage if 2 or more DoTs on target; if gambit condition is met, remove DoTs from target.
Scion of Balance

---

Pip Cost: 11
Level: ???
Source: ???
Spell Effect: 955 Balance damage to target; x2 damage if target has 11 or more pips.
What Does This Mean?
Starting with Backfire: this is about what we should've expected for Fire in terms of utility spells. The spell counters Myth-associated hanging effects (in line with Fire soft countering Myth) and creates a Fire-associated hanging effect. We've still yet to see such a utility spell from Fire that counters Ice, but that one is surely coming. Notably, this spell pairs well with the new Scion of Fire, which I'll talk about a little later.
Doom Oni solves the mystery of the Oni-named utility spells. It seems clear that Doom Oni is meant to pair with Oni's Morbidity. This is because Oni's Morbidity creates shields on the caster, while Doom Oni uses shields on the caster as a gambit condition. Oni's Morbidity could potentially net the caster 3 shields, leaving only one more shield needed to satisfy Doom Oni's gambit. Of course, clearing 3 HoT's might not be easy in certain matchups; Oni's Morbidity still is clearly trying to counter life (again, note that new spells will likely see Life focusing more on HoTs). However, a Death wizard could use a different school's spell to create enough shields to satisfy the condition. Considering Doom Oni leverages Ice hanging effects (and therefore Death's synergy with Ice), it might be natural to use an Ice spell to combo with it more effectively (such as Wall of Blades). Doom Oni is a great example of where school synergy could be going; leveraging other schools could create big advantages going forward.
But what about other schools? Well, we've seen that Storm has a spell called Oni's Attrition. That likely means Storm also has an Oni spell. From here, I'd feel fairly comfortable saying that every school will be getting an Oni gambit spell. However, we can go even further than this. Oni's Attrition leverages Storm's synergy with Death by creating Weaknesses on the opponent. Therefore, similarly to how Doom Oni interacts with Oni's Morbidity, the Storm Oni will likely have a gambit condition relating to weaknesses on the target. Going even further: these two Oni are the only Oni spells on which we have information. However, we can note that both leverage synergy with the school by which they are soft countered (Death with Ice, Storm with Death). This could mean that each school gets an Oni that similarly leverages a gambit condition based on synergy with the school by which they are soft countered: Life leveraging Storm; Fire leveraging Life; Myth leveraging Fire; Ice leveraging Myth. Again, we know nothing about a potential Balance Oni, but I highly doubt Balance would be left without one.
New Scion Spells
Next are the new Scion spells. First, I'll establish two points:
We've seen 2 new versions of Scion spells and have been confirmed a third from Ratbeard (Life). I'm comfortable saying that every school will be getting a new Scion spell.
Ratbeard has confirmed that the new Scion spells will be PvP replacements for the existing Scion spells. The current Scion spells will remain available in PvE.
First, I'll talk about Scion of Fire. The current Scion of Fire isn't seen much in PvP, so I don't think many people will be upset by the change. Similarly to Doom Oni, the new gambit condition for Scion of Fire dovetails nicely with the new utility (ramp) spells. We've already seen how Backfire can create a potentially 5 round DoT, and there's likely another ramp spell on the horizon that can similarly create a long DoT. This means that simply using a Fire Elf in combination with a ramp spell will satisfy the gambit condition for potentially 3 full rounds of pressure. At the very least, I would expect this spell to be usable.
Zooming out, Scion of Fire is clearly a gambit spell that leverages Fire-associated hanging effects. This likely means that each new Scion revamp will have a gambit condition associated with its school's associated hanging effect (for example: maybe the confirmed new Scion of Life has a HoT-based gambit condition). Notably, this gives each school 2 gambit spells that leverage 2 of the 3 schools with which they have synergy (self and backwards-synergy). We'll have to see where that goes. Maybe the spells we're getting aren't consistent in the way I've assumed, or maybe we could be getting a third gambit spell to fill that hole. Let us know what you think!
Scion of Balance is perhaps the most interesting new spell we've seen because it's the first Balance spell that's been teased. Perhaps unfortunately, it's the Scion spell, which tells us nothing about new Balance spells' interaction with the other schools. Instead, the spell tells us a bit about Balance-associated hanging effects. Scion of Balance seems to treat pips as Balance-associated effects, which is similar to what is expected based on Beastmoon. Though Beastmoon has no spells that change power based on opponent's pips, every Balance form leverages some form of pip manipulation. Additionally, the main game is no stranger to a spell with this sort of effect (Mana Burn).
In terms of viability in PvP, I see this spell being carried and making an impact more often than it is actually used in battle. Similarly to pre-nerf Supernova, I see Scion of Balance's existence as a deterrent for players to reach 11 pips when their opponent also has 11 pips. In this sense, I expect it to have an impact on many battles. Additionally, we don't know exactly what ramp spells Balance will get, but we know that at least one is likely to pair with satisfying Scion of Balance's gambit. This doesn't make a lot of sense, though; that would mean Balance could get a ramp spell that gives their opponent pips. There would need to be some sort of secondary effect to make such a ramp usable. Unfortunately, this is all we can reasonably assume regarding the Balance ramps given the information we have: at least one of them is likely to have something to do with giving the opponent pips in order to help satisfy the gambit of Scion of Balance. If anything, the new Scion of Balance is the truest gambit we've seen in that it carries a real risk.
What are your thoughts on these new spells?
Do you think you'll be using them?
Let us know in the comments below!