December 24, 2013  June 7, 2021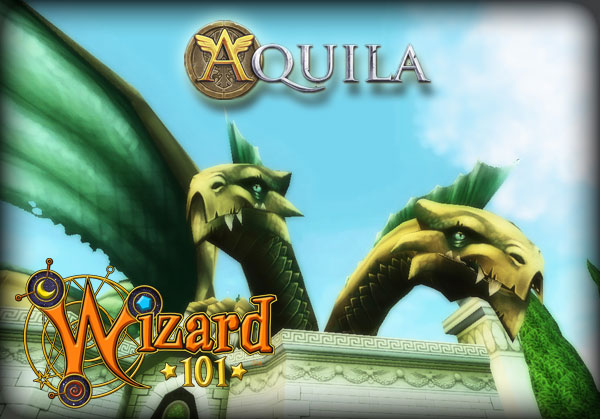 Wizard101 Aquila
Guides and Information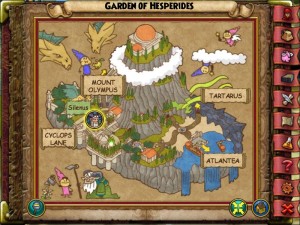 The Aquila update came to The Spiral Live Realm on August 2, 2013. You can check out the update notes here. Aquila is not a separate World, but rather a zone in Wizard City. At Levels 30, 70, and 90 your wizard will now get quests from Cyrus Drake at the Myth School, granting them access to the three Aquila dungeons.
These dungeons are similar to the legendary Waterworks update in many ways. They host some of the toughest battles in Wizard101 to date, and they offer some of the most powerful gear available.
Crowns Cost
Payment Options

Subscribers, as always, have unlimited access to every area in the game. Crowns players must purchase each dungeon separately, or use the new option of Renting a dungeon. You may rent a dungeon at a cost of 695 Crowns for 6 hours. This gives players the option to play the dungeons at a discounted rate, and only have to buy one if they intend to farm it for extended periods to get specific gear. Here are the costs:
Mount Olympys (level 30+)
Subscribers: Unlimited Access.
Rental: 695 Crowns for 6 Hours.
Purchase: 2495 Crowns for Unlimited Access.
Atlantea (level 70+)
Subscribers: Unlimited Access.
Rental: 695 Crowns for 6 Hours.
Purchase: 3245 Crowns for Unlimited Access.
Tartarus (level 90+)
Subscribers: Unlimited Access.
Rental: 695 Crowns for 6 Hours.
Purchase: 3995 Crowns for Unlimited Access.
Dungeon Guides
Each of the Aquila dungeons is very tough for the level it opens up. They all feature cheating bosses, and ultra-cheating side bosses for the level 90+ players. We have prepared guides for each of them, to help you on your way!
Mt Olympus
Mount Olympus is Aquila's level 30+ dungeon, introducing us to the Immortal Games. Battle your way through the gauntlet and square off against Zeus himself.
Check out this guide with text and a video walkthrough of Mt. Olympus and the Bronze Eagles quest inside the dungeon:
Mt. Olympus Guide Guide to the Bronze EaglesLevel 30 Dropped Gear Guide
Atlantea
Atlantea opens up for level 70+ players, and is one of the most grueling dungeons in game. It may be worth the work, though, because Poseidon's L70 gear is even better than Waterworks gear in many cases. It gives a good mix of offensive and defensive stats, and introduces Armor Piercing to the mix.
Atlantea Dungeon GuideLevel 70 Poseidon Gear Guide
Tartarus
Available only to level 90+ players, Tartarus is the culmination of Aquila's Immortal Games, and may be the most challenging dungeon we've seen yet. Full of cheating bosses, you'd do well to check out our guide before running in:
Tartarus Dungeon Guide Hades level 90 Gear Guide
Aquila Special Items
 Aquila Amulets
Aquila introduced the next generation of Mastery Amulets: The Exalted Amulets! They work like regular Mastery Amulets, but give additional stats. They're dropped only from the cheating Side Bosses or from Hades himself! Additionally, AQ brought in a brand new amulet, which may be the most powerful one in game! The Amulet of Divine Influence drops only from Hades the Unseen in Tartarus
Aquila Pets!
Enchanted Armament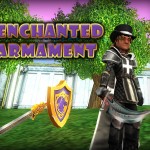 Harpy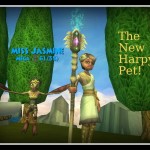 Li'l Siren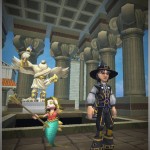 Golden Ram