October 19, 2018  November 8, 2018
Empyrea: Dream Shrine
Defeat the Headmaster
---
Note: No spoilers for those of you who don't want any! We'll just focus on the battle and the cheats. If you want to find out more, you better get to questing!
Your 17th quest in Empyrea past 2 takes place in the Reverie. Once the dream turns into a nightmare, you will be facing the nightmare version of the Headmaster, who's checking if you did your homework!
This battle is actually very interesting because it's – as far as I remember – the first where our enemy actually has control over the cards in our hand. During the five first rounds of the battle, you will not be able to use your own cards, but will have to complete a couple of assignments through which the Headmaster checks if you learned your lessons.
The headmaster is a rank 999 boss, which "unknown health" (through testing we found out he has in fact about 10,000 health in total). He's from the Star school. Ravino knew that currently in test realm he has +100% out. damage and 23% Pierce.
Edit: Songibal noticed this cheat: joining late in the first round results in a painful attack: he will insane bolt you and it will always hit you for around 3.8k. 2. Ravino added to this that his tardiness cheat is a Star Insane Bolt that takes 85% of the player's MAX health. It ignores his damage stat, his blades and your resist; it just takes an exact 75% of your HP. Thanks to both of you!
Without further ado, let's defeat the Headmaster!
Round 1: A Math Lesson!

In round one, the Headmaster puts up 7 -999% shields, one for each school. Your deck will miraculously have a different content than normally: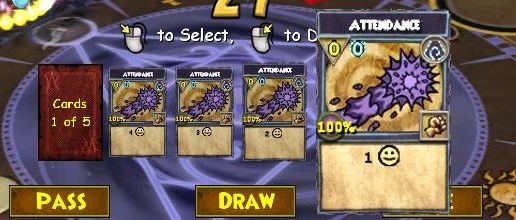 Your deck will be filled with 4 numbered wand cards: 1, 2, 3 and 4. They do zero damage on the Headmaster, but that's of no consequence. Contrary to what you might think, the correct solution is NOT to cast them in order 1 – 2 – 3 -4. Instead, each player should pick the number of players in the battle. If you have a full team of 4 players, each of you should put the 4. So: 4 – 4 – 4 – 4. So if there is only 2 of you, both should pick number 2.
If you pass the test: nothing happens.
If you fail the test: every player that picks the wrong number will be punished

At the end of the round, the Headmaster will cast a star school spell, which looks like a raven, on each player who get the number wrong. This attack does exactly 766 damage and doesn't take your resist into account.
Round 2: Time to Check Homework!

This round is pretty simple too!

Your deck is filled with a wand of every school. The logical solution to this round is to pick your own school's wand. When you do this, the Headmaster says "Check mark for you!". If you pick the wrong school, at the end of the round, the Headmaster will say "You did not complete the assignment and punish every player except the one in first position.

After the seemingly inevitable "You did not complete your assignment message", you will be attacked with a spell that does 2000 damage and doesn't take your resist into account. The only person spared from this treatment is the one in first position. If anyone figures this one out, do tell us in the comments!
Round 3: The lecture is about to begin.
Another round and another deck! The names of the spells should help you find the correct solution.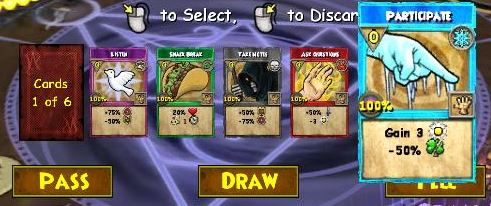 So which one should you pick? Listening, taking notes, asking questions and participating are all good things during a lecture. Taking a snack break is NOT a good idea. So take your pick!
If you pass the test: Nothing happens.
If you fail the test: You get stunned.
Round 4: Pop Quiz!


The headmaster will cast an aura on each player. Pay attention to which school's aura you get. Your job is to pick the wand of the opposite school.
If you pass the test: The aura is removed without doing damage on you.

If you fail the test: The aura will be removed by the Headmaster and do 4000 damage on you.

That's it! After these rounds, you get your own spells back and you can kill the Headmaster! Try to do at least 16,000 damage.
Did we miss any cheats? Do you have more information?
Let us know in the comments!