March 12, 2021  January 17, 2022
Mega Bundle
You! Yes, I'm calling you! Ever had a dream of living in your own fantasy castle in the sunny desert of Mirage? Ever wanted to live the life of a sultan? Want to experience how it feels to be Aladdin or even become the princess Jasmine? With Wizard101, your wishes and dreams do come true- without the need of a Magic Lamp, or even going on a dangerous trip in the desert to find a Genie to make it happen. Let's take a look at the items this amazing $39.00 Mega Bundle has to offer, shall we?
Massive Sultan Palace
Flying Carpet Mount
Magical Flute Wand
Snake In A Basket Pet
Sultan's Outfit
1 month of Membership or 5000 Crowns
Sultan Palace
As usual, we start with the most exciting things first, so without any further ado, allow us to introduce you to the heaven of Sultans- The Massive Sultan Palace! That's right, this massive big island with a large palace is built in the golden ages of Mirage and based on the wonderful Middle Eastern culture. It has lots of details from the inside and outside, we wonder what kind of discoveries you might explore there? Could there be a Genie in the Magic Lamp? Perhaps the treasure inside the palace will impress you the most? We heard that the treasure and gold inside it makes you richer than the richest Wizard (and even Pirates) in the Spiral!
But that's not it, there's more beans we have decided not to spill… Wonder where it can be outside of the castle… We'll let you find out on your own- if your sight is good enough to witness it!
Sultan's Outfit
---
Put some fear into the hearts of your enemies and obtain the admiration of your allies with the Sultan Bundle's gearset! You can't command the servants of your Sultan Palace without a proper Sultan look to fit your characteristics and personality. Even Ali Baboon himself is no match against you if you draw your decks er-.. I mean flutes, in combat of course! Here's the look as well the stats for the tiers: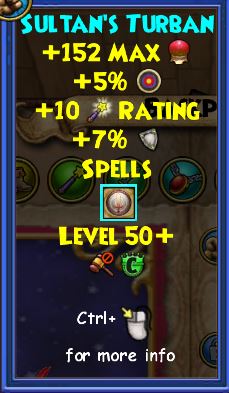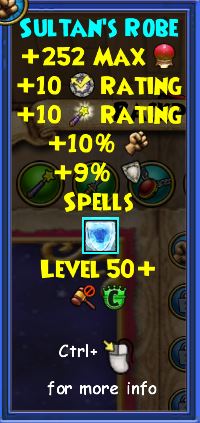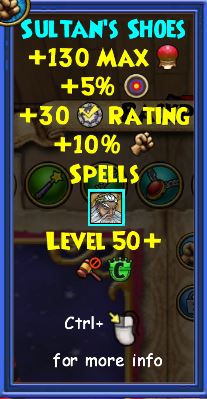 Charmer's Mystical Flute
---
This powerful Flute wand can charm even the most evil of enemies. Thanks to the power of its beautiful and magical tones, you'll be able to eradicate the evil forces of the Spiral with this iconic wand. Be sure to keep it somewhere safe. And, don't forget the added benefit of being able to charm actual snakes!
Each tier of the Flute wands comes with a different color, so make sure to choose your favorite color you like the most upon redemption!
*There are more tiers of the Flute wand (Level 110 – 130) however, they're only obtainable through Throwback Thursdays offers in the Crown Shop. You cannot redeem this card for a wand for any tiers greater than level 100.
Magic Carpet Mount
---
On a hurry to do a quest? No problem! Fly through your magical adventures with this amazingly wonderful Magic Carpet Mount, with a 40% speed boost. It'll be like experiencing a whole new world… Some say that a lucky orphaned man with a little monkey on his shoulder was lucky enough to find this mount inside the dunes of a secret cave in a desert.. Wonder who could that man be..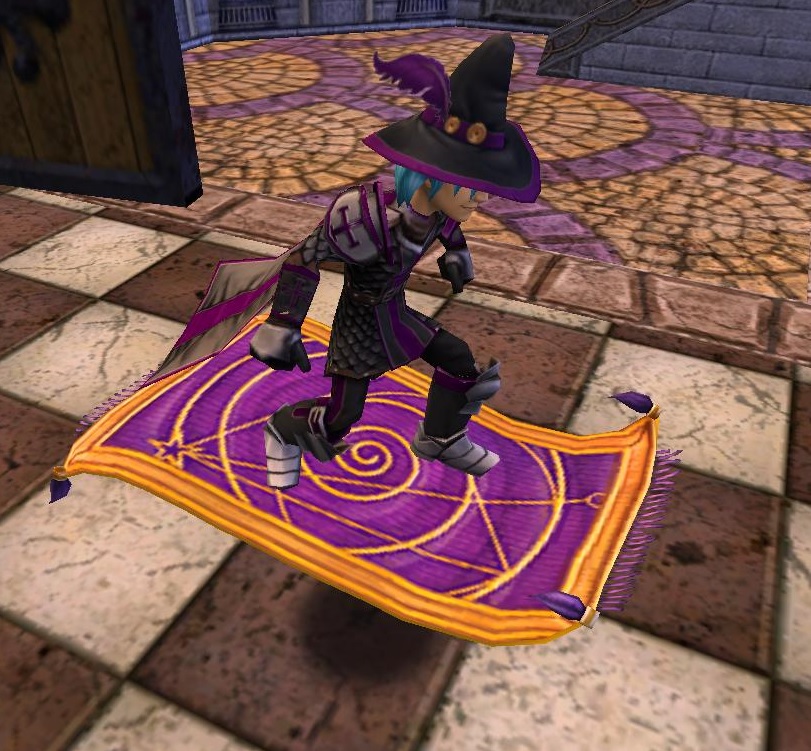 Snake in a Basket Pet
---
This adorable- yet scary and sneaky- pet is the perfect compatriot for you in combat. Play some tones with your Flute wand to get him out of a boring mood, but also be careful and don't try to cuddle it.. It scares (and also bites) easily. We're sure you don't want that..
Last.. but not least, this Bundle comes with the choice of 1 Month of Wizard101 Membership or 5000 Crowns to do with as you please.
Now, what are you waiting for?
You don't want to miss the chance of becoming a true Sultan of your own!
Are you going to buy the Mega Bundle?
Let us know in the comments!