February 16, 2014  October 2, 2018
---
Wizard101
Elixir Vitae Badge

Huge Heal
What is the biggest heal you have ever seen?  How about 1,000,000! Duelist101's Roslyn Roseheart was up for the challenge!
The Spells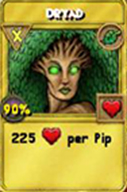 Dryad at full pips will give the highest heal.  The Treasure Card version offers 225 health per pip.  That will start you at a base of 3150.  If you can get your hands on a Flowering Dryad from the Keepers Lore Pack, they heal for 240 per pip. You can see one below in the comments from Mauver Sartori.  Next, multiply!!!
 There are many versions of Guiding Light and Brilliant Light in the game, several of them will stack.  They are Life school spells, but anyone can use the Treasure Card versions and geared versions. Roslyn set up the heal with 5 different Guiding Lights and 4 different Brilliant Lights.  She used a TC Mend 25%, TC Sanctuary 60%, Shadow Seraph, and a Vengeful Elixir from playing Grub Guardian to boost her Critical.
The Gear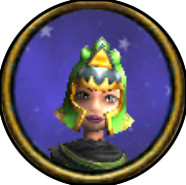 There are several gear options available in Wizard101. Today, we will show what we learned.  Roslyn, the healer, wore gear to boost her Outgoing Health to 140%.  She also looked for gear to boost her Critical thus doubling her heal to reach one million.  Jon, the one receiving the heal, wore gear to boost his incoming heal to 101%.  Roslyn's and Jon's gear is listed below.
Healer's Gear
(Click Tabs)
Overall Traits & Advanced Traits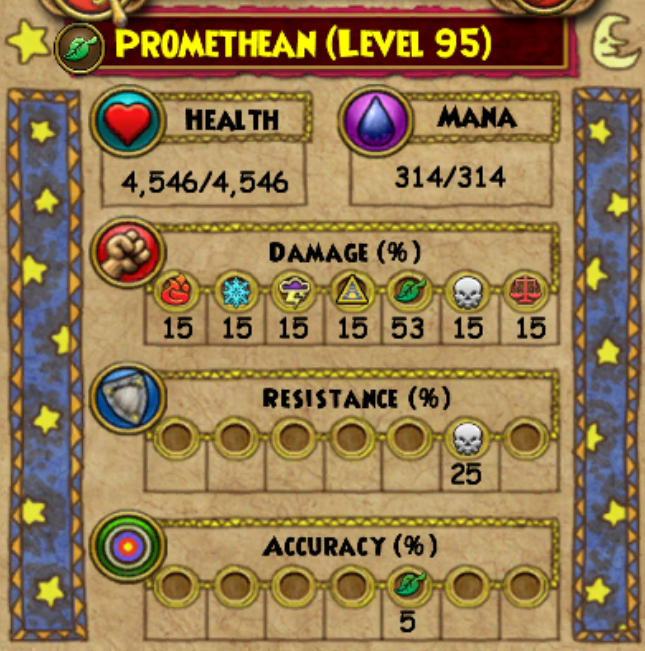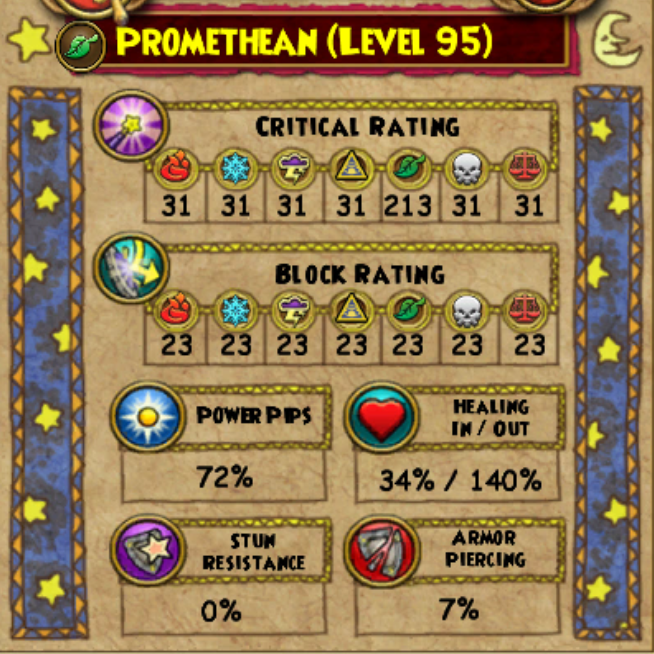 Pips +72%
Outgoing +140%
Life Accuracy +5%
Life Critical +213
Poseidon's Brim of Ardor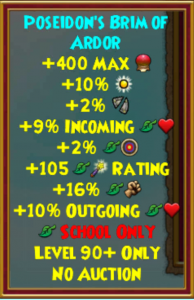 Pips +10%
Outgoing +10%
Life Accuracy +2%
Life Critical +105
Zeus' War Eagle Raiment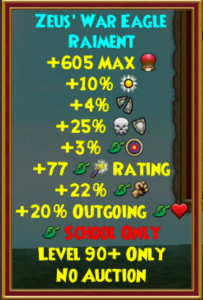 Pips +10%
Outgoing +20%
Life Accuracy +3%
Life Critical +77
Greenwarden's Peaceful Boots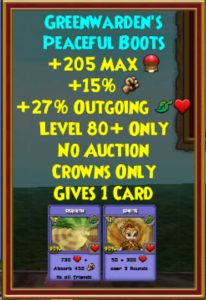 Wolf's Emerald Talon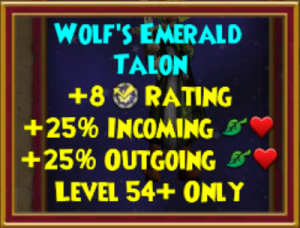 Stone of the Other Side
Valkrie's Light Pendant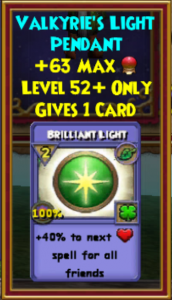 Sword of Kings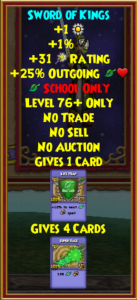 Pips +1%
Outgoing +25%
Critical +31
Healed's Gear
(Click Tabs)
Overall Traits & Advanced Traits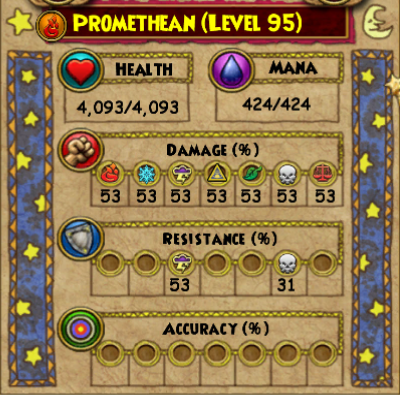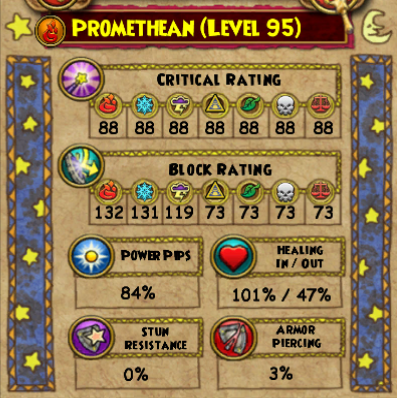 Queen's Color Guard Shako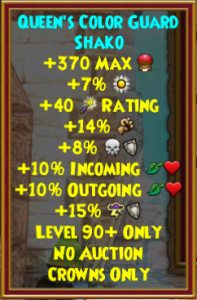 Queen's Color Guard Jacket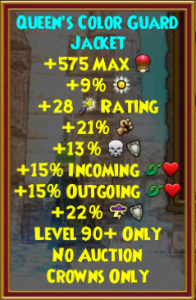 Queen's Color Guard Boots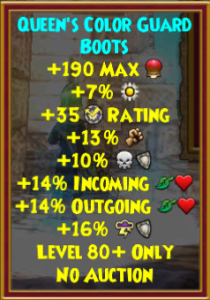 Emerald Bear Claw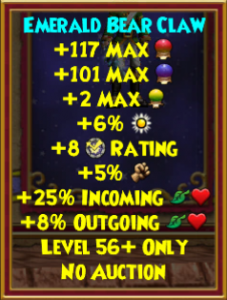 Long Count Ring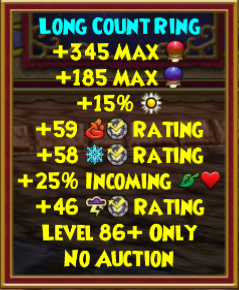 Life Mastery Amulet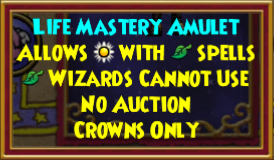 Allows Power Pips with Life Spells
Crescent Axe of the Astrals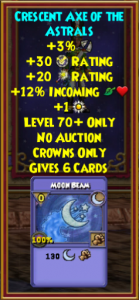 Leaf Foot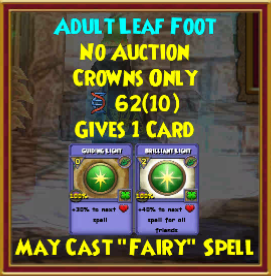 Guiding Light 30%
Brilliant Light 40%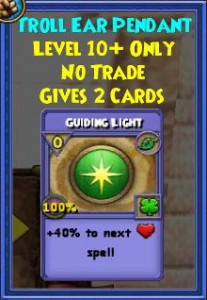 In the battle, I wore two pieces of gear to help out, one being the Troll's Ear Pendant with a 40% guiding Light.  The Watchtower Boots' Guiding Light, we later learned, no longer stacks with the Life trained Guiding Light. Good to know! You will see it stay on Roslyn when she heals Jon.
Merciless Jean Percy brought up in the comments below that it would be best to remove your healing pet before attempting this.  If your pet went off, it would take your boosts!
Additional Duelist101 staff helped too. Jewel Shadowcaster was a big help with research and Nora misthead helped with testing.  It was fun to watch this come together.  Roslyn did a fantastic job!
The Complete List
The following are the exact spells Roslyn set up for this heal:
Life Trained

30% Guiding Light & 30% Brilliant Light

TC

40% Guiding Light & 40% Brilliant Light

TC

Eye Of Bartleby Pack 45% Guiding Light

TC

60% Sanctuary

TC

Mend 25% Aura
Leaf Foot Pet  30% Guiding Light & 40% Brilliant Light
Valkyrie's Light Pendant 40% Brilliant Light
Troll Ear Pendant 40% Guiding Light
Shadow Seraph
Critical

TC

225 heal per pip Dryad with full Power Pips
Vengeful Elixir
See Roslyn's heal!
Our video shows how she did it and even shows off how fabulous she is at the Bee Dance. Bonus footage! We had a random pet heal with 4 Brilliant Lights.  Imagine that in a 4v4 PvP. Oh brother! No, no, no!
The Badge
To commemorate this event, Wizard101 gave Roslyn this nifty badge for her collection.

Comments
Please help me congratulate Roslyn on her fantastic heal and thank her for sharing all the details of her work to reach this goal.
Have you received Elixir Vitae? Do you have other gear choices or suggestions for others reaching for the badge? Let everyone know in the comments below.
Happy Badge Hunting!
---