August 13, 2014  November 12, 2022
Grub Guardian
A way to get

Free Energy Elixirs
Fishing for an extended length of time eats Energy quickly. My goal with this guide is to show you how to get free Energy Elixirs by playing Grub Guardian.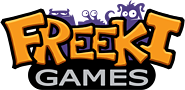 Grub Guardian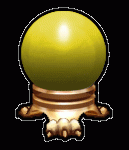 One way to get Energy Elixirs is by playing Free KI Games. Although you can get free crowns for play Trivia, Grub Guardian seems to be the best for getting Energy Elixir. At that time, I had not played GG very much. I consulted with Duelist101 Community writer Kyle Nightstrider.

Since then, I shared my games in Let's Play Grub Guardian streams to my channel. They are slow paced and in real time; however, if you need information about how to play, they will show you the game. You can also see my scores and the amount of Energy Elixirs I got each time.
I send notifications to my channel subscribers when a new video is released if you would like to follow my progress.  You may also see Grub Guardian videos in this playlist.
I have a few more tips from my experience playing. Let's first review Grub Guardian a little.
Game Goal
The goal of Grub Guardian is to keep the enemies from getting to the grub (food) by eliminating them.
We see multiple enemies that come in waves. Some enemies have little health and we squash them easily.  Other enemies have a higher level health which creates the need to have different types of defensive guardians.  During some of the waves, varied enemies swarm toward the grub and it takes additional guardians to save the grub.
We use our in game pet along with the guardians offered by Grub Guardian. They come at a cost to our final score, but are necessary to protect the grub.  Our strategic job is to determine how many of which guardian we need in order to save the grub.
Rewards for Us
If you are familiar with Wizard101, then you have likely been to a boss. You may have noticed sometimes they give a special items. Wizard101 sets a list of items that we are able to receive at the end of the battle.  The release of any particular item is given at random based on that drop table. If you have ever farmed for something from a boss, you know that we can get the item(s) we seek in one match or go several without seeing it.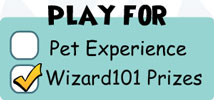 To get Energy Elixirs, be sure to check the box for Wizard101 Prizes when you log in. Otherwise, it will use your energy, train your pet and you will not receive an item.

Energy Elixirs are rewarded at the end of the waves.  Just like when we visit a boss in Wizard101, we may receive the green potion of wonder, or then again, we may be left holding something to sell.
All of the Wysteria maps may drop Energy Elixir. I personally can only confirm Tanglewood Way, but have heard the Pegasus Map and others do as well. Since I know Tanglewood Way does, I'll pass along the information that I found.  Maybe someone with personal experience using another map will share their findings in the comments below.
In the target score range for Tanglewood Way, you will receive at least one of these prizes for your efforts:
Energy Elixir
Fortification Elixir
380, 410 and 440 Wizard101 Gold
Hand of Doom Pack
Moolinda Wu's Green Thumb Pack
Grub Shield/Ambrose Bomb

(Grub Guardian game helpers that sometimes come with one of the other prizes. Grub Shield is pictured to the right.)
Only these prizes? Yes, it seems so. I have played numerous games and have received each of these prizes repeatedly. If you receive a different prize either you have left this drop table or the drop table has changed.
(~4433 goes into the next table that notably drops Dragon's Hoard Packs, Eye of Bartleby Packs, 560 Wizard101 Gold, Instant Guardian Upgrade, Savannah Tree Decoration, and Large Wooden Zebra head.)
Target Score
According to my data, I have finished as low as 867 and as high as 3944 while remaining in the correct drop table with the above rewards. It doesn't seem to matter which guardians I use, or which pets I use. It is about getting the score within that range.
Wizard101 has not released the exact formula that is used, so we can only make guesses.  It could be a cycle of the prizes; however, since we cannot find a set pattern, it looks like it is a randomized algorithm.  There is no guarantee we will get Energy Elixirs. We could hit the other prizes on the table every time.
KI allows us to play the game 25 times a day for the prizes. My best result to date has been six (6) Energy Elixirs. My worst result was two (2) Energy Elixirs.
According to Kyle, he was getting Energy Elixirs about 50% of the time, but that has changed. Whether it has been patched, or more people are playing/draining the available Energy Elixirs is unknown. I have never seen that great of a result in the time I have played. There could still be a magic score that drops Energy Elixir more than others. We are testing for it!

Pets
Our Wizard101 pet is one of the guardians. The pet we choose can determine our success. We get to chose which pet we wish to use from your backpack.
In Kyle's guide, he uses an Epic Life pet. I have tried a few and also choose to play with the Life pet. The main advantage is the ability the Life pet gives your other guardians. Life pets increase the speed in which the guardians deal damage the enemy. Think of it this way, with a Life pet, all guardians recover faster and are ready to attack sooner.  It gets us through the map quicker. An Ice pet would be my second choice as it freezes the enemy thus giving your guardians additional time to eliminate them. The playtime is a bit longer.
I also tried Myth pets and Death pets.  The results were reasonable; however, not quite as simplified. I found I was better able to streamline my strategy to produce the same results more often with a Life pet.  I tried Ancient and Epic pets. They both worked terrific. By the way, it doesn't seem to matter which talents they have or which pet you use. I use a Dreaming Leviathan sometimes.  If you have an outdated Life pet from the old days of PvP, it will work well for you. Just put it in your backpack the next time you are in Wizard101 and it will be available to you in Grub Guardian.
Maps and Guardians



The Wysteria Maps cost crowns in the Grub Guardian Crowns Shop. So do the Avalon and Star Towers that Kyle suggests.  I chose to purchase them and it cost 1,547 crowns. If I would have spent crowns for all of the Energy Elixirs I have won, I would have spent much more.
| | | |
| --- | --- | --- |
| Wysteria Map Pack | Avalon Guardian | Star Guardian |
| | | |
| 649 Crowns | 499 Crowns | 399 Crowns |
Although Kyle and I both show you the Tanglewood Way maps, trying the others could be just as beneficial. As indicated above, I hear Pegasus Way drops them too. I would imagine the others have a pretty good chance at having similar drop tables.
Play Time!
Grub Guardian is found through your local US app store or online at www.wizard101.com/freegameslanding/grub-guardian.
We sign in with our Wizard101 username and password. Once we win something, the rewards go directly to our Wizard101 accounts. Watch for the Gift Icon on the left of your screen when you play Wizard101 after playing Grub Guardian for prizes. They show up in the gift window. You may choose any of your wizards on that account.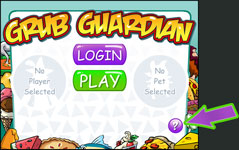 For more Grub Guardian explanation, click the purple question mark on the login screen pictured to the right. KingsIsle goes into much more detail about the game specifics.
Comments
Share your Grub Guardian experiences below in the comments. Let your fellow Duelist readers know your tips! Also, please let us know if you see any changes to Grub Guardian.
Happy Farming!
---