June 24, 2022  November 12, 2023
Meowiarty Boss Rematch
---
Look out Wizards! Our foes are out on the prowl and looking for a Boss Rematch. If you haven't heard already, the boys are back in town and looking for revenge. Among the Arc 1 bosses, Meowiarty has popped back up to offer a challenge in exchange for some of the new spellements. He brings with him a few new twists on some of the same old tricks.
If you aren't familiar with Boss Rematches, check out the Boss Rematch Overview. Otherwise, make your way over to Raquel in the Arena and get that rematch fight crafted!
Meowiarty Boss Rematch Overview
Meowiarty's Boss Rematch comes in 3 tiers, one for levels 101+, 51-100, and 1-50. Below is a quick overview of all the details you need for each Meowiarty fight, complete with stats, spells, and other information!
MEOWIARTY BOSS REMATCH (TIER 3)

Rank 20 Boss

Classification: Cat

Masteries

Hover or Tap stats for more details

Spells
MEOWIARTY BOSS REMATCH (TIER 2)

Rank 14 Boss

Classification: Cat

Masteries

Hover or Tap stats for more details

Spells
MEOWIARTY BOSS REMATCH (TIER 1)

Rank 9 Boss

Classification: Cat

Masteries

Hover or Tap stats for more details

Spells
Meowiarty Boss Cheats
Meowiarty doesn't have much to offer in terms of cheats. Significantly the two most impactful ones are summoning minions and putting guardian spirit on them. These are relatively simple cheats and so long as no wizards are late to the party, the fight should be fairly simple.
"I've taken the liberty of inviting some of your old friends."
Meowiarty will summon 3 of the same minions corresponding to the difficulty of the fight.  He will then stun all wizards for 1 round.
Level 50: x3 Protection Pox with 785 health (Balance)
Level 100: x3 Numbskull Ogre with 2880 health (Fire)
Level 150: x3 Koolakamba Warriors with 3845 health (Fire)
"Settle in, we have much to catch up on."
Guardian Spirit will be placed on Meowiarty and all of the minions. This will restore 100% health.
"Late? I'm quaking in my boots."
Earthquake will be casted once for every late wizard.
Excluding the minion cheat, these cheats are all the same for every version of the fight. That should make strategizing pretty easy!
Mastering the Meowstermind
Because the boss cheats work so similarly with each level variation, the strategy is largely the same for each fight. In my case, I like to dual box so this strategy reflects two max wizards attempting the level 150 Meowiarty fight. I'd also point out that as an avid PvPer I just swapped from my PvP deck to my PvE deck and kept most of the same stats which include 45 pierce on both my myth and death wizards. This is pretty helpful given the universal resist Meowiarty is rocking. 😛
So, let's take a crack at it shall we? The first thing I'll point out is that Meowiarty is going to stun you round one when he summons the new minions. This means you should be starting with relatively enough pips to AOE on the second turn. The second cheat the boss uses is a mass version of guardian spirit with 100% health restoration. So the first order of business should be attempting to get rid of those minions. For the Tier 3 and 2 versions, we have 3 fire mobs to vanquish. It's definitely a priority to get rid of these before they start stun and/or smoke spamming as that will prolong the fight and thus increase the risk of complications. Likewise for the Tier 1 version, these minions are balance and like to spam tri-shields.
Rematch Strategy
My strategy here is to send an AOE hit on the second round, in this case, Orthrus. My other wizard buffs the hit to make sure the minions get taken out but also add a little bit more damage onto Meowiarty. After minions are revived by the guardian spirit, the second wizard can similarly AOE on the third round to knock the minions out of the fight for the second and last time. At this point Meowiarty is probably significantly low in health.
Now that Meowiarty is on his own, it's time for some hit spamming. I suggest bringing 4 pip hits as they can usually deal good damage and can be used quickly. One or both wizards hitting Meowiarty with a 4 pip hit should knock him out for the first time. Once he is revived by the guardian spirit, I suggest ending the fight with a nice alpha strike. Blade on one hitter, feint on the other. Add in another buff the next round and send the killing blow. If everything goes according to plan this fight should be over with 7 rounds. If you bring along another friend or 2 I imagine this fight will go faster. And with all that said and done it's time to cash in on rewards.
Notable Meowiarty Loot
These fights were designed with a very specific intent, giving higher level players the chance to farm spellements. Meowiarty is hoarding the rank 4 spellements and only the rank 4 spellements. After finishing the fight anywhere between 8 and 30 spellements can drop, although 30 seems to be a little bit on the rare side. These spellements will drop individually and are not school locked so you can get any number of these 7 displayed below.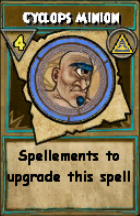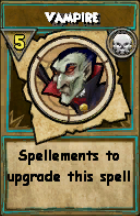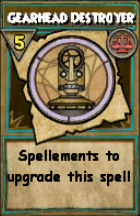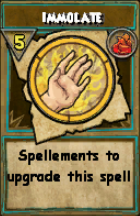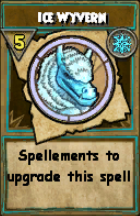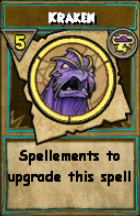 Additionally, Cantrips were also added into the game during the same update and now both the questline bosses and these rematch versions drop these new cantrip teleportation spells. Given that Meowiarty is residing in Marleybone, he has the teleport spell To Regents Square. This is probably a lot easier to acquire from the rematch fight instead of climbing 20 floors in Big Ben for the chance to fight the weaker variant. So make sure you check this off the list while you show Meowiarty why he should have stayed in prison. Additionally, Azoth TC will drop from this fight.
Final Thoughts
Meowiarty's Boss Rematch appears to be one of the easiest fights between the 5 new bosses. The simplicity of the cheats, and the ability to rely on standard strategy doesn't offer too much of a challenge in this match up. It's also notable that the the drops aren't too different from the questline version, but given Meowiarty's location during the questline, this boss rematch is a much faster approach. Good luck spellement hunting!
Enjoying the fight?
Let us know in the comments down below!