October 25, 2018  October 26, 2018
Empyrea Part 2: Alphoi Crafted Gear
---
Empyrea Part 2 is the gift that keeps on giving with its breathtaking lore, the panoramic locations and its gear! As of now, we have the Zanadu dropped gear set which we already explored and the Alphoi crafted gear set that could be considered an upgrade. The Alphoi crafted gear set's recipes can be bought from Romar located in Nimbus Citadel. Additionally, you have to be a Visionary Crafter to craft the gear which you can learn more about here.
Keep in mind that each recipe costs exactly 50,000 gold to be purchased and has a few difficult requirements to say the least. Upon reviewing the recipes for all the gear you can notice that you need the following ingredients per every piece of gear: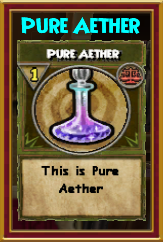 1 piece of gear from the Zanadu dropped set
20-30 Perfect school gemstones (Ruby, Onyx, etc.) – easily purchased from reagent vendors
5-20 Shocked Keys – dropped from silver chests or by gardening Key Limes
1-4 Pure Aether – drops from the final boss in Empyrea
50-75 Aethyr Dust – from all over the maps in Empyrea

7-15 Astral Shard

 – the Bazaar will have you covered, if not wander around Khrysalis and Empyrea till you get them
20-25 Aethyr Ore – from all over the maps in Empyrea
Note: Numbers vary depending on the item type, but the ingredients are pretty much the same. Also, the crafted athames were not added to the below previews as they are not as 'good'. Mainly due to the low damage and missing triangle jewel slot.
The gear trend for Arc 3 of Wizard101 remains yet the same – offensive hat, defensive robe and balanced boots. The rings come dangerously close to being equal or better than those of Mirage's Mimic, but perhaps not close enough. On the other hand, the athames remain underwhelming due to lack of triangle jewel socket and low damage. The mastery amulets are definitely worth noting for this set as they are the first mastery amulet to be craftable. To conclude, this set is worthy of a mention, but I would only go for it if I'm seeking perfect stats. Otherwise, it is not worth the work it will cost you to craft them when you can just farm for the Zanadu dropped set.
What are your thoughts on the Alphoi crafted gear?