Pirate's Regatta Guide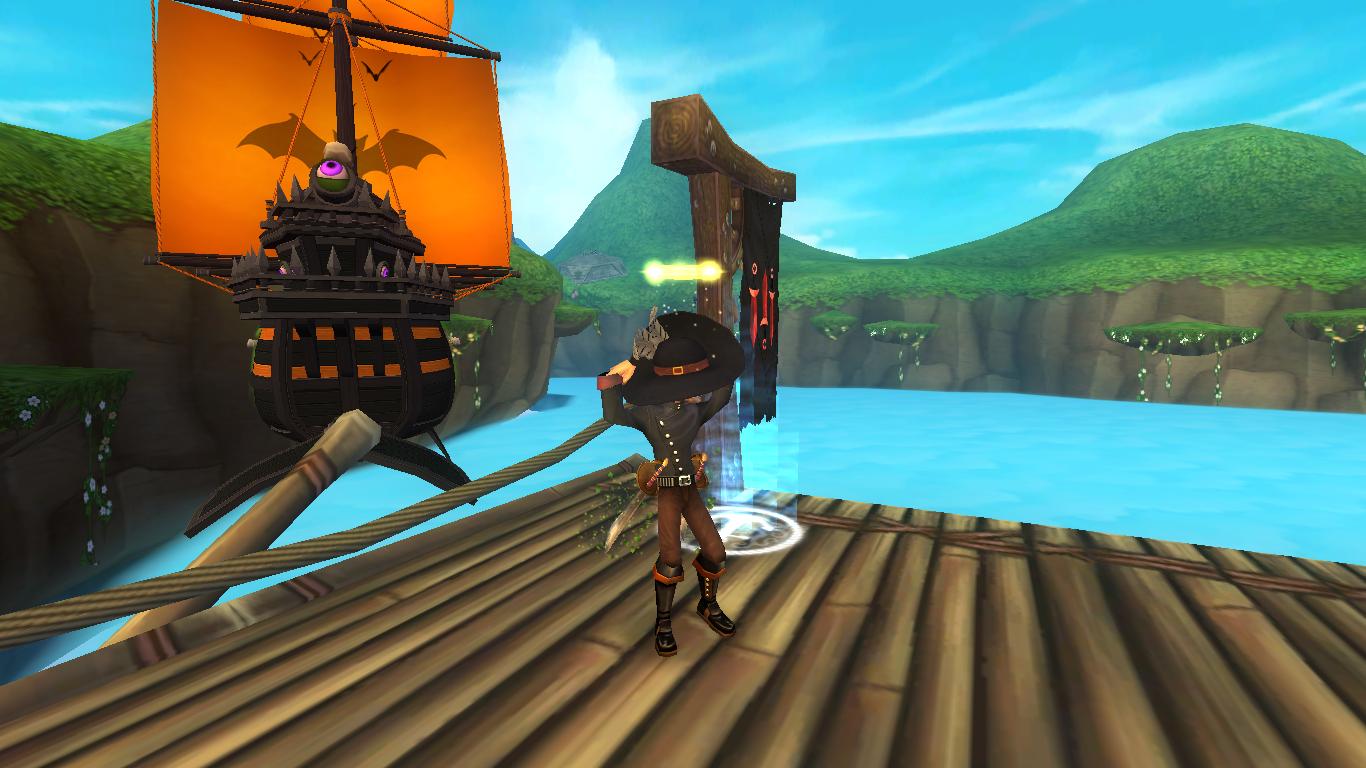 A Ship Captain? A Royal Navy Elite? You're an Admiral? None of these ranks matter once you enter the Corsair's Challenge Cut. You can't truly call yourself a master of the skies until you prove your mettle against the strongest foes of the skyways in this fearsome dungeon. 
Welcome everyone, to the illustrated guide of the infamous and first ever nautical gauntlet in Pirate101, the Pirate's Regatta. Let's take a further detailed look  before we start discussing anything.
Nautical Dungeon Experience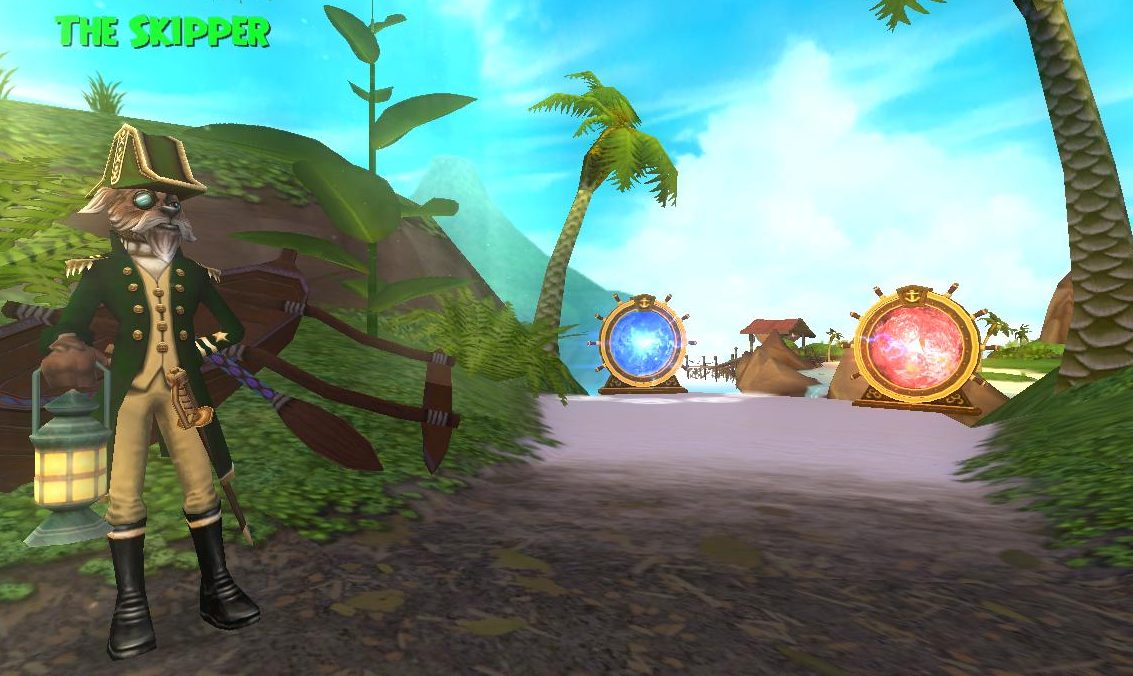 The dungeon was introduced with the highly anticipated Ranked PvP Update of Summer 2015, which has come to be known as "The biggest of all PvP Updates" for Pirate101. In order to get access to this dungeon your pirate must be at level 65 or higher and your Nautical Level must be level 45 or higher.
If you do meet the above requirements, go ahead and speak to the Town Crier in Avery's Court. He will send you to The Skipper to start this amazing adventure!
Pirate's Regatta Dungeon's Content

---

Here are all the fights that this dungeon will include:

Fight 1 – 5 Bull Shark Ships
Fight 2 – Boss ship, Big Eye Bull

Fight 3 –

5 Mutt Gang Ships

Fight 4 –

Boss, Gnarly Mutt
Fight 5 – 5 Shellfish Ships

Fight 6 –

The Shellfisher, a boss ship

Fight 7 –

5 Sunny Beach Ships
Fight 8 – The Sand Castle Monkey, Boss ship
Fight 9 – 5 Sea Foam Ships
Fight 10 – Defeating the last and final boss, Spirit of the Sea Foam
Important notes:
Minion ships, which are the five ships you have to defeat first before the boss spawns, cannot be boarded. You'll have to eliminate them in a Ship vs Ship battle in order to knock them out.
The Boss ships are unsinkable, meaning you'll have to get these ships down to 50% health and board them. You can also wait for the boss ship to get your ship down to 50% health and board you.
Any ship you'll face in this gauntlet will have a max speed movement stat. Meaning, if you try to run away from them, they'll be able to reach you very quickly since their speed is double your ship's speed.
Make sure to have full Mojo Potions to use once your ship gets low in health. This is so you can refill your ship's and pirate's health, as this zone doesn't have any Yum Yum fruit anywhere.
It is recommended to have a Galleon ship at level 65 or higher and make sure your Nautical level is also at 65 or higher. If you're doing this dungeon at Nautical Level 45, it'll be very difficult to do and you'll need the help of other pirate friends to carry you through the dungeon.
The bosses you fight once you board the boss ships will have plenty of powers and talents. It will not be easy, so be on your guard!
Make sure you have companions at level 65 or higher in order to go through this tough dungeon.
All hands on Deck! READY, AIM,FIRE!

---

Now that you are ready to fight with your teammates, time to see how things will go…

Minion Ships

Once you enter the dungeon it's time to defeat the Bull Pup's five mob ships, In order to beat these ships and later waves of mob ships in the gauntlet, always focus on one target at a time. You should focus your entire team's attacks on one ship of the five. Or instead, you can have 2 of your teammates focus on one ship while the other 2 focus on another.

Once they're down, focus on another target, until the last mob ship is left for all of you to wreck. If you take these steps, the dungeon will be as easy as you can imagine. If every pirate ship focuses on just one target, expect them to outnumber and outgun the team, as these ships can target more than 1 player ship at the same time.

Boss Ships

Knocking the boss ship out will be a bit difficult as boss ships in the regatta tend to have a huge chunk of health. As I mentioned above, keep in mind that all of the boss ships are unsinkable. Make sure to focus with your team on the boss ship together to get it below 50% health as fast as possible to board it. Don't aim for the boss ship alone unless you're a fan of soloing like me. The damage boss ships can deal can quickly damage your ship and you'd struggle to heal your ship.
CHARRRRGE!
---
You've drained the boss ship's health with your teammates, great job! Now comes the harder part. As mentioned before, boss creatures on boss ships are packed with powers. Which means it'll be annoying to deal with. Some of these powers are Knockback bombs, Regular bombs, Assassin Strikes, Backstabs, Brutal or Vicious Charges. Enemies could also have some Witchdoctor attacks like Soulreaver or Mournsong. Play as a cooperative team and make sure to carry 2 to 3 shields/fort protections in order to survive them. It would be preferable to have a privateer friend on the team to help out with buffing and healing. If you have blood flames and tide boots and Old Scratch, go on and use them. It'll make the painful dungeon more of an easy experience.
Can I Solo the Pirate's Regatta?
Yes! Indeed you can! I've soloed it myself hundreds of times on Swashbuckler and Buccaneer. It's actually super fun to solo, way more than you would think. I never thought it'd be possible, it took some patience and time to do it the very first few times. However, keep in mind that soloing will make the progress through this dungeon slow, as these enemy ships have a great amount of health and damage.
Soloist Stratagem
---
In order to solo this, you cannot yolo charge the mob ships immediately. Instead, you can follow this simple technique. Lure one ship at a time and move your ship all the way back near the docks while you're still attacking the ship. With the x2 movement speed these ships have, you'll drag the ship quickly to you. The other sister ships of the mob ship won't easily find you, as you'll be out of their sight. You will easily knock out the single ship . Do the same strategy in every wave. It might take 10+ mins to beat all of the mob ships for each wave, but it's worth it.
The Boss Ships are a hopeless case. Do your best by charging them with the powers you have until you get them to 55% health. By that time, if you're lucky, the boss ship will get your ship to yellow health. This means they'll board you, which is a good thing if you have protection shields and attacks included to ensure your victory and survival against them after boarding.
---
What can you get
from the
Pirate's Regatta Dungeon?

Gear of Captain Swing
---
Have you ever wanted the nefarious Captain Swing's gear but can't farm him at all because you turned in Bonnie Anne's latest promotion quest? Every boss fight in the regatta drops a gear piece, including the Hat, Outfit, Boots and slicer weapons of Captain Swing. This is a great opportunity to pick up this stitch!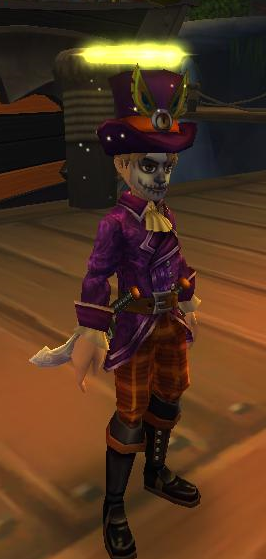 Special Pets
---
If you're a fan of collecting pets, this dungeon drops a special pet based on the theme of each boss ship! As you board the boss ships, you'll find that the bosses have a pet that assists them in the battle. You can get the Foam of the Sea pet, or even a Bull Pup Shark. Perhaps you may be lucky enough to get the Mutt Squacker? All of them are adorable and nice to have by your side on your crew. If you like any of them, try to move your pool of grants and talents onto any of these pets
Skeleton Keys
---
If you've missed your chance to farm Krampus when the holiday fest was around, you can farm the regatta when the holidays are back during Christmas in July or in December to have a chance to get a Gold or Stone Skeleton Key. You'll get a chance to farm Krampus! Who'd miss the opportunity to know whether they were nice or naughty?
Scrip
---
If you're saving your scrip to get one of the nice Black Market items or even farming to buy the Deluxe Scrip Cabin for your ship, this dungeon does drop a decent amount of scrip. I wouldn't miss this opportunity if I were you…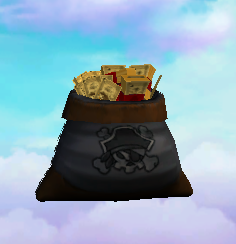 Exclusive Decoration Items
---
Lastly, you can obtain some special decoration items you can't find anywhere else in the spiral. Rumors say the bosses looted these decorations from a mysterious realm.. A realm known for magic and Wizards.. Wonder what could that strange realm be?
And with that, the article comes to an end. Which leaves me to ask you, will you be farming the Pirate's Regatta? Are you going to farm it with a team? Are you trying to solo it? Which of all the items mentioned above will you be farming for? Let us know in the comments below!
Try the Pirate's Regatta today!