8 Things in Pirate101
You'll Never Find in Wizard101
---
Every game in the world has its perks and downfalls. But have you ever wondered what makes Pirate101 a slightly better experience than its sister game Wizard101? Then don't miss out on this article! So you're asking: "What makes Pirate101 better than Wizard101?" The answer is simple and perhaps not at the same time. Pirate101 features and mechanics are different in so many ways. Let me list them all!
1) Better Loot Table
---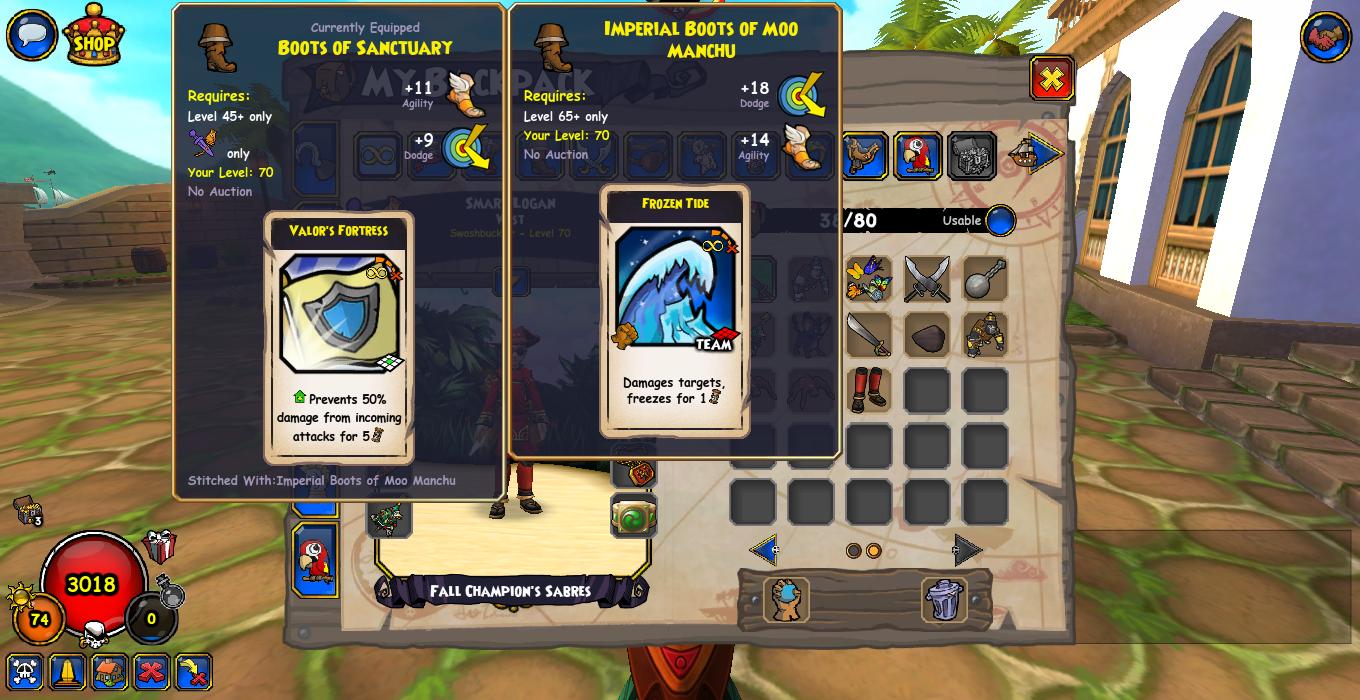 As we know in Wizard101, drops in combat are different for each teammate. Someone can get an item that you're farming for, while you get nothing or something you did not want or cannot use. But in Pirate101, this is all fixed. How is it fixed? All the teammates in a battle get an equal share of the same loot. This means if you get a certain item, all other players in the battle also receive that same item. With that, it guarantees equality in dropped loot, ensuring that the Pirate101 farming experience isn't as frustrating as it can be in Wizard101. This alone is a good reason to try out Pirate if you haven't yet!
2) Improved Second Chance Chest
---
You can't help but wonder what kind of improvements I'm talking about when it comes to this chest. There are actually several improvements in the system that would please you if the Wizard side of the system seems to be frustrating to you. Especially if you're farming bosses like the notorious Loremaster or Malistaire the Undying in Darkmoor, I get your feeling. As we all know in Wizard101, you spend 50 or 75 crowns on the first chest roll, then the price increases every roll and it won't reset back to 50 – 75 until the next 24 hours.
In Pirate101, you spend 50 crowns on all boss second chance chests (no bosses have 75 crowns chests) and the number increases if you're still planning to open the chest in the same run. However, if you plan to go for another run of the same dungeon (Editor's note: Or plan to cabin that dungeon), the price resets to 50 crowns. Meaning? In Pirate101, second chance chests reset to 50 crowns every time you're doing another run of the same gauntlet. It means no 24 hour wait for a reset! This helps a lot too, as you can have a better chance at getting the item you want, as you only spend 50 crowns every run, rather than every 24 hours.
3) Decius says no more time or gold to waste!
---

This is something else I do truly love in Pirate101. As you know, in Wizard101 in order to hatch pets, you'll have to deal with a 24 hour timer (If you're a free to play) or 12 hours (If you're a member). If you don't want to wait all that time and want to have another hatch or work on several projects, you have to spend crowns or craft a hatching reset elixir to reset your timer.
Pirate101 has killed all of this pain easily. In Pirate, You can morph (hatch) pets and the wait till your timer resets to have another morph is 10 minutes whether you're a member or not. Not only that, have you ever gotten tired of expensive hatches that cost 40,000 – 60,000 gold? You won't have to worry about that in Pirate101, as hatching pets in pirate starts from 15,000 gold and maxes out at 20,000 to 23,000 gold. These 2 are one of my least favorite things about Wizard, but Pirate thankfully got these fixed, which is brilliant!
4) Companions aren't a side effect
---
It's no secret that companions in Wizard101 are pretty limited as their job to assist the Wizard player is only done by boosting their stats. Sadder part is that they can only accompany you temporarily for a certain quest in a certain world. Also, this trend starts as late as Khrysalis and  goes on from there. But in Pirate101, Companions are a large system and make an interesting impact on the game from all sides. Companions in Pirate don't give you a stat boost (For Avery's sake, the game is a game of powers, not a game of stats like W101) and their job isn't just to talk and be a part of your storyline dialogue. But they can assist you way better in combat. You can train talents on them. Each companion comes with unique powers that will assist you. You can send them in orders to collect gold, training points, treasures (gear pieces), mega snacks and pets and you can even have them roam in your house. Think they'll leave your crew? No! Once you recruit a companion, they'll fight by your side forever
5) Unique Boss Gear Look
---
There's no doubt that the boss exclusive gear in Wizard101 often doesn't look similar to the clothes the boss wears. Ever questioned the weird design of Waterworks gear when the boss wasn't wearing any of the gear? Ever wanted Medulla's fancy coat but Kingsisle never made a player version of it? These frustrations are all relatable. However, in Pirate101 there is actual unique boss gear that drops which looks the same as the item that the boss wears. For example, Moo Manchu's gear or General Tso's gearset. How about the weapons that the armada uses? Rooke's gearset looks fancy. Perhaps you're interested in looking like a priest? Bishop's hat and weapon are the perfect choice. There are tons of these in Pirate101 that surely will impress you.
6) Upgradable PvP Rewards
---
Got tired of being level 130 with no good PvP gear and only Malistaire and One Shot gear with packs wands and boots? I feel you. If you're into new PvP gear sets and weapons, then Pirate101 is the best place. Every season both the Pet and Weapon vendors change their inventory with new items that suit your needs and are available for all levels! The introduction of a new PvP set called "Dark Sea" has started this year. Winter season brought some very cool weapons, unlike the usual weapon set that used to be there annually. Who knows what kind of items and loot we're going to see later this year? Overall I'm impressed and excited!
7) Difference in Combat
---
Going second definitely isn't cool, especially if it's a boss battle that is pretty difficult/annoying with cheats. Or if you're doing a PvP battle, going second can be devastating. Pirate101 enhanced the combat system to make sure that you are victorious (In PvE) and make things more fair for both opponents (in PvP). In PvE, you're starting first consistently (there are a few fights that are exceptions). This makes PvE easier.  In PvP, things are turn based to ensure that your match goes fairly and pretty smooth for both opponents. You've seen how a turn based system worked very well with Wizard's tournament system, haven't you?
Another good thing you'll never find in W101 that also is in Pirate, if you're defeated and your teammates defeat the boss, you'll gain 1 health and share the same loot they get. In Wizard101, you'd get no loot, no credit for defeating the boss and would be straight out of luck. In Pirate, you won't be sent to walk the plank in Avery's Court no more! Indeed, these are great benefits you'll likely never see in Wizard.
8) Elixirs
---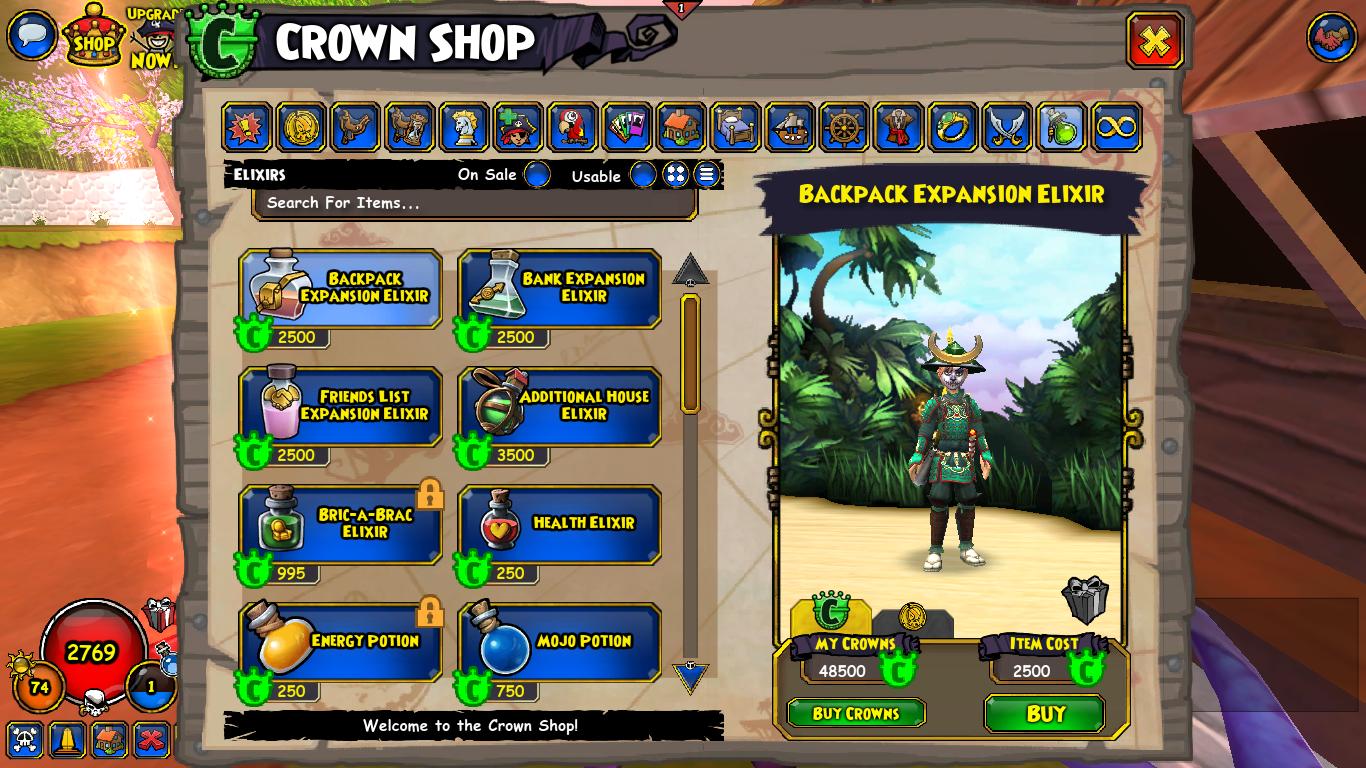 Wizard101 has a Backpack Expansion elixir. But does it have Bank and Friends List elixir? Definitely not. BUT, they exist in Pirate101. With this elixir you can have 230 friends as a subscriber and 200 friends as a Crowns Player or Free to Play, with an additional 200 bank space whether you are Crowns, Sub or Free to play player. Seems like a fair deal isn't it? Who wouldn't want these especially the extra bank space to save your ol' special loot?
Summary at the end is, both are indeed great games but Pirate has several improvements which make it unique. Be sure to try them both out. You won't regret it at all! And at the end of the article i have one thing left to ask….
What is something that you do love in Pirate101 which you've never found in Wizard101?
Let us know in the comments below!