Shark Principal
---

Welcome back to our second installment on side bosses featured in the Crypt of Tales! After skating around the Snow Queen in the first part of this questline, it's time to dive into the next challenge, the Shark Principal. Players can approach the Scriptwriter in the crypt to begin their journey!
Some-fin Fishy
---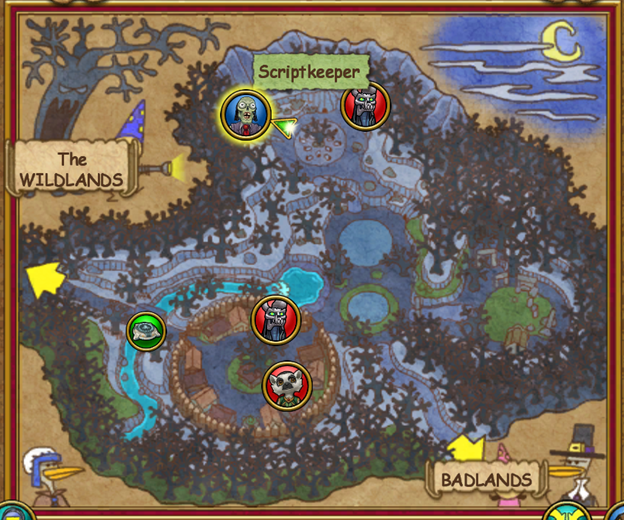 Deep in the Night Forest resides our spooky friend, The Scriptwriter, waiting with the quest to start our next adventure. The quest will descend into the Second Story Tomb dwelling where a series of school of fish schooling fish await daring players. There are lessons to learn and lemurs to save but I wouldn't pay much attention to those TAs, we're already on the way to the Principal's Office.
Shark Principal Boss Info
---
After clearing out the first two floors and enduring some intensifying music it's time to turn the hunter into the hunted. The Shark Principal is waiting on the third floor with a disruptive Shark Student. Overall, this boss has a few quirky cheats, but he isn't that difficult to manage.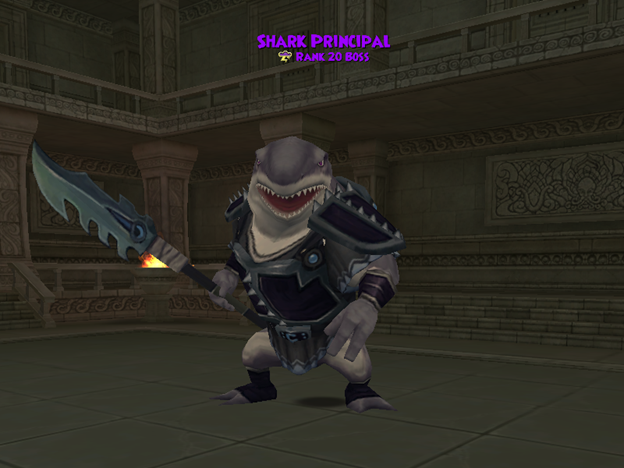 Shark Principal –  11,040 Health – Storm 
Spells:
Frenzy
Stormblade
Disarm
Enfeeble
Shadow Tempest
Iron Sultan
Rusalka's Wrath
Sound of Musicology
Vengeance
Storm Trap
Windstorm
Queen Calypso
Tempest
Glowbug Squall
Dark and Stormy
Natural Attack
Shark Student – 4,320 Health – Myth
Spells:
Adapt
Pierce
Stun
Shatter
Humongofrog
Orthrus
Mythblade
Mythspear
Blinding Light
Natural Attack
Punklops
Earthquake
Battle Cheats
"Mine!" – At the end of every round the boss will use Steal Pip

"Nom-Nom" – On the first turn the boss will randomly eat a player. The player will be spit out at the end of the round and the boss will deal 3,000 damage to all players.

"Safe At Last" – Feint spells will be removed from the boss and placed on the minions.

"Combat is Hungry Work" – Every 5 turns Shark Principal casts his storm shark spell that will devour a random player. This version will last 3 rounds. The player will lose all hanging effects when devoured and will miss their turn until they are returned to the duel circle.

"Dinner… is cancelled" – After defeating the boss, tempest will be cast as a final farewell.
Rewards
---
Upon defeating the Shark Principal, the instance will complete and all players will be granted 16,500 gold. Gear drops from this fight including the Magicians, Supreme, and Malevolent sets which can be found in other places around Lemuria. Another notable drop is synthonium. Synthonium is a Lemuria dropped reagent used when crafting the Lemuria gear.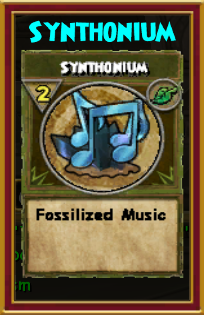 Unfortunately, this fight doesn't reward any badges. However, this quest is required for the Legend of Lemuria and Cosmic Completionist badges.
Shark Principal Strategy
---
Unlike the Snow Queen, this fight isn't as complex. Watch out, the boss took a bite out of you! But I guess he bit off a bit more than he could chew, because he spit you right back out. This cheat is both amusing given that the boss is a Shark, but this cheat also serves as the anti-alpha-striking maneuver one might expect from side content. Any wizard who gets eaten, if only temporarily, will lose all their hanging effects. Additionally, with feints out of the picture there is a bit of a risk with trying to buff up one player.
To keep things simple, I'll be exploring a two person strategy. Round 1 both players should buff up and prepare for their rank 7 AOEs. As expected, the boss will eat one of you, removing your buff and spitting you back out at the end of the round. This should put the players in a position where they can use a rank 7 and rank 4-5 AOE on Round 2. This should dispatch the minion and leave you with room to focus on the boss. Given that this boss is packing a lot of damage, you can start buffing again on round 3 and prepare for single hit attack spells like Headless Horseman and Splashsquatch. If all goes well you'll be in and out of this fight on round 4.
The Shark Principal leaves you with a parting gift, a tempest that packs a punch, so make sure you will survive the hit! With all that in mind, the more friends the better, as this fight will only get easier.
Click the icons above for more boss guides!
What are your thoughts on this boss? Let us know in the comments below and be on the lookout for the third part of our Crypt of Tales series!