November 24, 2020  September 11, 2023
Primeval Hoard Pack
---
September 2020 gave us a throwback to a time when Aztecosaurs ruled the Spiral! The Primeval Hoard pack features gear, mounts, and pets, and completes it with some very interesting set bonuses as well. You can get this pack for a mere 399 Crowns in the Crown Shop.
The Bronto Mounts
---
Get to Xibalba pronto on your new Bronto! These three mounts are all two-person mounts, so you can drag a friend along with you. These mounts are also used in the set bonus calculations, so you'll ideally want one catered towards your school. Additionally, do note that the set bonuses only apply to the owner of the mount and not the second passenger. They're pretty cute though, aren't they?
Primeval Gear
---
The Primeval Hoard pack features three different sets of gear. The Avenger's set is geared towards the schools of Balance, Fire, and Death, the Hunter's set is for the Ice and Myth schools, and the Warrior's set is for the remaining schools of Storm and Life. Overall, these sets feature high critical, health and damage. While the sets offer considerable offensive stats, they give very little resistance, fitting into the glass cannon archetype for each school.
Fossil Avenger's Helm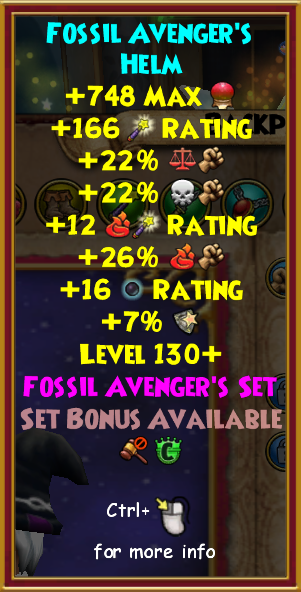 Fossil Hunter's Helm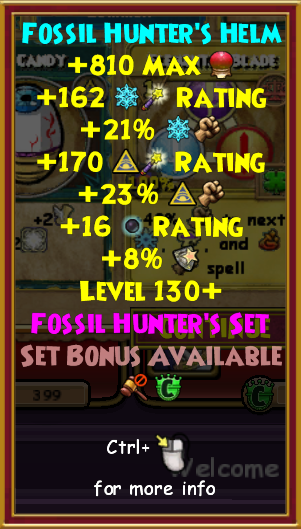 Fossil Warrior's Helm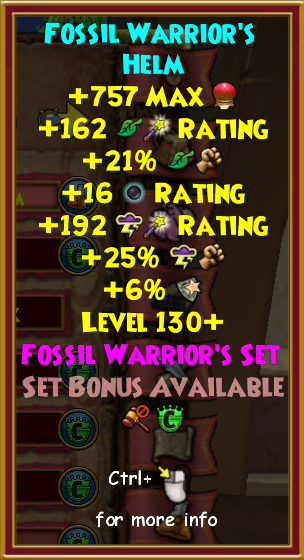 Fossil Avenger's Raiment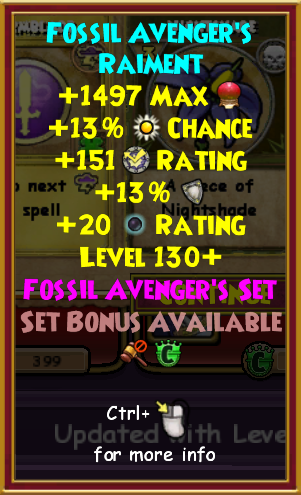 Fossil Hunter's Raiment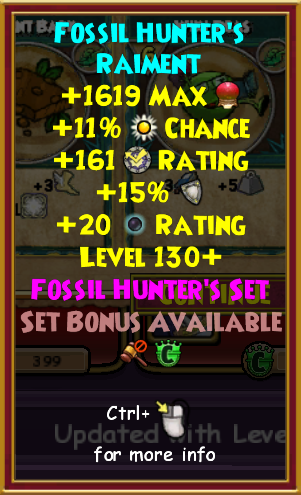 Fossil Warrior's Raiment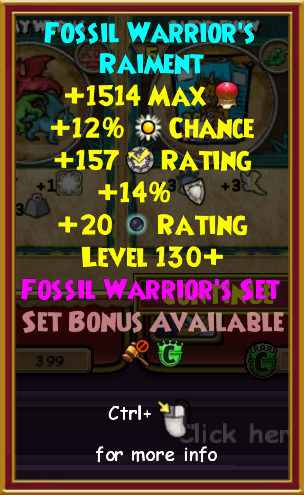 Fossil Avenger's Stalkers
Fossil Hunter's   Stalkers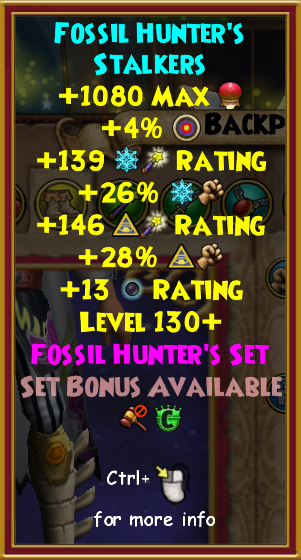 Fossil Warrior's Stalkers
Primeval Weapons
---
The wands give pip conversion, taking us further and further away from the pierce wands of the past. However, they do also offer shadow-pip rating. Perhaps this may spark a new wand metagame? The may cast spells are also useful as they are Meteor, Leafstorm and Blizzard which are all low pip AoE spells that can be used as shield breakers.
Fossil Avenger's Skullcrusher
Fossil Hunter's Skullcrusher

Fossil Warrior's Skullcrusher
Frillasaur Pets
---
The pets that this pack brings to the Spiral are unlike no other, save the Gryphons from Sinbad's Hoard Pack. With high starting stats, they make up a core of some of the most powerful damage pets out there. After creating a beautiful pool, the Scratchy Frillasaur helps make up a 182% Fire build. The starting pools are absolutely useless though, mainly comprised of selfish talents.
Snappy Frillasaur Pet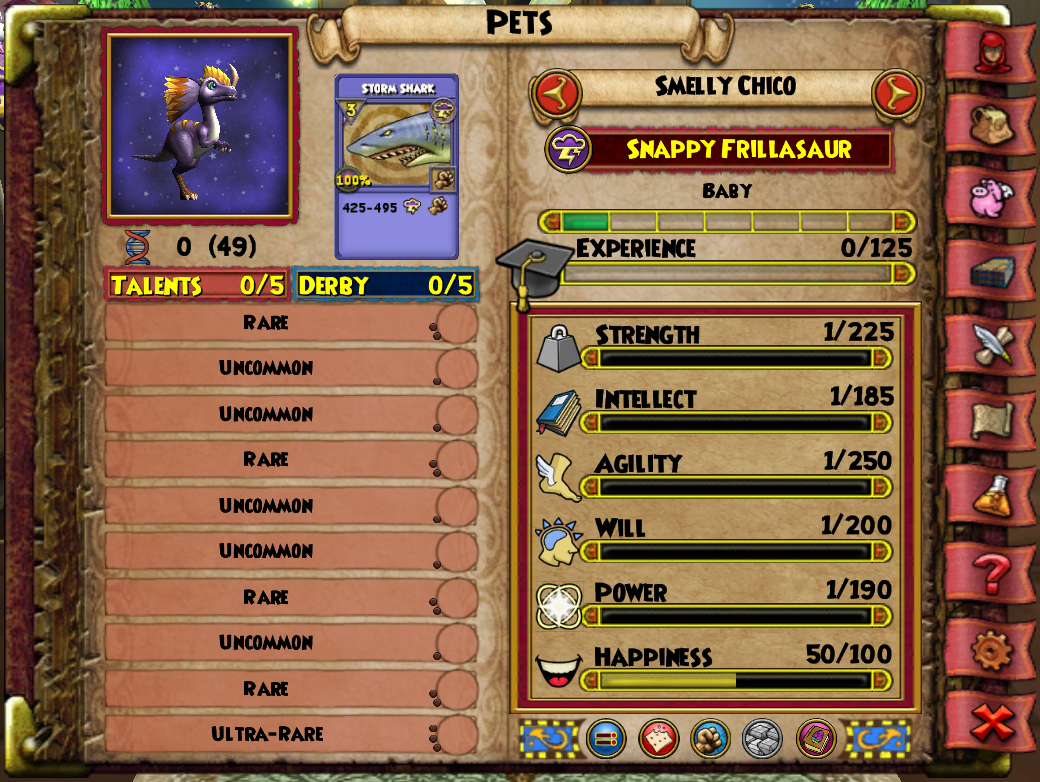 Fossil Hunter's Set
Talents: 
Scratchy Frillasaur Pet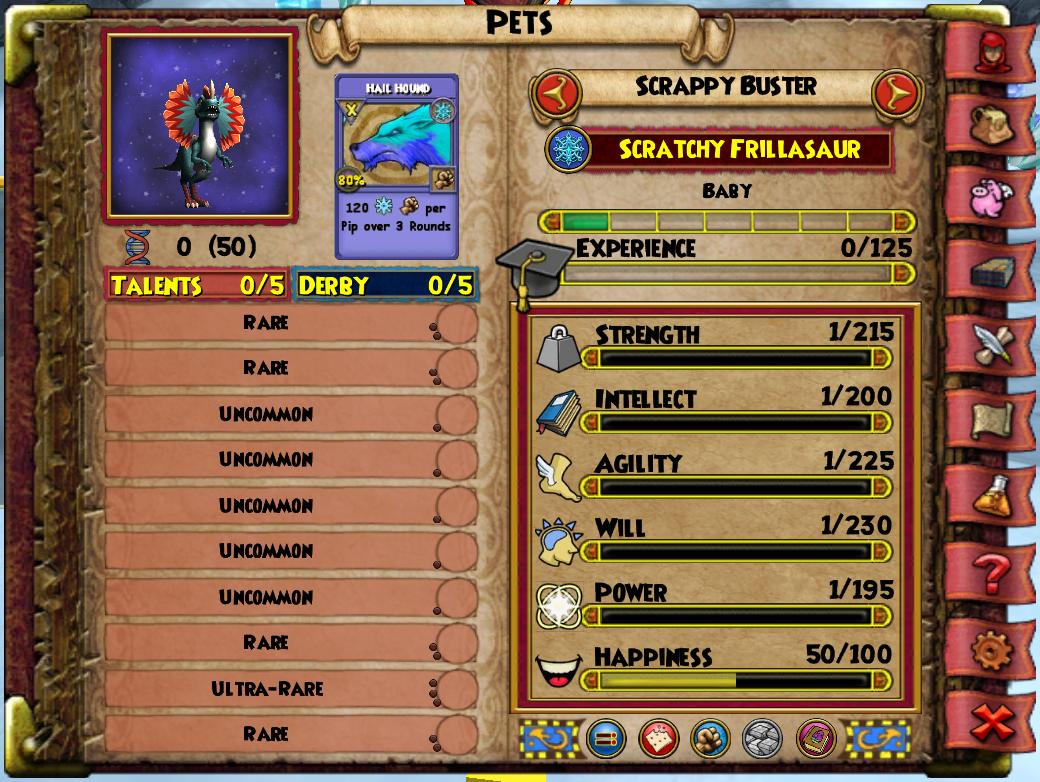 Fossil Avenger's Set
Talents: 
Scaly Frillasaur Pet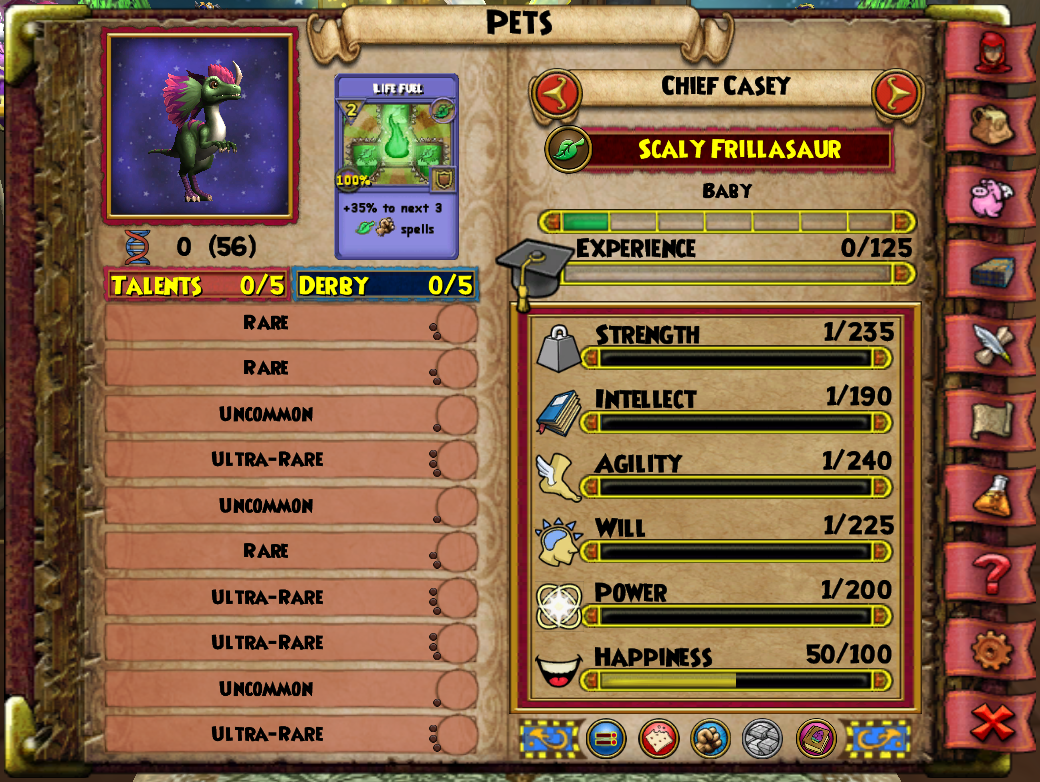 Fossil Warrior's Set
Talents: 
Fossil Gear Sets
---
Finally, each of these sets does have some pretty nice set bonuses. These are made up of Hats, Robes, Boots, Wands,  Pets and Mounts. While Balance and Death are neglected in these bonuses, Fire gets a staggering amount of damage- a whopping 8% damage. Stun Resist is also making a comeback. The universal resist is also useful to have, but it is worth noting that you need at least 4 pieces to achieve it which isn't exactly easy and will require some sacrifices.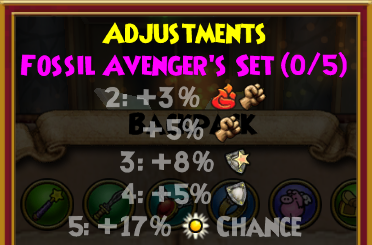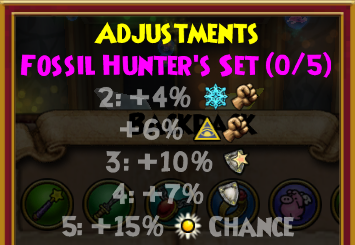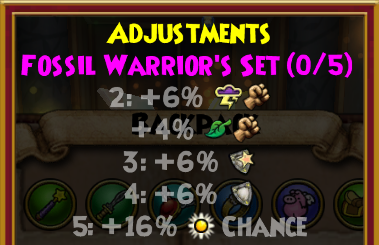 Will you be using any of the Primeval Hoard Pack Gear?
Let us know in the comments!