January 23, 2022  July 23, 2023
Heroes of Lemuria Pack
---
We've already met the eight Heroes defending Lemuria, but now it's time to join them! The Heroes of Lemuria Pack for Wizard101 was released in January 2022, just over a month after the world's release. As we saw with the Karamelle Souvenirs Pack, it seems to be the new trend to have a Hoard Pack accompanying each Arc 4 world. This one is bursting with Lemuria-themed items. To test the contents of the Heroes of Lemuria Pack, I spent 14,000 Crowns which results in 35 packs. Before I share the results, let's look at everything this pack has to offer!
Shadoe's Gear
---
The main attraction of the Heroes of Lemuria Pack is the Shadoe gear, which is currently up to level 150. There are hats, robes and boots for three sets: Justice, Night, and Vengeance. The design of each set is the same, but with different colours: Justice is red, Night is green, and Vengeance is blue. I personally love the design of the gear, which is obviously based off of Shadoe's chic getup. I think we can all agree that they are the most stylish of all the Heroes.
The real highlight of the gear is the Night set. This is the first pack energy gear we've had for a while, and the first ever from a non-seasonal pack! At the high levels, the complete Night set gives the same amount of energy as the other current best energy options (Alpine Hunter from the Yule Logger Pack, Light Elf from the Elven Nightmare Pack, or the Pet Trainer Bundle gear). However, it is distributed differently across the three gear pieces. This means that Shadoe's Hat of the Night gives +4 energy upgrade compared to the other hat options. We no longer need to wait until  Christmas or Halloween to get good energy gear!
The other gear sets, Justice and Vengeance, are not really worth pursuing for their stats. They are pretty standard for pack gear, with the Justice set being geared towards universal offence, and the Vengeance set geared towards defence. Although in my opinion, they are certainly worth pursuing for aesthetics alone. Check out all the stats below.
Shadoe's Night Gear
Shadoe's Justice Gear
Shadoe's Hat of Justice
Shadoe's Costume of Justice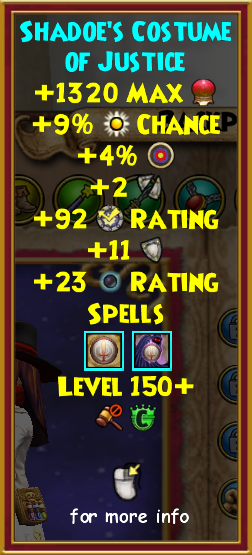 Shadoe's Boots of Justice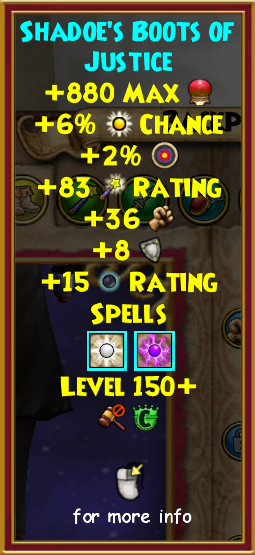 Shadoe's Hat of the Night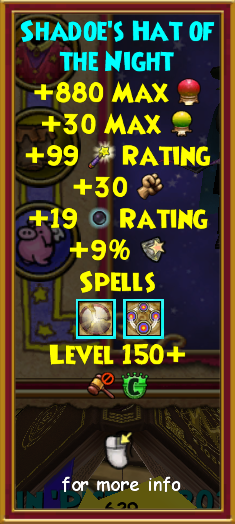 Shadoe's Costume of the Night
Shadoe's Boots of the Night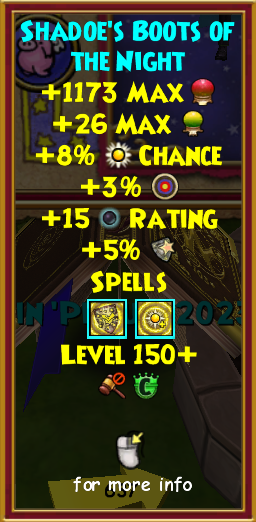 Shadoe's Hat of Vengeance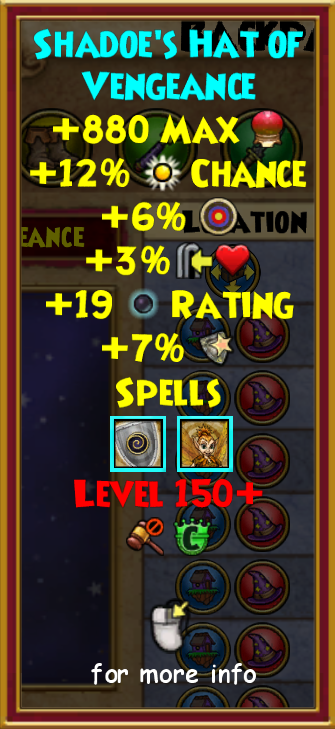 Shadoe's Costume of Vengeance
Shadoe's Boots of Vengeance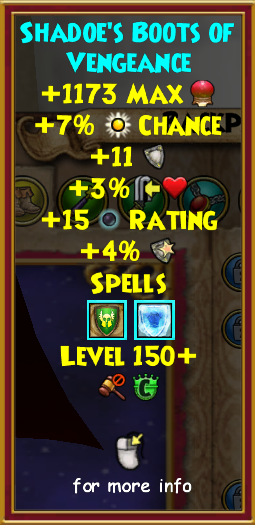 Mandar Weapons
---
Alongside the Shadoe gear, we also can obtain three different variations of Mandar's Sword. The main highlight here is Mandar's Sword of Legend, which offers +14 energy. This is on par with the wands from the Light Elf and Alpine Hunter sets, so it's only worth going for this if you don't already have good energy gear. The other notable mention is Mandar's Sword of Might, which gives the unique Mandar item card that you may have already seen when questing in Lemuria.
Mandar's Sword of Heroes
Mandar's Sword of Legend
Mandar's Sword of Might

Jetpack Mount
---
The only way to travel in style through Lemuria is with Buck Gordon's Jetpack! This mount gives the normal +40% speed boost, and definitely fits into the Sky City vibe. The best things are the jump and idle animations: two different flips! However, I am slightly worried that the jetpack fire is little too close to my robe's cape… isn't that a safety hazard?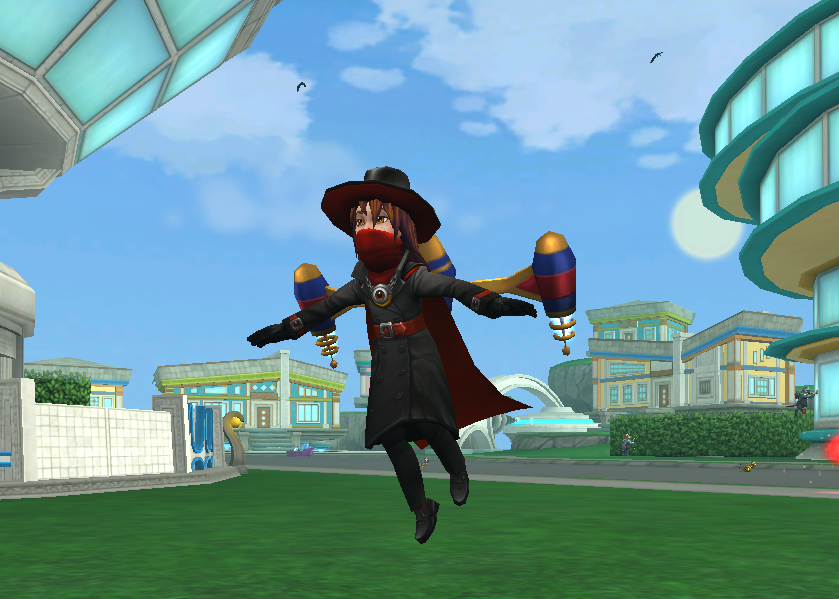 Lemur Pet
---
Of course it wouldn't be a Lemuria-themed pack without a Lemur pet! We encounter many of these as we quest through the world, especially at the beginning. The Li'l Lemur is an adorable addition to your pet collection. It will walk on four legs but occasionally stand up on two legs and pick some fleas out of its fur when idle. The pet will offer 1 Stormblade item card at Baby, making it a viable option as a questing buddy. Let's just hope this one doesn't throw itself into a volcano…
Li'l Lemur Talents
Talents:
Efficient
Storm-Shot
???
Rugged
???
Health Boost
Storm-Giver
???
Careful
???
Housing Items
---
Alongside the usual pack suspects (seeds, reagents, pet snacks, and treasure cards), the other noteworthy drops are the Lemuria-themed housing items. There are pieces inspired by two areas of Lemuria: the spooky Night Forest and futuristic Sky City. I can certainly see these items fitting well into a Halloween house, a mad scientist's lab, or an urban town. You will also get loads of Lemuria-themed music scrolls, most of which are commonly found in the Bazaar. The main highlight here, however, are the Heroes house guests! All eight of our Heroes are available, ready to populate your Castles. Below are the 5 of 8 Heroes I managed to get in my 35 packs opened.
Closing Thoughts
---
Within the 35 packs I opened, I managed to get every gear piece except one, the Perm mount, pet, and quite a few unique housing items. In my opinion, that is quite a success. I like when packs don't have too much in them, so you have a chance of getting the particular item you want. Of course, as with any pack, it's never guaranteed. I personally found the boots and hats to be quite plentiful, with several repeat drops of the Justice Boots in particular. The robes were rarer, and the mount and pet even more elusive than that. Overall, whether you are looking for a neat new stitch, an upgrade to your energy gear, or a fun new mount, this pack has plenty to love.
What is your favorite item from the
Heroes of Lemuria Pack?

Let us know in the comments!