June 7, 2021  November 14, 2021
Karamelle Souvenirs Pack
---
Packs in Wizard101 are getting tougher to keep track of, as we seem to be introduced with multiple packs every year. Of course, we can't really complain about that as they're always jam-packed with wonderful and unique items for our wizards to play with! This time round we have the Karamelle Souvenirs Pack that for obvious reasons is bursting with Karamelle-themed items.
To spice things up, this time I carried out a little test on this pack and actually tried to keep track of how many packs were opened and what items were obtained. We've spent 20,000 crowns on this pack which results in 50 packs. Before I share exactly what the results and my opinion are, take a look at the items that can be unlocked from within.
Gear Sets
---
The different gear sets are shown below and it can be said that they are quite decent. The same gear model persists… offensive hats, defensive robes and balanced boots. Personally, I miss the old Darkmoor days, but that is too huge of a dream. From the below, I'd recommend you to take a look at the boots and possibly the hats. There are plenty of alternatives out there, but they will do if you're not up for farming.
Casual Set
Fancy Set
Formal Set
Casual Set
(Fire and Life Schools)
Casual Alpine Hat
Casual Lederhosen
Casual Bundschuhs
Fancy Set
(Death and Storm Schools)
Fancy Alpine Hat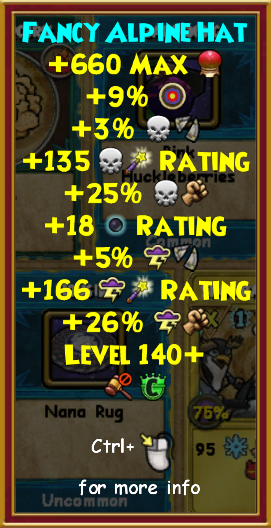 Fancy Lederhosen
Fancy Bundschuhs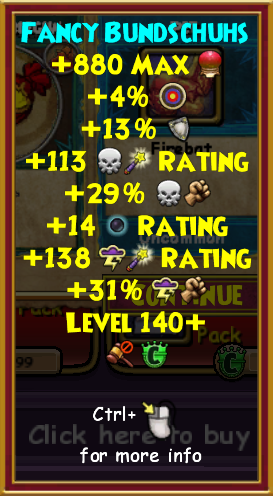 Formal Set
(Balance, Ice and Myth Schools)
Formal Alpine Hat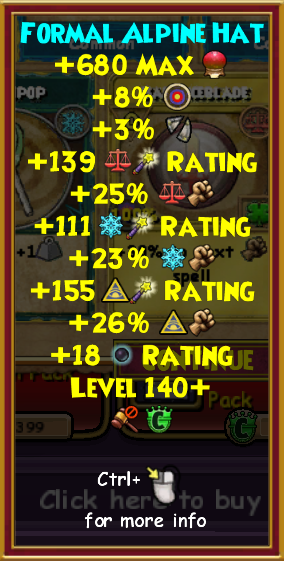 Formal Lederhosen
Formal Bundschuhs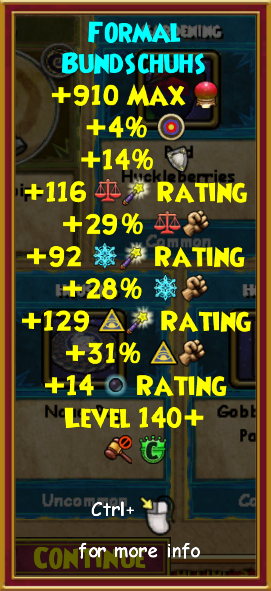 Licorice Whip Weapons
---
PiP conversion, shadow PiP rating, critical rating and damage… all in all very balanced weapons, but compared to what is currently out in the market, you may not be going for this pack specifically for the weapons. The day they add pierce on top of those stats… I actually don't know how to continue that statement as I'm not sure it will ever happen. On the other hand, I must say that the fact they are whips sets them apart from other weapons and they have some very cool casting animations like shown below.
Red Licorice Whip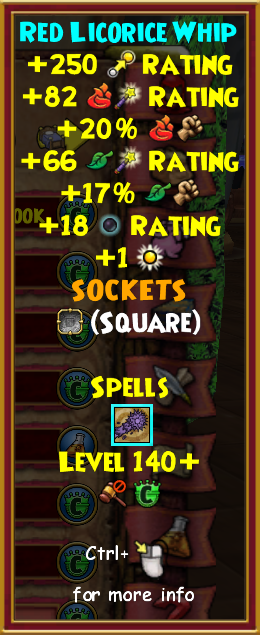 Black Licorice Whip
Green Licorice Whip

Gummy Bunny Mounts
---
Besides the casting animation on the weapons and perhaps the pets, the Gummy Bunny mounts are what makes this pack extremely unique. Check out the Casual, Fancy and Formal Gummy Bunnies below and simply wonder what it would be like to actual stroll through the Spiral on one of them. They run at a normal speed of 40%, but they're quite fun and bouncy (as bouncy as gummy bunnies can get).
Casual Gummy Bunny
Formal Gummy Bunny
Fancy Gummy Bunny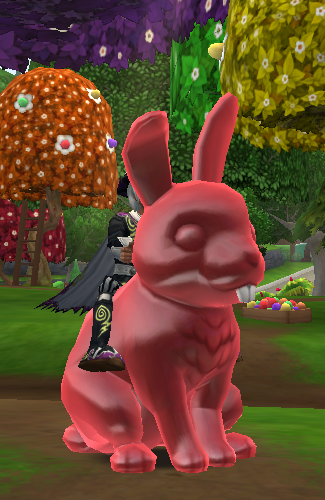 Apple Brudel Pets
---
For those of you lucky enough to have quested through the world of Karamelle already, these pets will ring a bell. The wizard encounters these as enemies throughout some Karamelle areas including Nibbleheim Mine. The Concept Artist at KI, Adam Roush, posted these images shortly after the pack release.
Here's the Apple Brudel concepts, which are mobs and now, pets. Again, fun times making odd creatures, esp the toasted version of this living pastry – the apples are carmelized/ baked. @KingsIsle @Wizard101 #wizard101 #videogames #conceptart #pastry #creaturedesign #creature
Adam Roush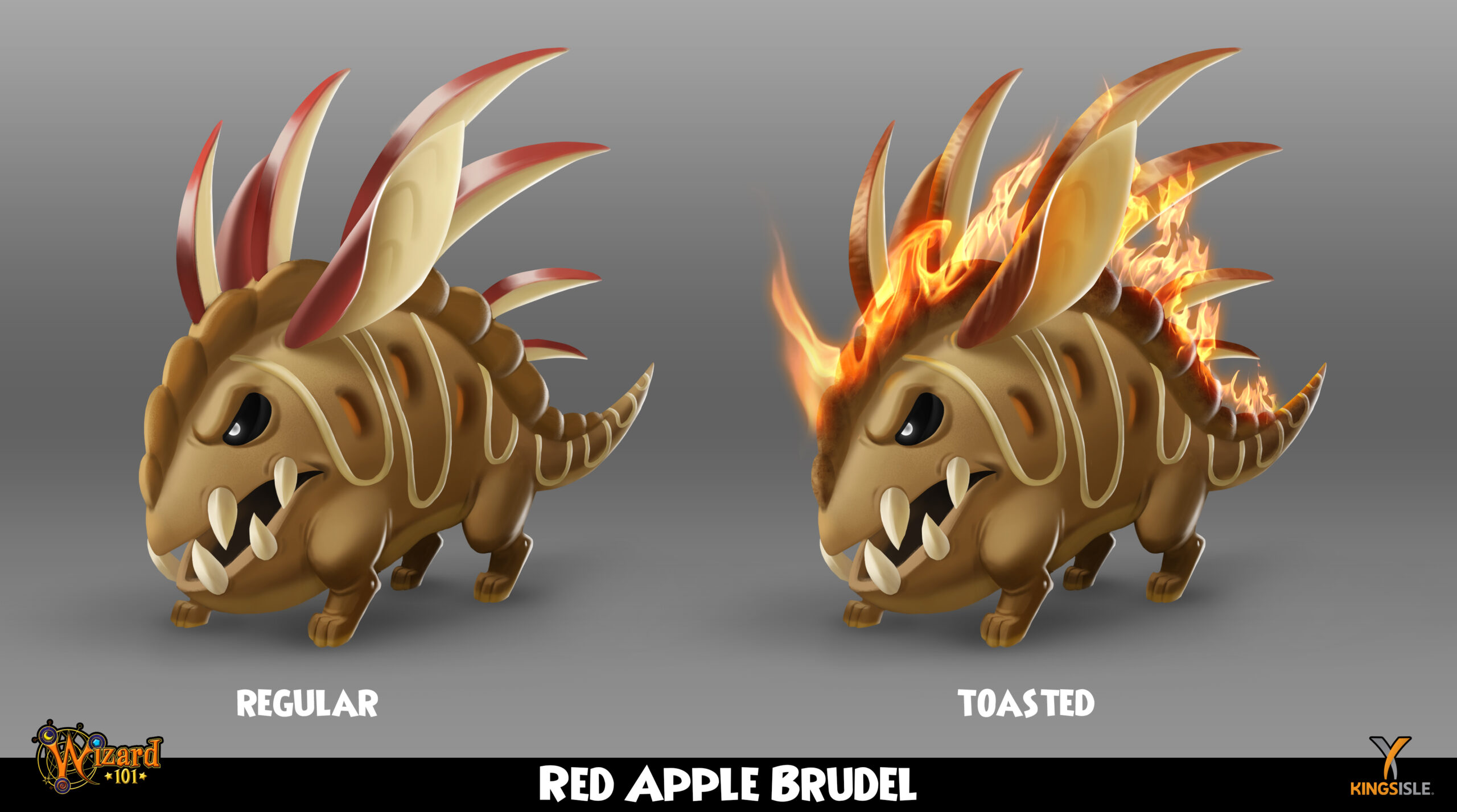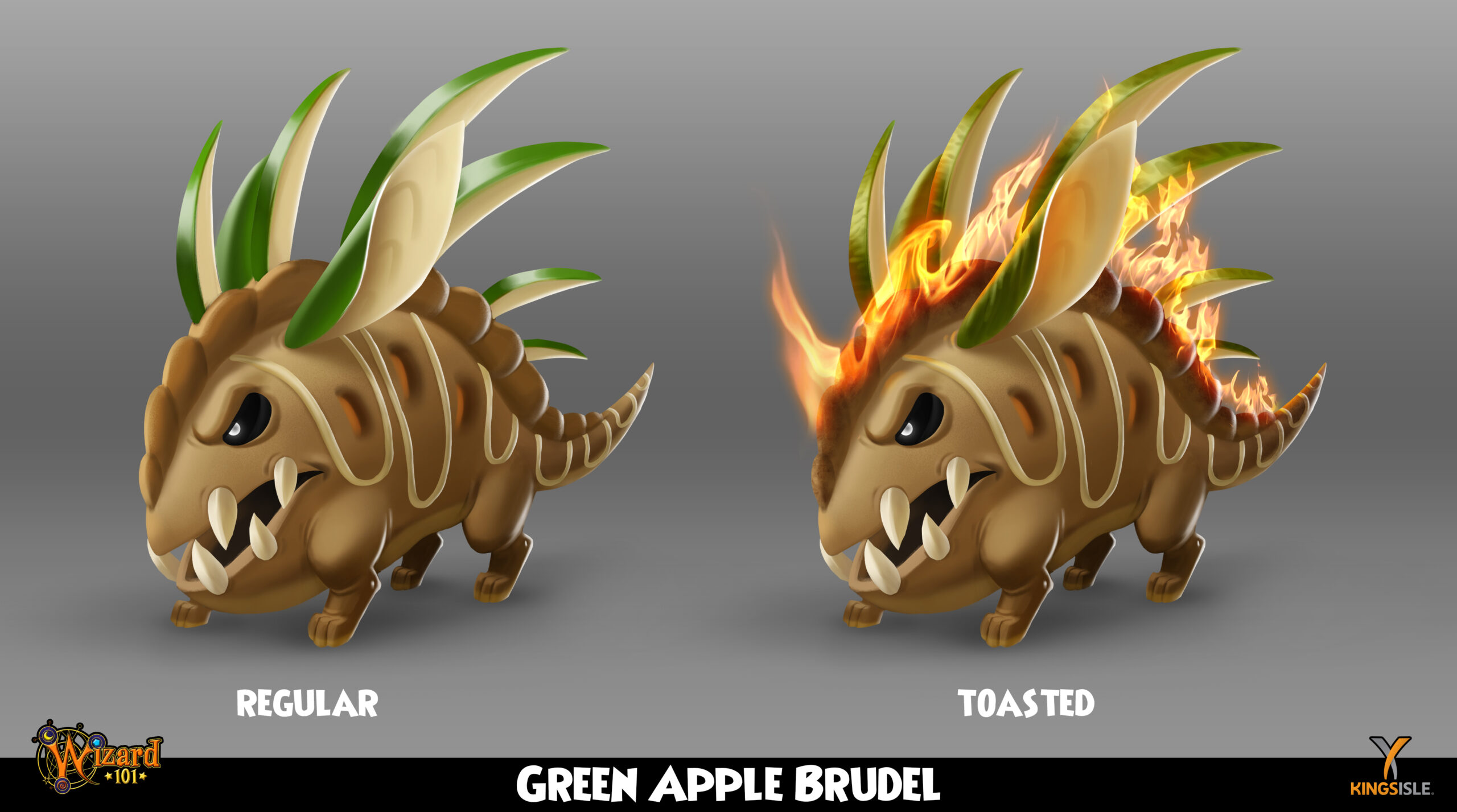 Green Apple Brudel
Golden Apple Brudel
Red Apple Brudel
Green Apple Brudel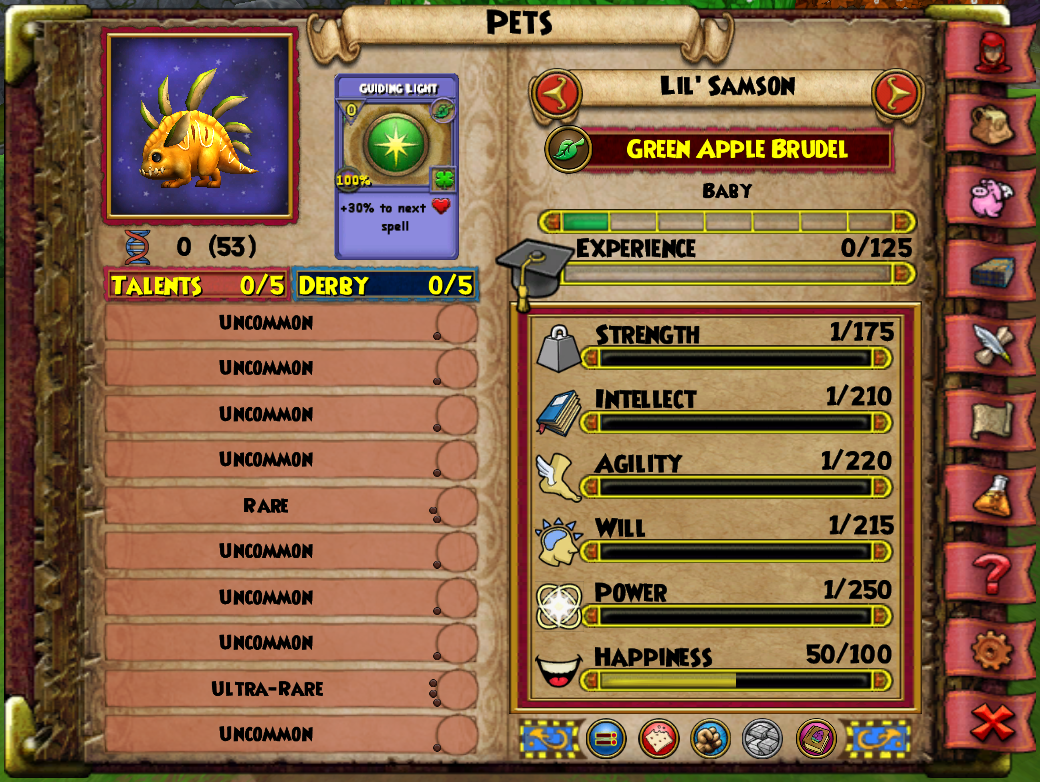 Adroit (Selfish)
Life-Giver
Life-Proof
Eager (Selfish)
Astute (Selfish)
Life-Shot
Health Boost
Triage Trained (Combat)
Lively
Determined (Selfish)
Golden Apple Brudel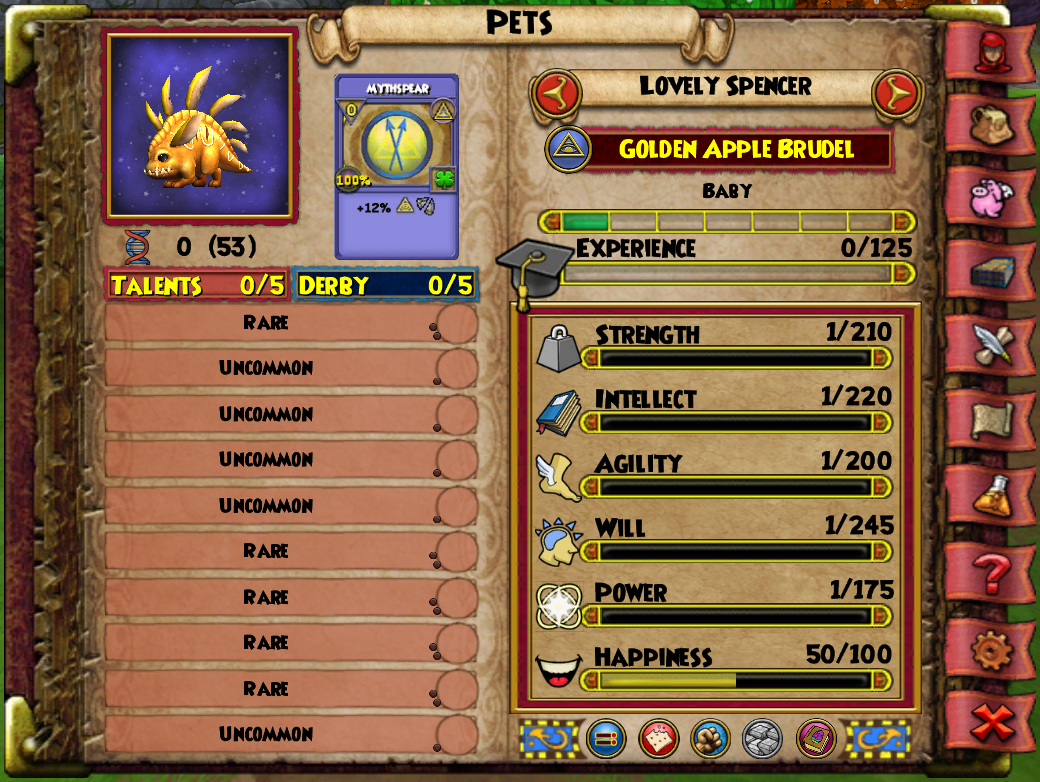 Intuitive (Selfish)
Attentive (Selfish)
Myth-Giver
Myth-Proof
Rugged (Selfish)
Myth Finder (Adventure)
Spirited (Selfish)
Health Gift
???
???
Red Apple Brudel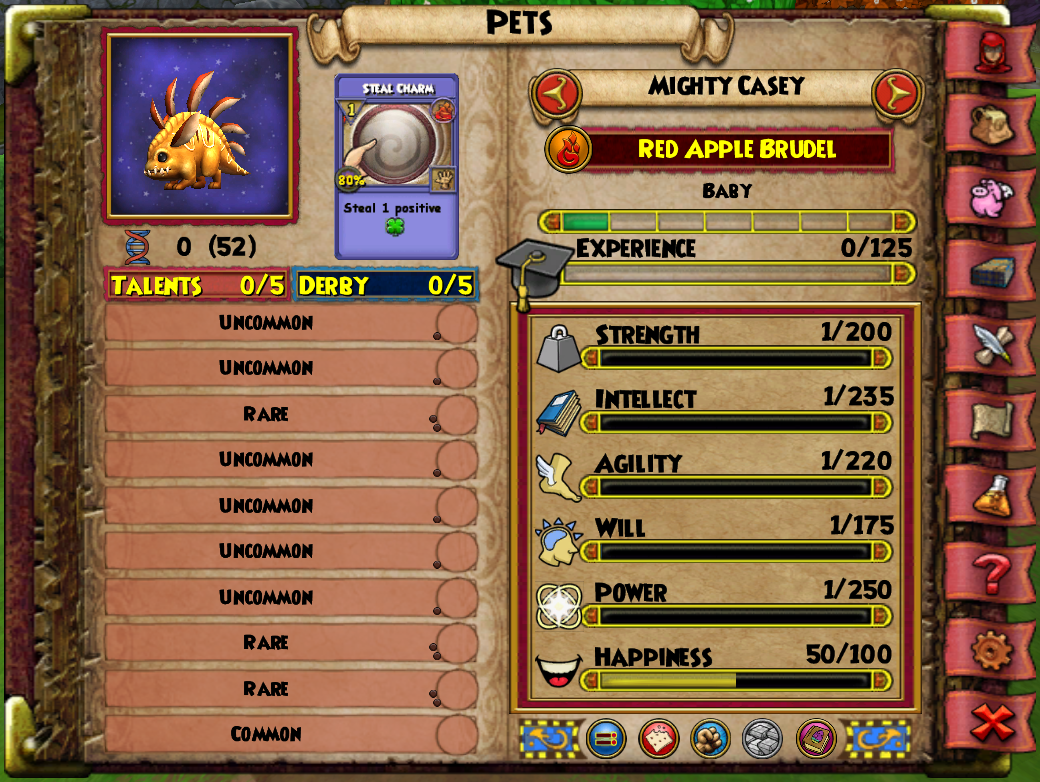 Effective (Selfish)
Fire-Shot
Intuitive (Selfish)
Fire-Giver
Fire-Proof
Mana Boost
Eager (Selfish)
Immolate Trained (Combat)
Durable (Selfish)
Add Health
Housing Items
---
Personally, I'm not much of a housing enthusiast even though I like to decorate the occasional castle for an event. However, the Karamelle-themed housing items inside this pack do provoke my inspiration to decorate. On another note, you will also get loads of Karamelle-themed music scrolls that can also be found in the Bazaar. Below are some of the more remarkable items I found.
Gummy Bear
Karamelle Desk
Cauldron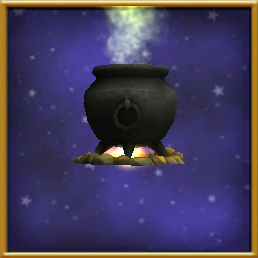 Parlor Chair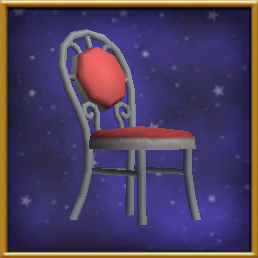 Stack O Licorice


(No Auction)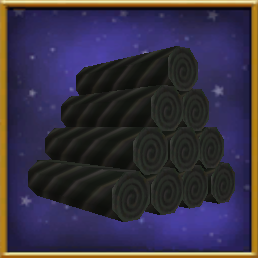 Gobbler King Painting
Nana's Olde Fashioned Poster
Nana Style Fountain



(No Auction)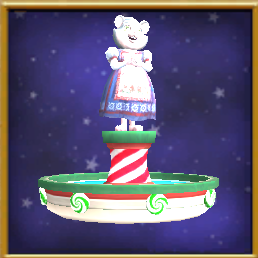 Miscellaneous Drops
---
Besides the standard low tier pet snacks and some metal reagents (Iron, Steel, Brass, etc) the most noteworthy items would be the level 108 shadow enhanced spell treasure cards and some random seeds. Basically, if you're not planning to go for any of the above highlighted items, then there isn't much else to go for in the Karamelle Souvenirs Pack.
Closing Thoughts
---
After spending 20,000 crowns on this pack to test what items will be obtained, I must conclude that it basically follows any other common pack. The mounts are what seems to be most elusive, but then again with RNG anything can happen including obtaining a permanent mount on the very first pack (like it happened to yours truly).
The hats and boots seem to be common as I managed to obtain several copies of each. As for the weapons, I seemed to be quite fortunate with them as well as I managed to obtain them all and some even twice. On the other hand, the pets and robes are not so much. In fact, after 50 packs I am still missing one of the robes. If you happen to get your hands on the level 140 Fancy Lederhosen robe, kindly send an image to us and we will happily credit you in this article.
Will you try your luck with the Karamelle Souvenirs Pack?
Leave us a comment below!