June 28, 2023  July 6, 2023
Final Bastion Spiral
Cup
2023
Recruitment 
---
KI is ramping up for the 2023 Community Spiral Cup event! Last year the community tournament was introduced as a way to challenge new and existing Pirate101 and Wizard101 communities to compete head to head in a multiple challenges to determine who's the best of the best. This year the event has returned and Final Bastion is forming a team and ready to compete again!
Last Years Recap
Last year we had dozens of players sign up for our team and with a little heart and dedication we were able to take SECOND PLACE on both the Pirate101 and the Wizard101 sides of the tournament, a stellar achievement. As we look to replicate our success from last year, and optimistically push to achieve even more we are looking to fill our roster with dedicated players to take home as many wins as possible.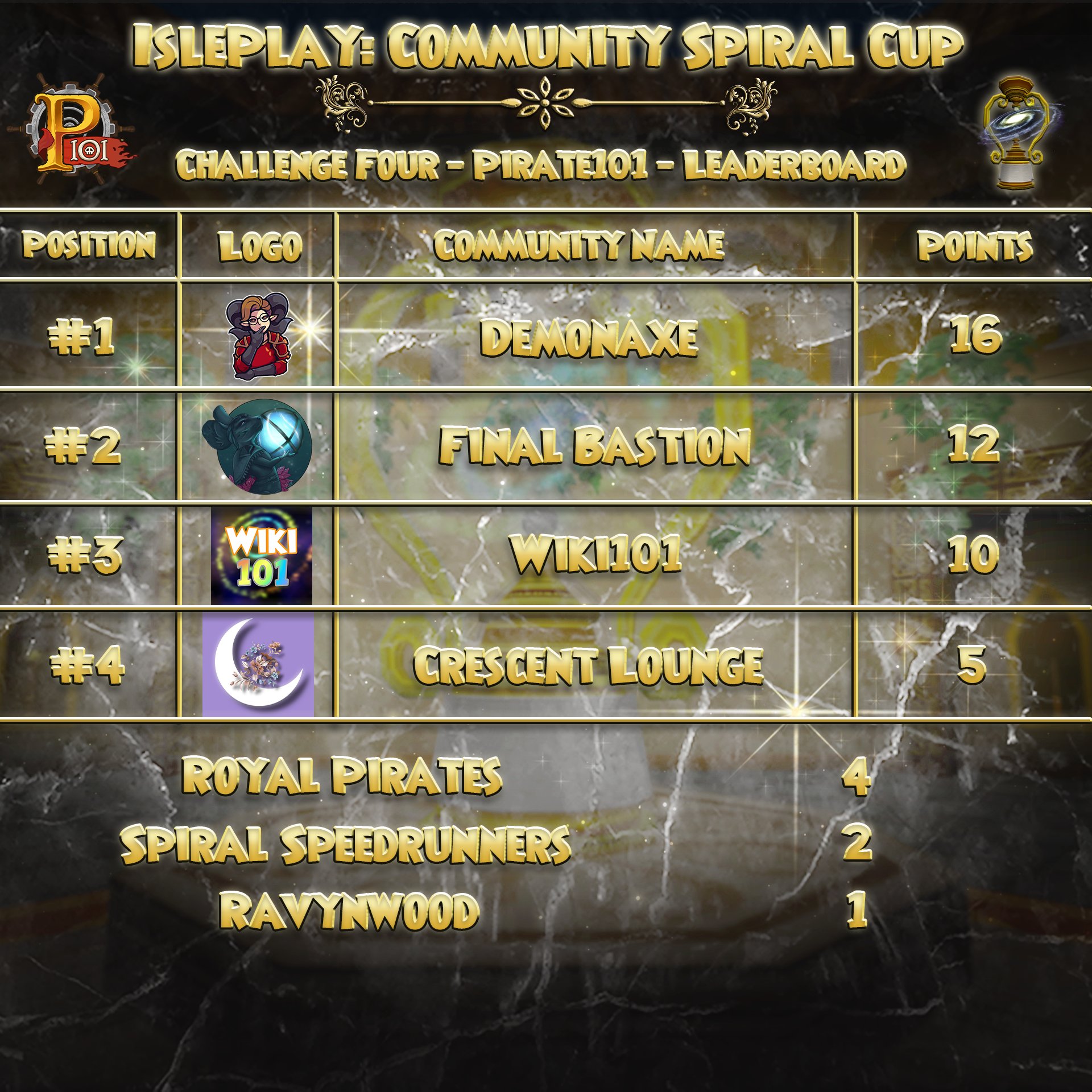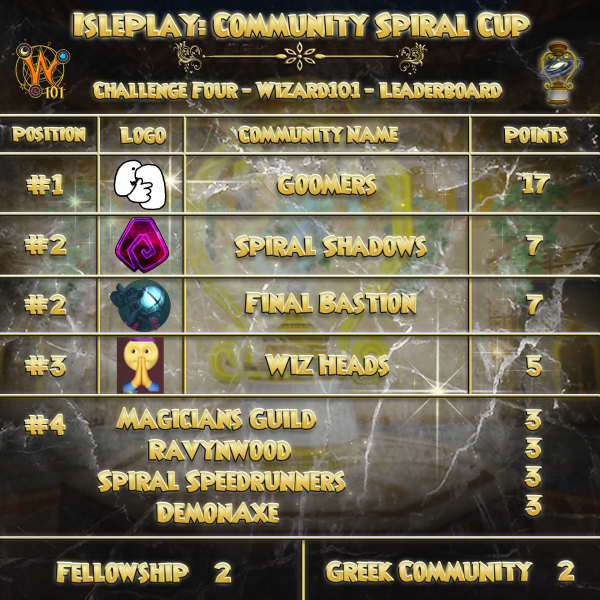 2023 Spiral Cup Format
The event will take place from July 17 to August 14. Similar to last year there will be 4 challenges with each challenge lasting a week. The challenges have been announced in advance and including a Speed running portion, item farming, housing decorations, and finally a content creator event.
Pirate101
Wizard101
Week 1:
July 17th – 24rd
Duo Speedrunning:
Miranda/Captain Blood
Duo Speedrunning:
Castle Darkmoor
Week 2:
July 24th – 31th
House Decorating:
Dream Home
House Decorating:
Evil Lair
Week 3:
July 31st – August 7th
Item Farming:
Sinbad Chapter 2
Item Farming:
Hall of Heroes
Week 4:
August 7th – August 14th
Trailer Challenge:
15 second video
Trailer Challenge:
15 second video
July 17th – August 14th
Art and Memes
Art and Memes
This year the tournament consists of 10 teams for each game with unlimited roster. However, the item event will restrict each team to ten players only. This is a little different but overall leaves the team with lots of room so join our team to compete for a chance to design an in game mount variant in either game.
Signing Up with Final Bastion
Now's the time to assemble our team! In order to join you can join our discord server via the blue button below. We are looking for Decorators, Memers, Artists, Speedrunners, and PvE experts!
Once you join the server, navigate to the 'Spiral Cup Portal' channel to enable the spiral cup role and gain access to our team chat. Reminder that players can only join one team. Follow the link below and we look forward to competing with you!
Excited for the Spiral Cup? Who do you think will win big this year?
Let us know in the comments below!