October 15, 2021  November 6, 2021
A Ship That Sailed 9 Years Ago
Pirate101's 9th Birthday Contest

Can you believe it!? It's only been 9 years since Kingsisle has launched Pirate101 to the public! And not just that, the introduction to their 2nd MMO itself was a blast! Whether you first joined this community during the beta stage, or following the trailer they've dropped with the first announcement of the game, or when the game first reached live and you purchased the Boochbeard Bundle that would make you the talk of the week if you still own one and appear in Avery's Court, and of course we haven't forgotten any of those who have their Marco Pollo's Map with their Ninja Pig Companions to show off, there were lots of memorable moments in the game's early days!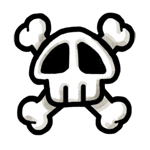 But that's not it… We're not speaking about just a simple accomplishment that's taken for granted, we're speaking about a nearly decade standing MMO in a time where it's hard for an MMO genre game to be reaching this level of longevity. But Pirate101 has survived and made it!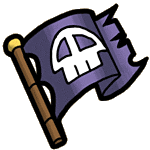 It's always that wonderful time of Fall season and especially October for Halloween that create moments and memories to be appreciated. Especially if you are a truly great pirate at heart with an experience enough to make you The Savior of the Spiral, you have lots of reasons to celebrate the existence of this game with this year's update that has announced that Pirate101's gears will be turning once again. Hopefully, this progress will bring a promising 10th year Decaversary that each and every Pirate in the Spiral, whether they are proud or an average fan, will be looking forward to it! Speaking of updates… Have you gotten your Fall PvP Champion weapons yet? The original set is back to the PvP Vendor with this Summer's update!
Back to where we were saying.. Oh yes! 9 years of memorable things.. right? Looking forward to the 10th's Decaversary, eh? Well, we can't just skip the 9th while looking forward to the 10th. So in the meantime for the 9th.. We at Final Bastion got a contest for you!
Pirate101's 9th Birthday Contest

9 Years of Memorable Moments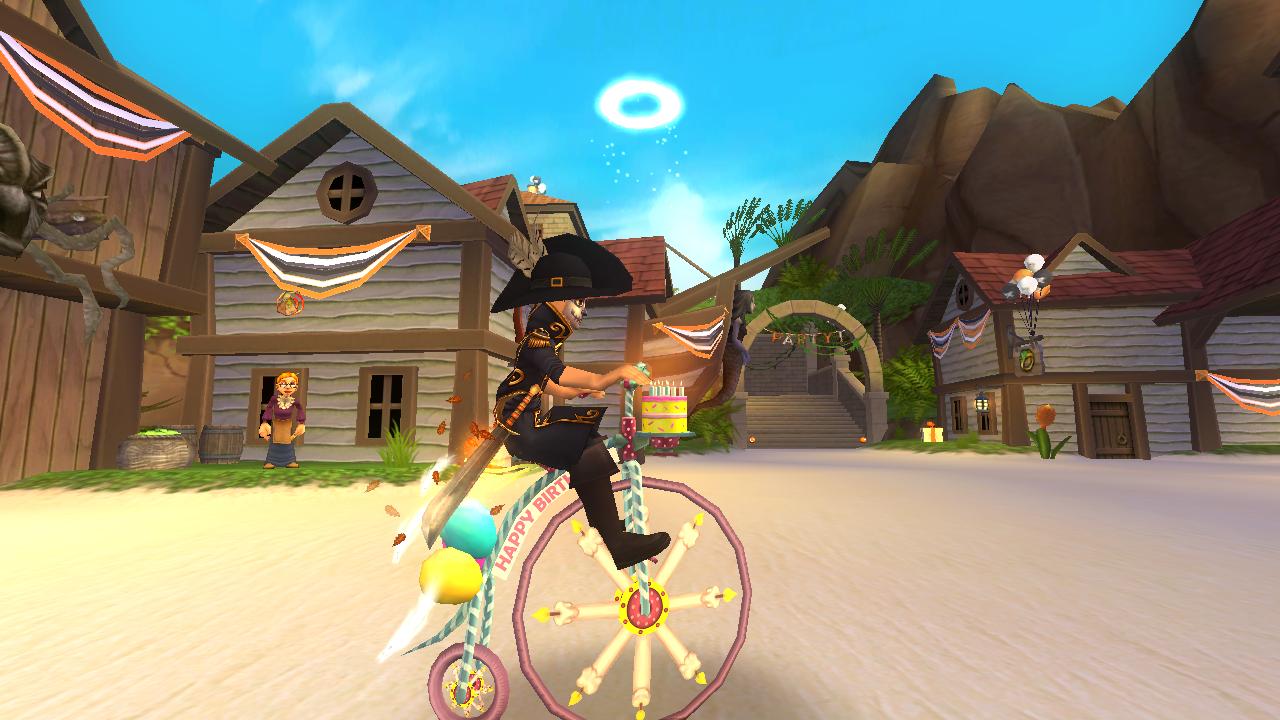 Who doesn't have a favorite moment you've spent with others while playing Pirate101? We all do. In one way or another, whether you are a lonely Pirate or the type that likes to have a Friends List as twice as large as your Party Farthing mount in size. Speaking of mounts, have you gotten yours yet to celebrate the 9 years?
Well no matter, because even if you don't, we're giving you the opportunity to get ANOTHER popular but yet, wonderful Birthday mount with our Pirate101 9th birthday contest!
To celebrate the 9th birthday of Pirate101, we, at Final Bastion are excited to announce that we do have a contest for you! All what you need to do is to provide a screenshot of your favorite moment while playing Pirate101 in all these past 9 years along with a few sentences under it. It could be an item you got. It could be a friend you've gained, even better, a life companion that you've gained while playing that ended up being your cheerful soulmate that is playing with you happily married ever after! So many scenarios and millions of wonderful moments to cherish. We can't wait to read your entries. And the contest begins from… Today, October 15th!
Rules
4 or 5 lines are more than good enough for your entry. Keep it as short as possible, but include enough details to explain your entry!
Only one entry per person, duplicate entries may lead to disqualification.
Keep the topic under the theme mentioned above and kindly use only 1 screenshot to represent your entry.
Make sure to include your Pirate Character name (not your username or ANY OF YOUR ACCOUNT INFO) at the very end of your entry once you're done!
Entries will be judged based on creativity.
Kindly refrain from adding any foul language to your paragraph.
Once you got the proper screenshot of your favorite moment and your paragraphs are placed in below the screenshot in your email, send your entry for Pirate101's 9th birthday contest to our email at finalbastioncontests@gmail.com. The deadline for submitting your entries is on October 31st at 11:59 PM EST.

Prizes

Now for the moment you've all been waiting for…
First Place: Empire Bundle + Birthday Balloons Mount
Second Place: 10,000 Crowns + Birthday Balloons Mount
3 Honorable Mentions: 5,000 Crowns
Judgement for entries and Prizes will be sent to the winners during the 1st week of November.
Happy Birth-o-ween and good luck to everyone and we can't wait to read your entries! In the meantime, tell us: what's your favorite moment in Pirate101 after 9 years of Pirating? We're eager to listen to each and every moment or memory you have in the comments section below!
Winners
---
The contest has ended. Thank you for the amazing entries, here are the winners announced below:
First Place – Blake Wright
Second Place – Wolf Walker
"The freedom one experiences in Pirate101 is like no other game. One can buy their very own private island house getaway after years of questing and defeating bosses. Turning an empty space into the ultimate treasure room is a pirates dream come true. These masterpieces will last forever with no cleaning, maintenance, or repairs required. One can finally retire from a pirates life after obtaining a place to call home sweet home. My pirate characters name is Loyal Wolf Walker."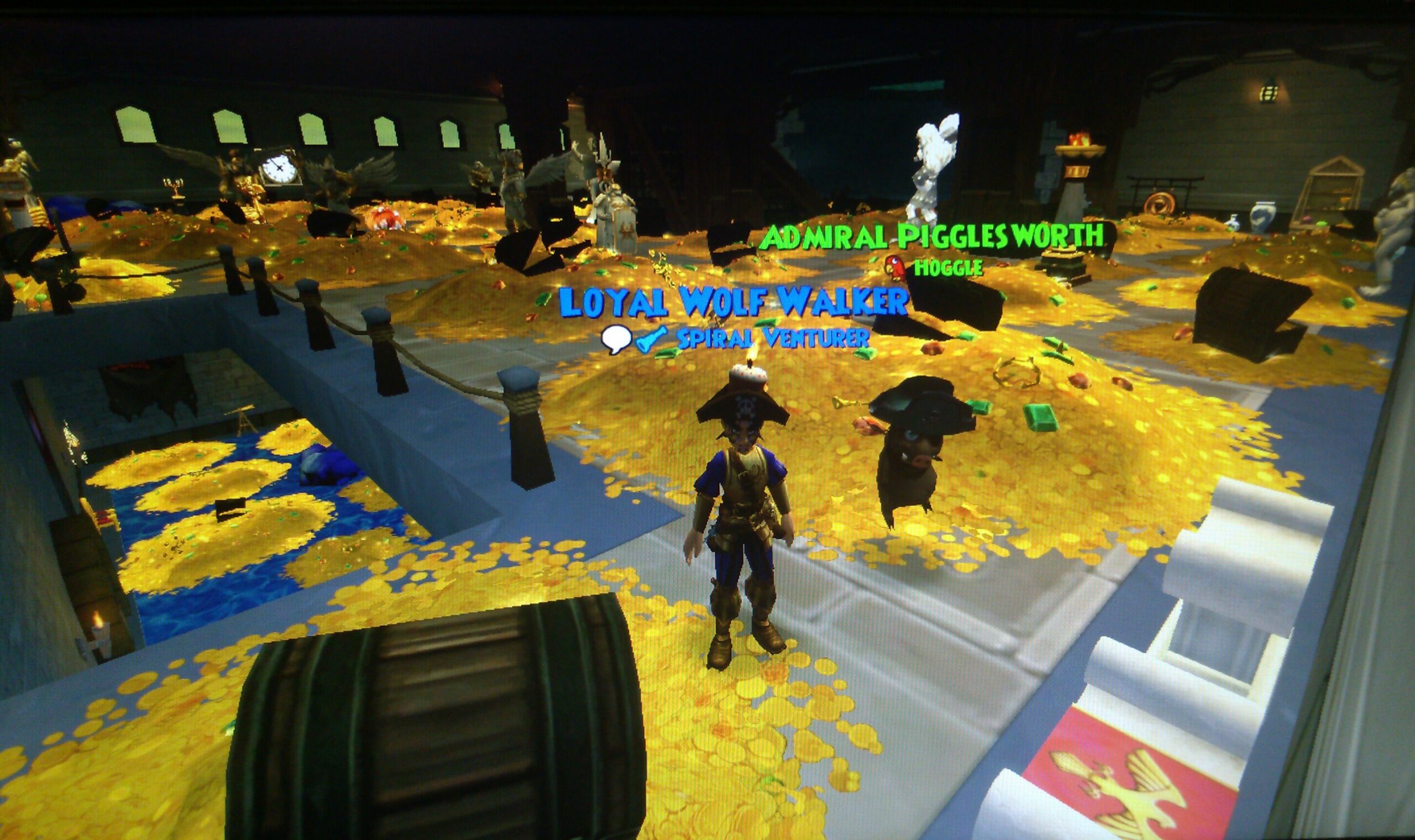 Honorable Mention #1 – Emily Robertson
"Very odd choice for a screenshot but it has some meaning to me. This was maybe taken a few days after I encouraged my girlfriend to play Pirate101 with me, absolutely no regrets. Every time we got to any major Armada boss, we would have so much fun talking about the character/s and engaging in the combat, the story has become one of my favourites in a while because of these moments.Β Bishop's boss fights (the screenshot) have always been some of the most enjoyable and funny in a while.
Honorable Mention #2 – Pretty Jewel Jackson
"Howdy!
In all the years I've played, sailing through Arroyo Grande in Cool Ranch has always been memorable. It's one of the few passages where beneath you there is scenery. Instead of clouds or seas, there's a river just below, and the canyons look beautiful. Pretty Jewel Jackson is my pirate's name "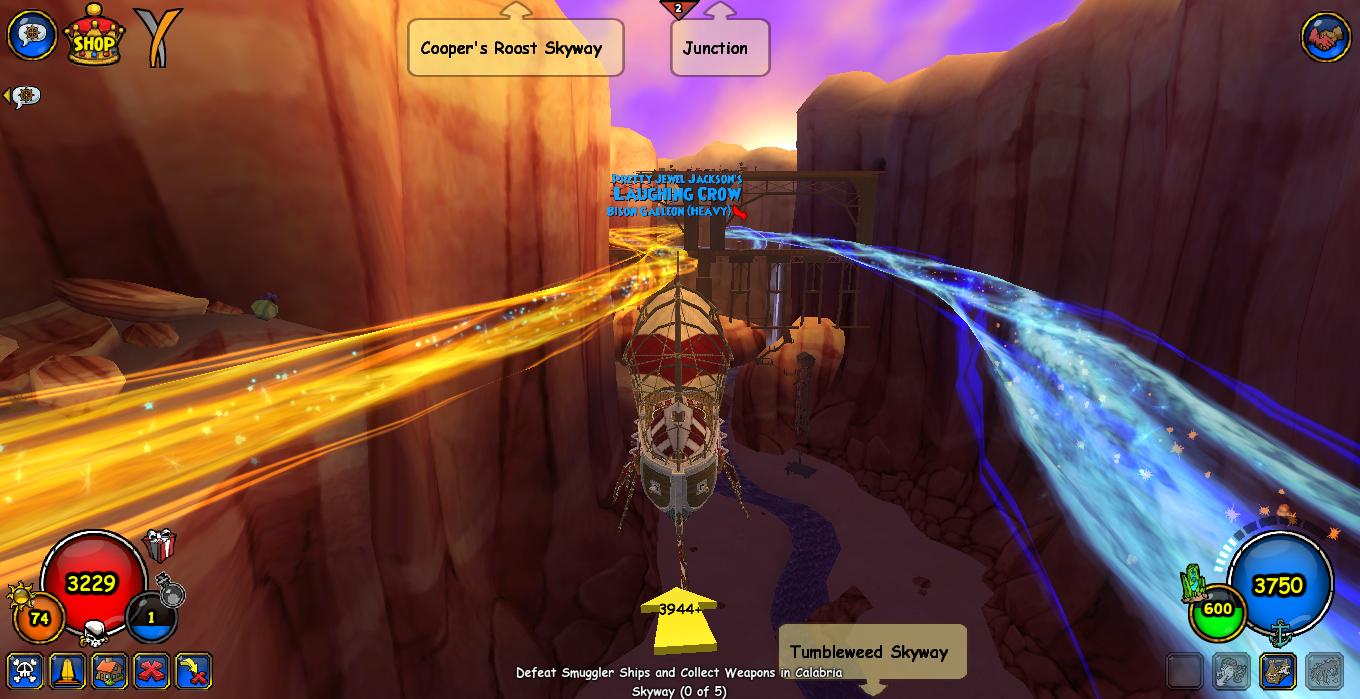 Honorable Mention #3 – Shy Matthew
This is one of my favorite moments because I randomly met this (at the time) low leveled witchdoctor named Leo who was asking for help to farm Eep Opp Ork Ah-Ah in order to buy him as a a companion. My friend (Cruel Zane Kidd) and I helped him out while having casual conversation with him giving him advice and just asking him how his day was and overall it was just a really wholesome moment and I'm glad that we were able to become friends from it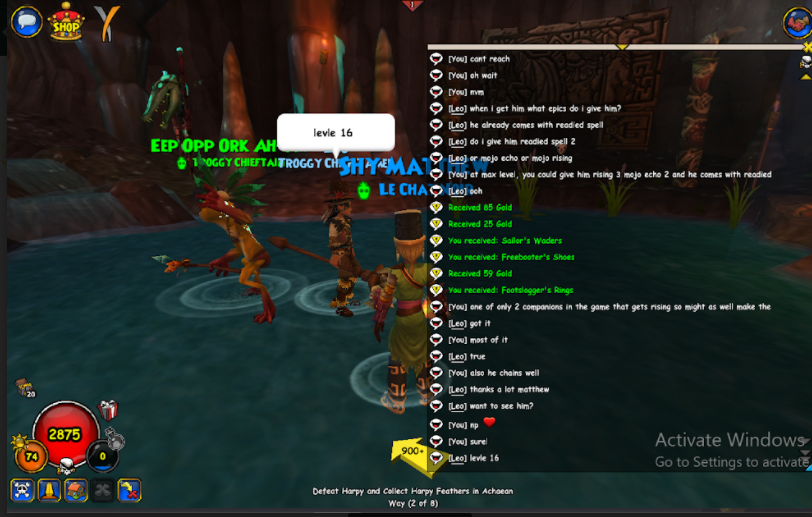 Thank you everyone for your entries and we've truly had so much fun reading through them all! And much more fun in voting for the winners to announce. All winners will receive their prizes and will be contacted shortly. We're preparing for Pirate101's 10th next year, we hope to see you with us in 2022 in the skyways!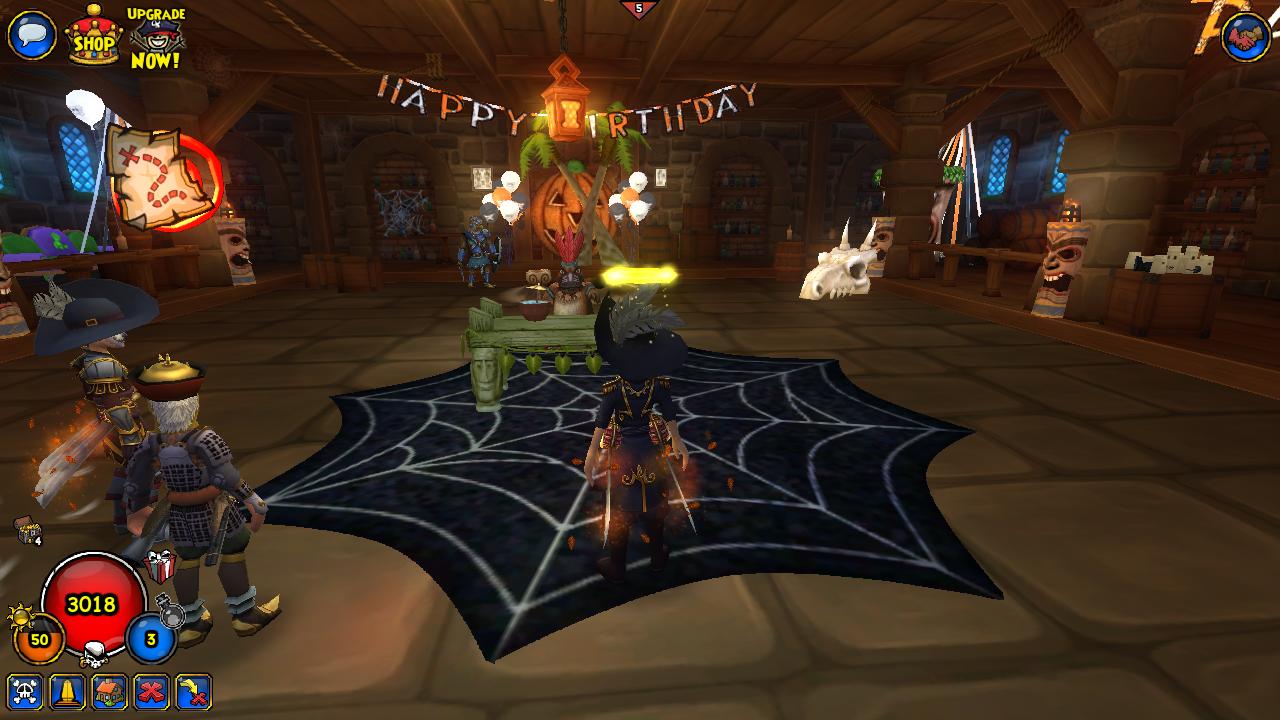 πŸŽŠπŸŽ‰πŸΎπŸŽ'From each and every Final Bastion Team Member to ye.. Happy 9th Birthday, Pirate101! And here's to the 10th Decaversary to come next year!πŸŽŠπŸŽ‰πŸΎπŸŽ'