Pirate101 Holiday 2v2 Tournament
---
T'was the month before Christmas and all through the hall, the Pirate101 community was stirring, awaiting a brawl. It's been a while since our last tournament, the final tournaments in our extremely successful Grand Pirate101 Championship. We're excited to announce our next tournament, a Holiday 2v2 Tournament!
This will be our second foray into the world of group PvP, following our Valentine's Day 2v2 last year. The tournament will not have any crazy rules or regulations besides the standard balancing rules, in order to maintain a focus on skillful play. However, taking inspiration from the popularity of our non-standard tournament formats, this tournament will be a Swiss tournament (more info below).
We have lots of awesome prizes, generously provide by Kingsisle, so this isn't a competition that you'll want to miss! Furthermore, it's a low-stakes way to get your feet in the door of PvP, so I'd love to see some new faces joining! But first, let's go over the basic tournament info.
IMPORTANT: WHEN YOU SIGN UP, YOU (AND YOUR PARTNER) WILL RECEIVE A FRIEND REQUEST FROM DISCORD USER MATTHEW#9684. PLEASE KEEP YOUR FRIEND REQUESTS OPEN SO I CAN INVITE YOU TO THE SERVER.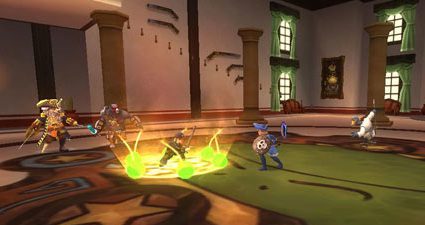 Signing Up
---
The signups for our Holiday 2v2 tournament will remain open until 11:59 PM Eastern time on Monday, December 14th, at which point they will immediately be closed. Don't be late!
You can sign up with a partner or as an individual. Please note that if you're signing up with a partner only ONE of you should fill out the form for your entire team. If you sign up as an individual, you will be paired with other players who have signed up as individuals on a first come, first served basis.
When you go to sign up for your team, you will declare a single pirate for each member of the team. All pirates must be on the US server and be level 60+. There will be no switching pirates between rounds.
Teams are also subject to the following rules:
Teams

cannot

have two pirates of the same class.
Dual boxing is allowed, provided that you own both accounts
This should be obvious, but one individual can't be part of multiple teams, regardless of how many accounts they own.
Tournament Format 
---
The holiday 2v2 tournament will be a 4 round Swiss tournament with a cut to top 4, bracketed tournament and will start

December 15th

(signups remain open until the 14th at 11:59 PM eastern time).

All rounds of the Swiss will be best of 1.
The semi-finals and finals will be

best of 3.

In a Swiss tournament, all participating teams will play 4 matches. In each round, you will be matched up with a team with

a record close to that of your own

.

For example, in the third round, 2-0 teams will play each other, 0-2 teams will play each other, and 1-1 teams will play each other

Winning a match (by victory or opponent no-show) is worth

1 point

. Drawing (due to a mutual inability to schedule a match) or losing is worth

0 points

.
The teams with the most points after 4 rounds will move on to a seeded, single-elimination semifinals and finals.
If there are tied point totals after 4 rounds of Swiss, we will settle them in the following way:

First tiebreak: Head-to-head among all tied teams
Second tiebreak: Sonneborn-Berger score (sum the scores of opponents you beat)
Third tiebreak : 1 game playoff with the winner advancing (only if it affects qualification to the semi-finals)

No-shows (showing up more than 20 minutes late for a mutually scheduled match) will be treated as follows:

First violation: Warning
Second violation: Game loss
Third violation: Disqualification
Tournament Server
---
All participants will join Final Bastion's tournament-exclusive Discord server in order to schedule their matches with their opponents. Within this server, participants are to be civil to one another and refrain from using inappropriate language. Breaking these rules are grounds for immediate disqualification. You will receive a Discord friend request from

Matthew#9684

to invite you to the server.

Also worth noting: this server is not a general gameplay server. While you're welcome to chat with fellow participants, pinging everyone to ask for help farming for something or to do random pvp matches isn't this server's intent. There are lots of other wonderful places to get in-game help.

Once the tournament starts, participants have 1 week to complete the matches for each round (however, you're encouraged to work ahead if you can).

We will not provide extensions for the Swiss rounds, except for extreme, host-approved circumstances. While this may be harsh, extensions slow the tournament down for everyone, not just the relevant teams.

All matches will take place in the Spar Chamber.
Your internet connection is your responsibility. Should both teams disconnect simultaneously, however, (due to a server DDOS attack, for instance), the match will be restarted with no consequences to either team.
If you have any conflicts during your match (an opponent breaking the rules, a game-altering glitch, etc.) it is

your responsibility

to provide concrete visual proof of these claims, preferably a screenshot or video recording. Only then can I force players to redo a match.
Gameplay Rules
---
Players are subject to the following rules in all matches during the holiday 2v2 tournament. Breaking these rules may result in your disqualification. Remember that both players cannot have the same class of pirate!
All Doubloons are banned.
Old Scratch is banned.
The Spring and Fall Champion weapons are banned.
All tiers of the Beastmaster Banner are banned.
The Nefarious Staff is

banned

.
The Imperial Robes of Moo Manchu are banned.
Ghor is

banned

, due to his Eagle Eyes glitch.
Overwatch 5 is banned.
Firstmate's Boon is banned.
Blast of Discord is banned.
Haywire Companions are legal, but note that Overwatch 5 cannot be given to them.
Prizes
---
Each member on a placing team will receive the following prizes:
First place:

10,000 Crowns, Yuletide themed Mount

Second place:

5,000 Crowns, Yuletide themed Mount

Third and Fourth place:

2,500 Crowns, Yuletide themed Mount
Best of luck, duelists! You can sign up here