Pirate101 Hoodoo Bundle!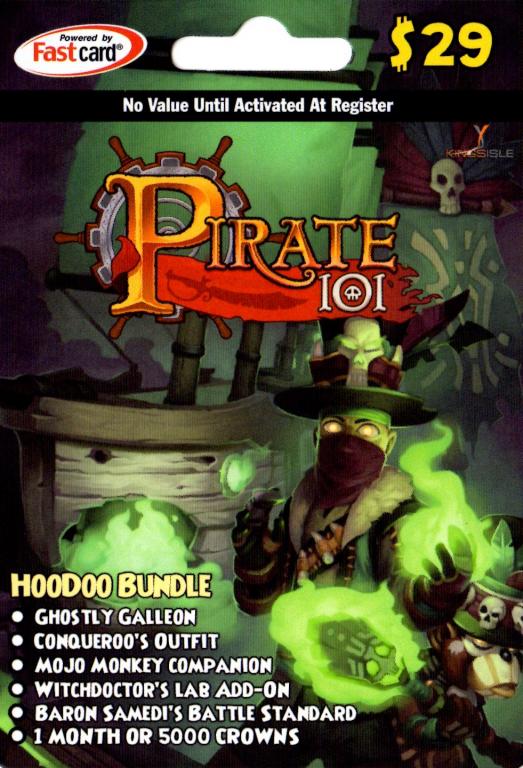 Kingsisle releases their latest addition to the game among numerous teasers for upcoming content. The latest bundle, the Pirate101 Hoodoo Bundle, has a very Witchdoctor theme to it, and almost all of items dabble in the spooky and otherworldly.
The Hoodoo Bundle comes with the Ghostly Galleon, the Conqueroo's Outfit, the Mojo Monkey Companion, the Witchdoctor's Lab add-on, and Baron Samedi's Battle Standard. The Bundle is available for purchase at Walmart.
Ghostly Galleon
The Ghostly Galleon is the official ship of the Pirate101 Hoodoo Bundle, and comes equipped with a fairly standard set of ship parts.
Ghost Galleon Stats with all its original parts equipped:
130 Accuracy
130 Defense
2 Hull Armor
90-151 Damage
3423 Hull Integrity

Conqueroo's Outfit
Conqueroo's Outfit is the Hoodoo Bundle's official gear. The Level 60 set is pictured below, and scales from level 5 to level 60. Each level of the gear comes equipped with the same three cards/epics: Readied Spell, one of the Juju spells, and Shadow Step. (Note: the Level 5 Outit does not come with Readied Spell, but that is the only change on any of the gear aside from stats).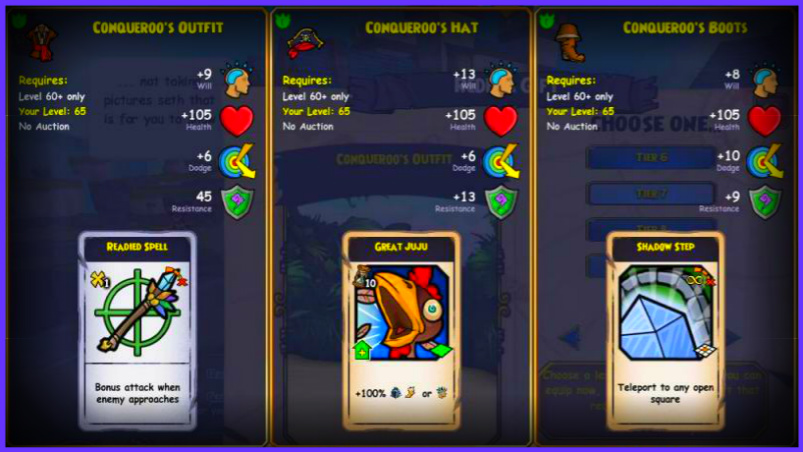 Mojo Monkey Companion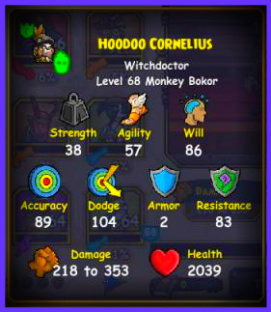 The Hoodoo Bundle's companion is a rarity in Pirate, a melee-based Witchdoctor companion. The Mojo Monkey comes with an interesting and familiar power card: Reckless Frenzy!
We haven't yet confirmed Monkey Bokor's starting epics from the information we've gathered, but we do know that he has access to Relentless, Repel Boarders, and Witch Hunter. We'll update this information as we're able to confirm it.
Update: Monkey Bokor starts  with Relentless 1 and the Go Bananas power card (which is a renamed Reckless Frenzy). At top level, Monkey Bokor has access to train 3 epics from the following list: Relentless 2, Repel Boarders, Witch Hunter, and Second Chance.
Witchdoctor's Lab
Just like the Crow's Nest, the Witchdoctor's Lab is a house addition, sort of like a housing item you place on your property.


Baron Samedi's Battle Standard
The Baron Samedi Battle Standard is unique to the Hoodoo Bundle and has an interesting and unique effect. This standard grants a boost to your undead companions, and its [+] ability grants Soul Harvest, which heals your undead companions.
Link to the Official Pirate101 site post
Have any more information about the Hoodoo Bundle? Do you see anything that'll have an effect in PvP? Let us know below!
And a big thanks to Sarcastic Seth Devereaux (

mjziegler286) for letting us use his pictures and information!
 See video below for a look see!! 🙂