January 26, 2014  October 15, 2022
---
Wizard101's

Brood Mother in Khrysalis
This transformed queen appears in two battles. Beware! She is grumpy and ready to battle. She does NOT want you to release the queen she is hiding with her evilness. Morganthe is at work and it is our job to stop her!
The Perfect Organism??
BroodMother thinks she is the perfect organism, but we know better. (…and show her as much. Muhahaha.) The first battle with BroodMother is a normal boss fight. Stack blades/Feints and whamo! Any all enemy spell will work with enough blades and Feints.
Rank 13 Fire Boss at 22,950 health
Royal Guard minions (Rank 13 Elite Balance 5,760 health)
The major issues are Smoke Screens (-45), Efreets, & Galacial Shields. Send a tank in first round alone to draw the Efreet weakness.
Fire wizards will need a convert. Fire, Ice and Storm will need to have a way to remove the Galacial should she use it. The Royal Guards do not seem to be using shields, but they will throw out Weakness and use Powernova that will also weaken you. Having Cleanse Charm in side is a good idea. They do resist Balance a bit, but you can overpower that easily with an extra blade or two.
Queensryche – BroodMother Take 2
Here, she is a Rank 13 Fire Boss 22,950 with Smoke Screens(-45 version), Efreets and tricky minion tactics that begin with a "Guard Me!" Send a tank in first round to draw her Efreet weakness. Again, you may get Weaknesses or PowerNova weaks from the Royal Guard minion too.  Cleanse Charm in side deck would be a good idea.
Her Minions
She will summon a special Royal Guard minion (Balance Rank 13 Elite 5,780) who will in turn summon Yellow Jacket minions (Rank 12 Myth 1,000) with the sole intention of healing Broodmother for 1,500 each and sacrifice themselves. Ignore them or defeat the balance minion to avoid additional minions being summoned and their heals.
I have a habit of ignoring the minions and build for my hit because I wear resistant gear.  In this case, if you have issues defeating her in one hit, take out the minions first and it will become a much easier battle. Particularly, first defeat the Royal Guard minion that continually brings out the Yellow Jackets.
You do need to be careful with your timing because the special Royal Guard minion will continue to bring out drones to feed health to the queen.  When summoned, they will not enter the battle until the next round.  If you carry minimal cards in your deck, I would advise to make sure you have a back up spell or reshuffle just in case you miss one coming out. (You probably have that anyway.) In the video I show you how it works if you use a damage over time and miss defeating the special Royal Guard on the initial hit.
Fire wizards beware! She will resist your damage so bring a Fire Prism.  She will again use Glacial Shield so an Ice wand  or Shatter would be a good addition to your Fire or Ice damage team. Storm may wish to grab a Pierce/Steal Ward/Shatter for their side deck or have a team member carry a Storm wand.
Additionally in the second battle, you can earn the Tarantula Hawk pet that gives the Brimstone Revanant card.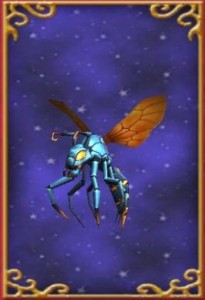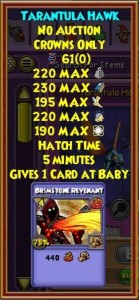 Video
See her double defeat in action!
Don't miss the backgrounds at the end of the battle scenes. KI did a great job with the honeycomb graphics.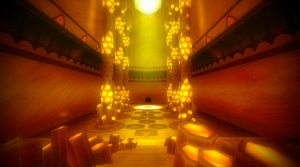 Comments
Have you seen any changes in the battle or have any other tips and tricks? Let everyone know in the comments below!
Happy Questing!
---