June 16, 2021  March 12, 2023
Bastion Times
June 2021 Edition
---
Welcome back to another Bastion Times, June 2021 edition! We have so much to share with you guys as of late. Take a look below at the specific sections that most of our staff participated in.
Earthwalker's Spell of The Month
Greetings, everyone! James Earthwalker back again with my new column, Spell of the Month! Just like last time, I'll be highlighting an under-utilized/underrated spell that don't often get to shine, whether it's due to its unviability in PvP or incredibly situational usage. This time, we'll be taking a step into the fantastical with the School of Myth, shining a light on one of its most powerful utility spells I rarely see anyone use: Dimension Shift!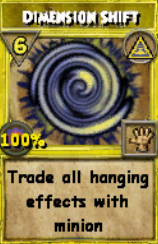 Pros!
Dimension Shift's effect is worthy of its staggering 6-Pip cost: it swaps all hanging effects between yourself and your minion. Yes, all. All your Charms, all your Wards… and all your DoTs. If your opponent is swamping you with Weaknesses, Traps, and DoTs galore, this card is a costly (but incredibly effective) get-out-of-jail-free card. Not to mention that when paired with the Minion-specific buff spells Myth gets for free – specifically Shield Minion and Buff Minion  – you can potentially generate a massive amount of advantage if you play your cards right.
Cons!
Unfortunately, this is where the positives end. The truth is, while Dimension Shift is powerful, it takes a lot of setup to use properly, not to mention a lot of attention to your minion's actions every turn. Furthermore, one of Dimension Shift's biggest draws – its ability to shuffle around DoTs – is completely outclassed by its less-costly cousin Shift (which will get its own spotlight at some point, don't worry). Lastly – and this is a big one – until Vassanji (and all the level 75 minions, for that matter) becomes PvP-legal, the best targets for Dimension Shifts are either Talos or one of the various Eggs summoned using Witch's House Call, which admittedly aren't going to last very long in the Duel Circle anyways. All that being said, however, I'm curious to see whether some crafty Conjurers out there might be able to use this incredibly niche spell to its fullest potential!
Community Contests!
We ran a few contests in the past months! We were fortunate enough to participate in Fansite Fest this year. Cody did a beautiful job creating not just one, but TWO houses. Prizes went out to a few people who completed the complete scavenger hunt, but also our fashion show winners!
In Pirate101, our April Fools' tournaments finished, with Ryan Strong (serious tournament winner) and Michael (joke tournament winner) taking the top two spots in both events! Thanks to all for participating, and we hope to have another tournament start this summer!
New Staff!
---
We're happy to welcome a few new authors and staff to the team, after an absolutely GRUELING staff application. In the Bastion Times – June 2021 edition we will be welcoming:
IcarusRising who will be working with us behind the scenes, and we can't wait to show what he's working on! It will have something to do with our Bastion Store, and how we manage our Discord Server.
Bandit is an upcoming author who will be providing Wizard101 PvP insight, as well as personal opinion pieces.
Witty William Vaughn is a new author, who will be involved in Theorycrafting, Beastmoon, Pirate101 material, as well as a few other Wizard101 pieces.
Exp613 will not only be an author, but one of our new content curators! This position will be working with the editors as well to curate our collection of articles. We have over 850 articles, and are faster and faster approaching one thousand pieces. Some of our materials might be outdated thanks to KingsIsle updating Wizard101 on us. Exp613 will be helping us a lot!
Bloopers!
---
Well, if you tuned in for the last episode of the Bastion Times, we had updated our discord server, which once again, I will choose to shamelessly plug, right about HERE. We spent some time looking for the Steal pip spell, which took a while to get a good image for. But, we do have a steak pop spell?
What are you interested in seeing in the next Bastion Times?
Anything you loved from the Bastion Times for June 2021?
Let us know in the comments!