September 19, 2019  September 30, 2019
Pirate101 Birthday Tournament
---
We at Final Bastion are thrilled to announce that we'll be hosting a 1v1 PvP tournament to celebrate Pirate101's 7th birthday! The overall tournament structure will be similar to that of our April Fool's Day tour, but without the meme-y rules. Instead, we have a set of basic balancing rules. Later rounds will also featuring bonus restrictions designed to spice up the match, while maintaining a focus on skillful play. This tournament is a low-stakes way to get your feet in the door of PvP, so I'd love to see some new faces joining! But first, let's go over the basic tournament info.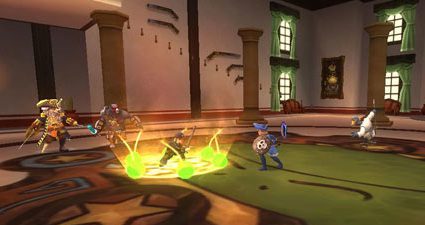 Tournament Info
---
All participants must be on the US Pirate101 server and be level 60+. Players declare a single pirate during sign-ups. There will be no switching pirates between rounds.
The tournament will be a single-elimination, bracketed tournament (only the semi-finals and finals are best of 3) and will start October 1st.
All participants will join a tournament-exclusive Discord server in order to schedule their matches with their opponent. Within this server, participants are to be civil to one another and refrain from using inappropriate language. Breaking these rules are grounds for immediate disqualification.
Participants have 1 week to complete the matches for each round. However, if you and your opponent cannot schedule a mutually acceptable time, let an organizer know and we can look into providing an extension.
All matches will take place in the Spar Chamber.
Your internet connection is your responsibility. Should both players disconnect simultaneously (due to a server DDOS attack, for instance), the match will be restarted with no consequences to either player.
Prizes are as follows:

First place: 10,000 Crowns
Second place: 5,000 Crowns
Third place: 2,500 Crowns
Fourth place: 2,500 Crowns
Top 8: Ashes of the Armada Booster Pack
Basic Rules
---
Players are subject to the following rules in all matches during the tournament. Breaking these rules may result in your disqualification.
All Doubloons are banned.
Old Scratch is banned.
The Spring and Fall Champion weapons are banned.
All tiers of the Beastmaster Banner are banned.
The Imperial Robes of Moo Manchu are banned.
Ghor is

banned

, due to his Eagle Eyes glitch.
Overwatch 5 is banned.
Firstmate's Boon is banned.
Blast of Discord is banned.
Haywire Companions are legal, but note that Overwatch 5 cannot be given to them.
 Round-Specific Rules
---
The final four rounds of this tournament will each have an additional set of rules governing them (so any round with 16 or fewer players remaining). However, if we have enough participants to require any more than 4 rounds, those rounds will be subject to the basic rules only.
Round of 16
---
Scrambled!– Variety is the spice of life, is it not? This round investigates this question. For each of the 6 main gear slots (hat, robe, boots, totem, charm, and ring) players are required to wear exactly one item in each of the following level ranges:
0-19
20-29
30-39
40-49
50-59
60-70
For example, I might decide to make my Hat lvl 45, my Robe level 25, my Boots level 60, my Totem level 10, my Charm level 35, and my Ring level 55. All that matters is that each level range is represented once.
Note that pet, weapon, and eyepatch (accessory) are NOT subject to these restrictions.
Round of 8
---
(Somewhat) Naked- Players will be making a partial return to their level 0 roots in this game mode. Before playing your match, you will pick only one of the following: Hat, Robe, Boots, Totem, Charm, or Ring. Your opponent is not allowed to equip an item in that slot. Then, your opponent will do the same for you.
Remember that Pets, Weapons, and Eyepatches cannot be selected.
Semi-Finals
---
Old School- We're having a flashback to the earliest days of Pirate101 with this round! With the exception of Eyepatches, Weapons, and Pets, players can only use gear from Level 50 and below. In addition, any companions that you use must be from Skull Island, Monquista, Cool Ranch, or Mooshu. We're also banning the class trainer companions (Pete, Fan, Carc, March, and Chantal) since they were later additions to the game. To be more clear, the following companions are banned in this game mode:
Peter Quint
Marchioness
Fan Flanders
Carcarius
Chantal Livingstone
Gracie Conrad
Catbeard
Bagha Khan
Eagle Hoplite
Hawkules
Zeena
Contessa Argento
Private Mills
Eagle Archer
Kzinti Singh
Argos
Lt. Springer
Samocles
Serpent Augur
Crokogator
All pack and bundle companions
Any other companions obtained in Marleybone or Aquila that didn't make this list
Finals
---
You Swing me Right Round- Our finalists will get a chance to swing their own ban hammer in this round. Players will have the option to ban 2 companions of their opponent's before the round starts. Note that this selection cannot be changed in between matches (this round is a best of 3).
To ensure full transparency, finalists are required to send a screenshot of all their available companions to their opponent (the best way to do this is to take a screenshot of each page on your companions tab). Using a companion that did not appear in this screenshot is grounds for immediate disqualification.
Signups
---
Below is the link to the signup form. Signups will be open until Monday, September 30th at 11:59 PM. The bracket will then be created and tournament will begin the following day. Best of luck to any interested participants!
IMPORTANT: PARTICIPANTS, PLEASE ENSURE THAT YOUR DISCORD IS OPEN TO FRIEND REQUESTS. FURTHERMORE, BE ON THE LOOKOUT FOR A FRIEND REQUEST FROM USER "Matthew#9684" SO YOU CAN RECEIVE AN INVITE TO THE PARTICIPANT SERVER.
Pirate101 Birthday Tournament Signup
Best of luck to all duelists!
If you have questions, contact us on social media or in the comments below.