March 16, 2019  February 23, 2020
Pirate101 April Fool's PvP Tournament
---
We are excited to announce our April Fool's Day Pirate101 PvP Tournament! Unlike many other tournaments, this one doesn't take itself very seriously, as you'll see from the rules ;). Before any of that, here are the logistics of the tournament
Basic Rules
---
All participants must be on the US Pirate101 server and be level 60+. You will declare a single pirate during sign-ups. There will be no switching pirates between rounds.
The tournament will be a single-elimination, bracketed tournament (the finals, and only the finals, will be best of 3) and will start April 1st.
All participants will join a tournament-exclusive Discord server in order to schedule their matches with their opponent.
Participants are given 1 week to complete the matches for each round. If you and your opponent cannot schedule a mutually acceptable time, let an organizer know and we can look into providing an extension.
All matches will take place in the Spar Chamber.
Your internet connection is your responsibility. Should both players disconnect simultaneously (due to a server DDOS attack, for instance), the match will be restarted with no consequences to either player.
Prizes are as follows:

First place: 10,000 Crowns + Ball 'n Chain Mount
Second place: 5,000 Crowns + Ball 'n Chain Mount
Third place: 2,500 Crowns
Fourth place: 2,500 Crowns
All players that complete all of their matches will receive a code for a 399 Crown Pirate101 Booster pack
As I noted before, the rules for this tournament are very unique. Please read them extremely carefully, as to not accidentally break them. Should you have questions, you can contact us in the comments, on social media, or on Discord.
Gear and Power Rules
---
All "No Auction" gear is banned.
All pets are banned.
The following powers are banned:

Valor's Fortress
Blast of Discord

Any two pieces of gear that you equip cannot have the same power grants. For example, I can only run 1 piece of gear with a revive power on it. Running 2 or more would be illegal.
Weapon restrictions: (pay close attention)

All weapons used must be of a singular type (ex: only 1 of smashy, slashy, stabby, shooty, or staffy).
No hybrid weapons (slashy stabby weapons are banned, for instance)
Melee pirates (swashbucklers, buccaneers, and privateers) cannot use melee weapons (smashy, slashy, and stabby weapons). They must instead use either shooty or staffy weapons
Musketeer pirates cannot use shooty weapons. They must instead use staffy or melee weapons (smashy, slashy, and stabby weapons)
Witchdoctor pirates can not use staffy weapons. They must instead use shooty or melee weapons (smashy, slashy, and stabby weapons)
Companion Rules
---
I'm sure many of you have heard of "meme" companions. Units like Nurse Quinn, the Monquistans, and the Chicken Miner are units that largely fail to see play in PvE or PvP. The idea for this tournament is largely based on forcibly giving these "meme" tier companions a chance to shine. So, we've made a list of companions that are legal for each class of Pirate. The companions on this list are all obtainable from storyline and side quests exclusively. Purchased companions of any sort are not allowed in this tournament.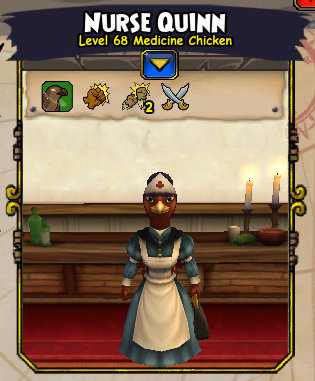 Remember, your companions must come from your class' list of companions. If you think we've missed one, contact us. Just a note, we have pre-emptively banned some side quest units for power level concerns.
Swashbuckler
Chicken Miner
Crab Hermit
Crazy Monquistador
Froggo Villa
Ju Hao
Lt Springer
Monkey King
Monquistador Veteran
Nurse Quinn
Stormy Sky
Weasel Gambler
Yakooza
Witchdoctor
Batacuda
Bat Masterson
Bones McGee
Crokagator
Dan Drake
Ghost Singer
Helephant
Ju Hao
Monkey King
Samoorai Musketeer
Scorpius
Skyfire
Sky Snake
Buccaneer
Bagha Khan
Ju Hao
Lost Ranger
Monkey King
Monquistador Crossbowman
Mustang Gaucho
Nadya
Pig Raider Crossbowman
Taro Moomori
Water Mole Slingman
Musketeer
Bison Hunter
Black Storm Elder
Corporal Sanders
Eagle Archer
Hidenari Kuga
Ju Hao
Masamune Goto
Monkey King
Romba
Privateer
Bison Shaman
Eric Jolly
Horse Crossbowman
Inoshishi Chief
Inoshishi Necromancer
Jim Masterson
Ju Hao
Kzinti Singh
Monkey King
Monquisitor
Monterey Jack
Mustang Rowdy
Nanu Nanu
Signup Link
---
Here is the link to sign up for the tournament. They will remain open through the start of the tournament on April 1st, 2019. At that point, we will create the bracket and matches will begin. Best of luck to any interested participants!
UPDATE: ALL PARTICIPANTS WHO HAVE SIGNED UP SHOULD KEEP AN EYE ON THEIR DISCORD FRIEND REQUESTS. YOU MUST ACCEPT THE REQUEST FROM USER "MATTHEW#9684" SO YOU CAN RECEIVE A DM WITH THE SERVER INVITE. APOLOGIES FOR ANY INCONVENIENCES.
Best of luck duelists!
If you have questions, contact us on social media or in the comments below.