April 20, 2020  May 7, 2020
Pet Happiness and Talent Tokens
---
Spring 2020 test realm brought some major changes to the pet system. Two of them are an introduction of a new pet stat, talent tokens, and pet happiness. The former is needed to unlock new adventure and combat talents, which you can find here. The latter is required to actually use these talents in game. These two things open new horizons to the whole pet ecosystem, since you can transform into your pet or use your brand new will cast talents.
Pet Happiness
Introduction to Pet Happiness
---
Pet happiness is a new stat that every pet will have. Unlike other stats, like strength or power, pet happiness has a dynamic value. Other stats have a fixed total value, known when your pet first hatches. You can then train and feed the pet to permanently raise them. The maximum amount of each stat you can have right now are as follows:
Strength: 255
Intellect: 250
Agility: 260
Will: 260
Power: 250
On the other hand, both a pet's current  happiness and maximum happiness can change throughout its lifespan.
How is it calculated?
---
I mentioned that happiness's value will change as you train your pet. Let's see how it's calculated. Its maximum amount depends on your other obtained (not maximum) stats. It's a total of all your other stats combined. For example, if you have 232/255 strength you'll receive only 232 points towards the max value for happiness. Let's take a look at an example to get a better picture how this system works. Let's say your pet has following stats: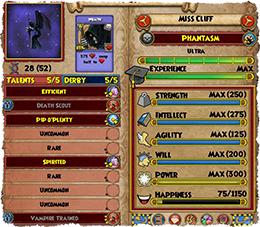 Strength: 215/215
Intellect: 17/250
Agilitiy: 79/225
Will: 243/250
Power: 150/150
Happiness: X/704
In this case we calculate the max value of happiness by summing the currently values for each other stat: 215+17+79+243+150 = 704. If we play additional pet games and raise intellect to 21/250, then the maximum happiness would also change: 215+21+79+243+150 = 708. Now, let's move on to the variable X, that I put under happiness.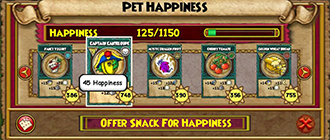 This is the only stat attribute whose value can increase and decrease. In the bottom left corner of your screen, you can open the Pet HUD by clicking on the little piggy above your potion bottles. If you click on the first icon with a pet snack on it, you'll get a new prompt window. You choose your desired snack and click the "Offer Snack for Happiness" button or the snack button in bottom left corner. This will start refilling your pet's happiness bar.
How can I use it?
---
So far, you can use pet happiness for one of two things. You can either play as your pet or use it to activate one of the new talents. If you want to play as a pet, open your Pet HUD and click the 3rd button, "Play as Pet". This will decrease your happiness bar for 5 points for every minute you spend as your pet. However, if you're in the Pet Pavilion, playing as your pet costs no happiness.
The second way to use happiness is to "pay" for adventure or combat talents, which will cost you some happiness each time you use them. To see the exact cost, go to your pet page in your spellbook and hover over the talent.
As the name suggests, combat talents can be used in combat. Make sure to check this video and Cody's guide to see how they work. On the other hand, we have adventure talents, which can be activated during your everyday activities. Your pet can smell nearby reagents (or other things from given talents) and will warn you in the form of a fourth icon in the pet HUD. Your pet will go towards the goal by itself if you click on that button. But be careful! You will always pay the happiness fee, regardless of whether or not your pet actually finds the bonus.

Talent Tokens
Introduction to Talent Tokens
---
If you already trained and obtained a new combat/adventure talent, you probably noticed that many of them are initially locked. Basically, as long as you don't use talent tokens to unlock them, you won't be able to use them. There are a total of 11 types of talent tokens:
Basic Talent token
Elemental token
Spirit token
Harmonious token
7 different school tokens (Balance, Death, Life, Myth, Ice, Fire, Storm)
Obtaining Talent Tokens

Right now you can obtain these tokens in 2 different ways. The first is via Pet Promenade, one of the new upcoming special events. You can perform various pet-related activities to gain points. If you obtain enough points in a given time period, you'll be rewarded with one Token.
The second way is by training your pet to ultra. Before this update, we only received 1 rank 4 selfish talent jewel  when we trained our pet to ultra. Now the required xp to level a pet from Mega to Ultra is 250 higher, but we also receive much more stuff when we do reach Ultra:
Rank 4 selfish talent jewel: Guaranteed drop
Elemental/Spirit/Harmonious token (based on your pet's school): Guaranteed drop.
School specific token: Guaranteed drop.
Extra Elemental/Spirit/Harmonious token: Uncommon drop
Extra school specific token: Rare drop
Unlocking Combat/Adventure Talents
---
Unlocking them isn't an easy task, as it will require lots of training and pet snacks. Make sure to check out our picks for some of the best plants and a guide to build layered gardens. Arm yourself with this knowledge and your training experience will be way more pleasant. In the previous paragraphs I discussed what you receive by training your pet to ultra. Here are the requirements to unlock adventure and combat talents. You can do the math by yourself: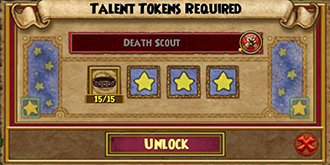 Common talents (0 dots): Unlocked for free.
Uncommon talents (1 dot): 15 Talent tokens.
Rare talents (2 dots): 30 Talent tokens + 10 Elemental/Spirit/Harmonious tokens.
Ultra-rare talents (3 dots): 45 Talent tokens + 20 Elemental/Spirit/Harmonious tokens + 5 School specific tokens.
Conclusion
---
Pet happiness and talent tokens are interesting additions to the Wizard101 pet world. Right now, they don't feel too overpowered and are completely optional addition to our pets. Whether you need Tokens right now or not, I'd suggest you to start collecting them. Because we all love to hoard stuff, and you never know what new features we'll receive in the future.
What do you think about Pet Happiness and Talent Tokens?
Do you like the system or would you make any changes?