August 3, 2016  July 29, 2023
Immortal's Spellemental Pack
---
Another Summer Update arrives in Wizard101 bringing with it lots of exciting content including a new Aquila-themed pack! The Immortal's Spellemental Pack (previously Immortal's Lore Pack) gives a chance at brand new items including lore spells, gear sets and weapons and a much more! Let's take a look together at the main items listed below.
Immortal Lore Spells
---
In addition to interesting new gear and treasure cards, this pack includes a chance to drop spellements for one of the Hephaestus, Queen Calypso and Athena Battle Sight lore spells. These spells are now available in the live game as a drop from Lady Stonegaze in Aquila or can be crafted from recipes found at the Spell Vendor in Dun Dara, Avalon.
Hephaestus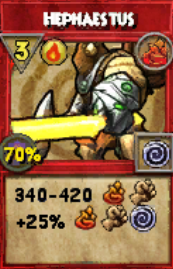 Athena Battle Sight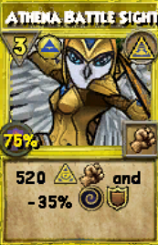 Queen Calypso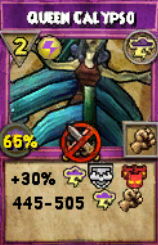 Aquilan Gear Sets
---
We have three sets to explore in this pack – the Charioteer, Secutor and Velite sets. Check out the stats below including some very interesting items cards. You will find a different version of Sabertooth tailored for each school. You absolutely need to see those spells in action!
Charioteer Set
Secutor Set
Velite Set
Charioteer Set
(Fire and Death Schools)
Aquilan Charioteer Kalkris

Aquilan Charioteer Hamata

Aquilan Charioteer Greaves

Secutor Set
(Ice and Myth Schools)
Aquilan Secutor Kalkris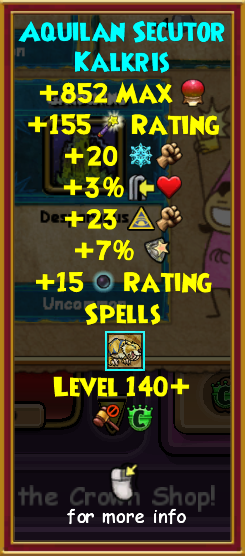 Aquilan Secutor Hamata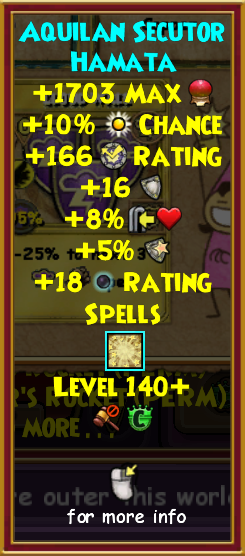 Aquilan Secutor Greaves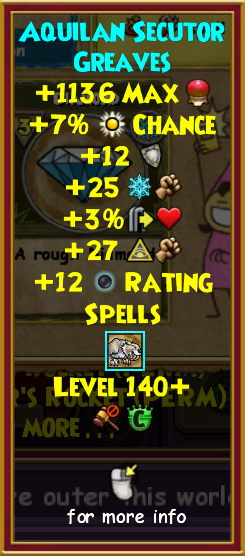 Velite Set
(Balance, Life and Storm Schools)
Aquilan Velite Kalkris

Aquilan Velite Hamata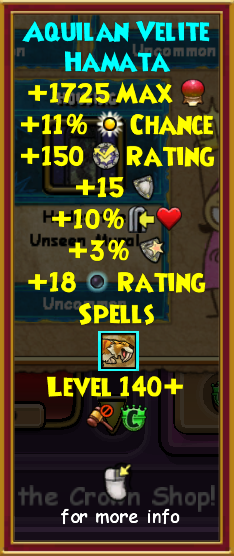 Aquilan Velite Greaves

Aquilan Lance Weapons
---
At the time of release, these weapons were near perfection. Balanced with nearly every stat you would want. However, nowadays gear stats have started to shift more to include a more balanced stat mix that also includes shadow pip chance and pip conversion… something these weapons are severely lacking! On the other hand, the chance to have a lore spell may-cast from these weapons is exciting!
Aquilan Charioteer Lance
Aquilan Secutor Lance

Aquilan Velite Lance

Mechanical Owl Pet
Talent Slots
Pip O'Plenty
Stun Resistant
Gold Miner
Fire-Sniper
Fire Assailant
Ice-Proof
Unbalancer
Firespear
Fire-Dealer
Armor Breaker
House Guests and Housing Items
---
There are also new animated statues for your castles. These house guests are sure to create a powerful Aquilan feel to your castles, so keep that in mind when you are decorating!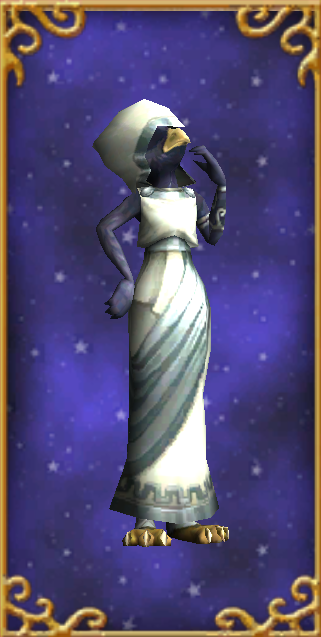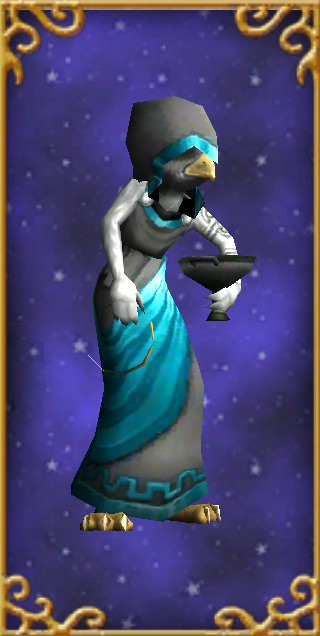 Wall Treasure Cards
---
Take a look at some of the new treasure cards available in this pack, and let us know in the comments if you think any of these will see use in PvP! I would certainly love to at least have the option to train them.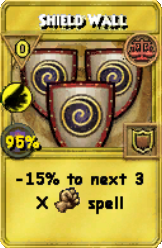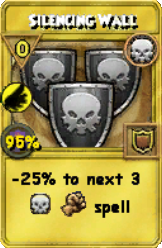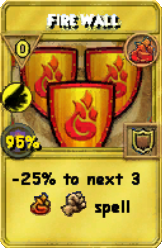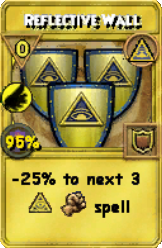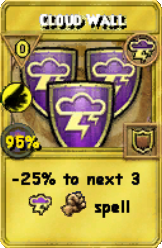 Miscellaneous Items
---
Lots of other miscellaneous items to be found within this pack including reagents, pet snacks and even other pets. Check out a more detailed list of the items you can get. The pack drops the following old pets, as well as one new pet: the Mechanical Owl.
Reagents
Ancient Scroll
Black Pearl
Blood Moss
Brass
Bronze gear
Copper
Diamond
Fire Blossom
Fossil
Iron
Nickel
Ore
Pyrite
Spider Silk
Spring
Steel
Titanium
Turquoise
Water Lily
Pet Snacks
Bread Fruit
Cauliflowers
Fancy Pudding
Golden Grapes
Hero Sandwich
Hespermint
Krakamari
Manticoreos
Papaya
Rye Bread Fruit
Star Cookie
Treant Bark
Yucca
Pets
Bronze Golem
Firestorm Quetzal
Fog Unicorn
Grove Unicorn
Harpy
Night Hawk
Pegasus Pony
Pesky Beetle
Royal Ibis
Have you opened any Immortal's Spellemental Packs?
What do you think?