January 17, 2019  November 20, 2019
Nimbari Hoard Pack
---
The Nimbari Hoard Pack makes its first appearance kicking off 2019 for Kingsisle. This pack, like many others, can be obtained from the Crown Shop for 399 Crowns. This pack features items from Empyrea Part 2 including nimbari gear and weapons, the chariot mount and lots and lots of furniture items and house guests. Seriously, if you like Empyrea and fancy yourself a decorator, this is the pack for you! We didn't have too much luck obtaining some of the rarer and unique items in this pack, but here is what we got.
Nimbari Gear and Weapons
---
This pack contains three different sets with each containing a hat, robe, boots and wand. The stats as you can observe below are divided into three categories, Fire and Ice, Death and Life, Storm and Myth. Leaving Balance out in the cold… alone and forgotten. Check out the Justicar, Praetor and Centurion sets below.
Nimbari Centurion Helm
Nimbari Justicar Helm
Nimbari Praetor Helm
Nimbari Centurion Armor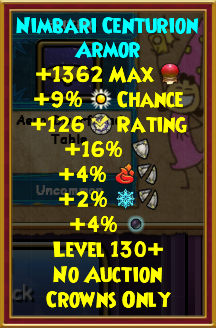 Nimbari Justicar Armor
Nimbari Praetor Armor
Nimbari Centurion Greaves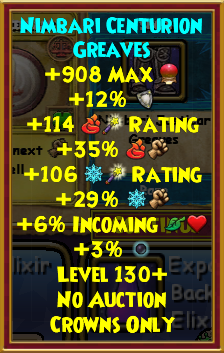 Nimbari Justicar Greaves
Nimbari Praetor Greaves
Nimbari Centurion Scimitar
Nimbari Justicar Scimitar
Nimbari Praetor Scimitar
Nimbari Chariot Mount
---
It is no mystical creature, not even a vortex, whirlwind or swarm mount. It is the Nimbari Chariot mount! This mount is actually smaller than I imagined which made me question how on earth will 2 wizards fit. Turns out, they fit quite perfectly!
Hurricanine Pet
---
Pet missing! It comes with a Galvanic Field item card. Kindly contact us in the comments, via email or on social media if you find him. Last seen in the Aeroplains chasing toads.
Talents
Epic
Epic
Rare
Ultra-Rare
Epic
Myth-Ward (thanks to Troy for emailing us!)
Ultra-Rare
Refreshed (thanks to Troy for emailing us!)
Rare
Ultra-Rare
Derby
???
???
???
???
???
???
???
???
???
???
Housing Items & Whirlyburly House Guests
---
If you are a decorator and looking for some Empyrean-themed furniture and house guests, you found the right pack. Furniture items and house guests drop a little too much from this pack. You will find a lot of different variations of Whirlyburly house guests available, along with random furniture which was partially already introduced to the game.
Gardening Plant Seeds
---
After 50+ pack opening, we noted that both these seeds were dropping quite often so why not give them a random shout out. Perhaps you are going after Sunions for PvP related reasons. 😉
Sugar Khrystal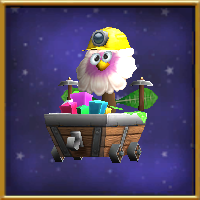 Sunion
What do you think of this Nimbari Hoard Pack?
Let us know in the comments!