September 11, 2016  May 30, 2020
Deathly Decorating
For any housing aficionado the introduction of the new furniture packs was an incredibly exciting thing and given my love for the previous sets, I knew I was going to have a field day. I know this article may seem like it's coming a little late, but I was moving…so…:p I just recently began decorating a death house, "The Incredibly Haunted House," for reasons that will soon become clear and of course this set is the perfect fit for it.
I just wanted to talk briefly as briefly as I can which probably isn't going to be that brief about how I've utilized the new death furniture in my new house, thoughts that I had whilst decorating, some suggestions, and hopefully provide some inspiration for my fellow decorator!
Note: This post isn't intended to be a housing showcase for my death house. This is very much still a work in progress and the screenshots will attest to that. Rooms will be jumbled and in various stages of completion…so…don't judge me

The (Not Quite) Kitchen Sink.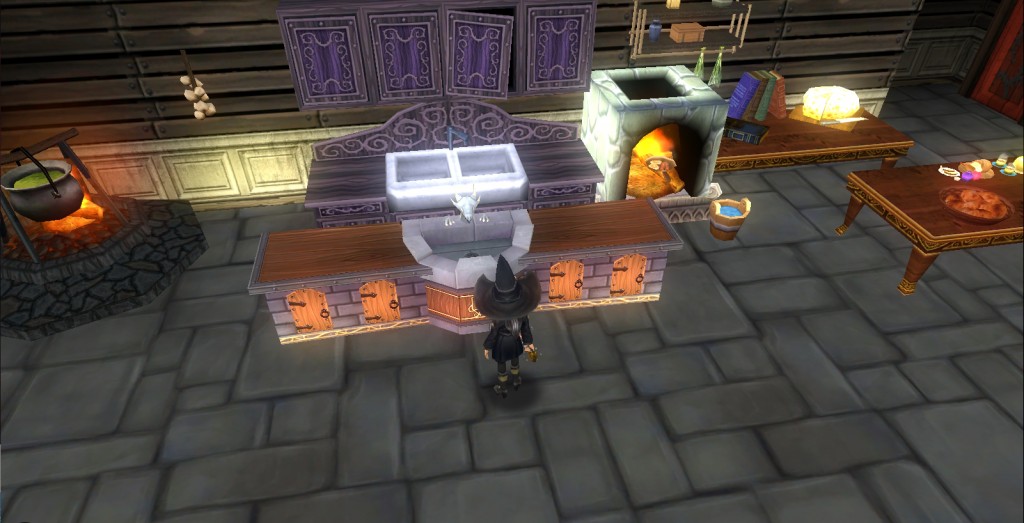 My use:

The only potential problem I could see with using the new set was that I was already well into decorating my kitchen. Adding in the new death furniture would mean ripping out a good chunk of it and starting again. Not to mention what would happen if absolutely none of the other furniture matched. But, as with any housing direction change, you just have to grit your teeth and soldier on.
When I first began to decorate this kitchen I started out with the Avalonian sink, which I love dearly (cute little dragon head is cute). While I can see a scenario with the death cabinets and the Avalonian sink together (maybe for darkmoor?), I couldn't pass up a chance to utilize the new death sink as well. The only problem with that, though, is that the death sink has noticeably less counter space. This isn't so much an issue in terms of decorations- so a few jars get left off -as it is in terms of sizing and spacing.  As you can see in the screenshot, the lovely glitched cauldron in the corner is now too far away from the rest of the set-up. And before you say it no way was I glitching that thing again. There are several solutions to this problem, but I decided to consider the question of "how many cauldrons is too many for one room?" especially in a witch themed kitchen.
Potential uses:

Gosh this sink has all kinds of creepy uses! Here are some ideas I can think of off the top of my head:

Potions/Poisons Lab: This would look incredible in any potions or poisons lab, especially with its green goo 'water'. I'm absolutely utilizing this idea in my Castle Darkmoor house!
Haunted Bathroom: This sink can easily be used in a bathroom, particularly a master bathroom or a shared bathroom (preferably between two rooms – called a jack and jill)
Things to Keep in Mind:

I've found the death school furniture to be on the smaller side. So, take note of the space you want to build your kitchen in when you select this as your sink. I always want my sinks to be somewhat of a focal point in my kitchens so having a small one in a large room may mean that it will be completely drowned out.
Water doesn't not flow out of these faucets. Green slime does, so keep that in mind if you want your death themed kitchen to have an element of realism. This is a good opportunity to swap in the Avalonian sink.
In that same vein, there isn't much counter space on this, so pick what you want to place on or near your sink wisely.
The Haunted Table.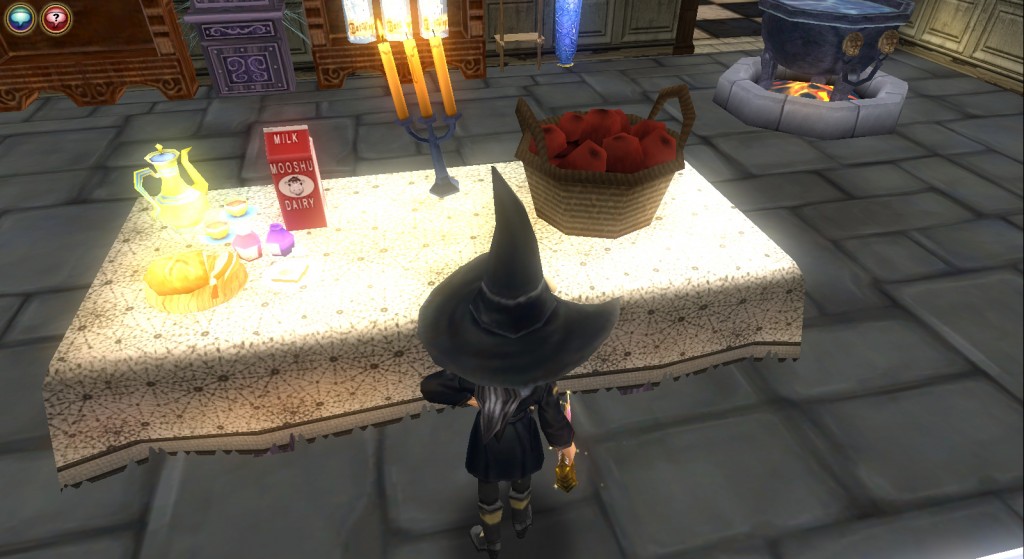 My Use:

I had been using a darkmoor dining table as the island in this kitchen previously, but look at how great this table is! I love the floating candles!

I like this table more as a piece for standard homes, such as the death house, rather than castles. The tatty table cloth actually gives it more of a home-y feel than something that belongs in a grand castle dining hall. Granted, this could easily be used in a castle kitchen, provided that the kitchen had a more earthy, home-y feel.
Potential Uses:

Haunted Dining Table/Breakfast Table: This was the original intention for this piece, and it's a natural fit. I can also see this used as a breakfast table.
Things to Keep in Mind:

Unfortunately, it's those same floating candles that make using this table tricky. You can only use the areas around the candles. I managed to fit- as you can see -a tea set, sandwhich station, and a milk carton, so quite a lot. However, that area is still not compatible with many items and I think my best advice with this would be trial and error.
The Ghostly Guest.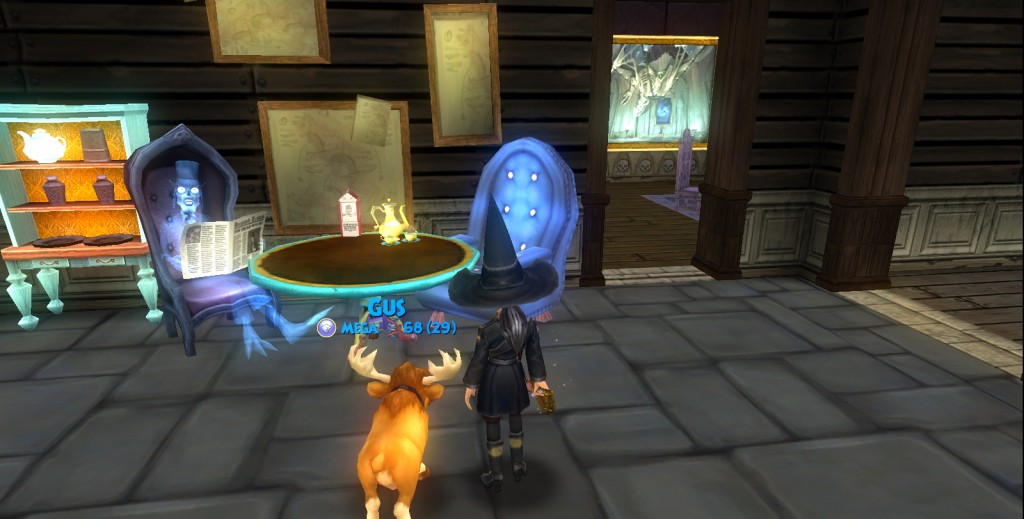 My Use

This is easily my favorite part of this set. I actually had to laugh because it was such a perfect fit for the kitchen, specifically the breakfast nook. I used his chair along with a "Worn Armchair" because they actually have similar tones! His ghostly blue is the same as the blue of the armchair and the dark color of his chair reflects the shadows on the armchair.
Potential Uses:

Haunted Library: I can see having a swarm of these dudes all reading their papers in the library in Darkmoor Manor
Sitting Room: This use is a pretty simple one- he would be a natural fit in any haunted living room
Haunted Waiting Room: If anyone has seen Beetleguese before that's what I'm thinking of (haha)
Things to Keep in Mind:

This little guy is very versatile. I had a pretty easy time positioning him and moving him around and I would say that he doesn't really suffer from any issues in terms of sizing and spacing (as you can see from the photo, he's about the same size as the other arm chair). Overall, easily a favorite item of mine!
The Unwelcome Bunkmate.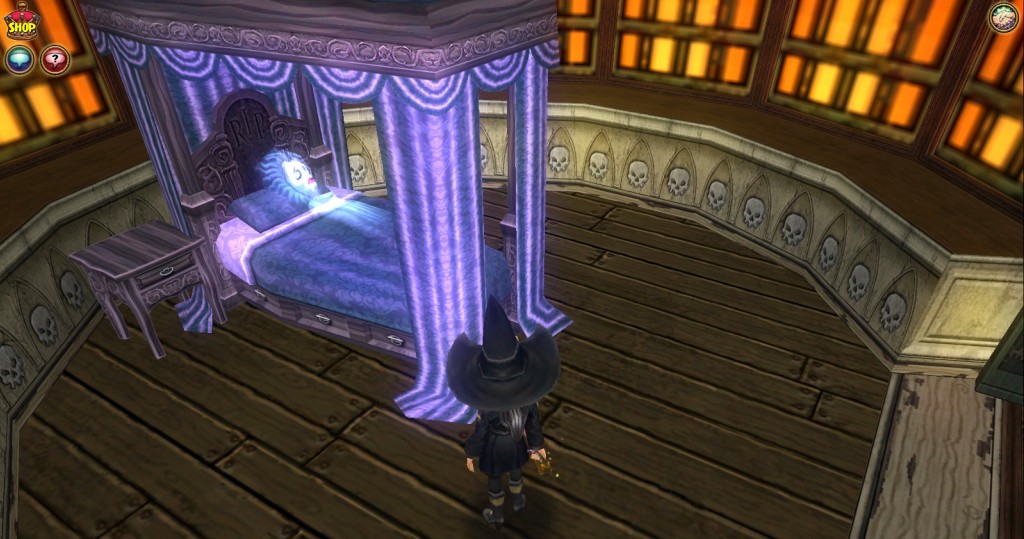 My Use:

This bed is the perfect size for the little windowed cove in the death house! I haven't done much with this room yet, but I will soon. I plan on putting down a rug underneath the bed to fill in a little more of that empty space.
Potential Uses:

Haunted Guest Bedroom/Haunted Master Bedroom: Unfortunately I feel like this piece is pretty situational, so these are pretty obvious. I actually like it as a guest bedroom piece more, because of the hilarious scene in my head where a guest has to sleep next to a ghost that appears and disappears every so often.
Mausoleum: It would be difficult but I can see glitching this inside the outdoor mausoleum at the death house.
Things to Keep in Mind:

I definitely see this bed as more of a stand alone bed- ie. I don't see using multiple copies of these in the same room -suited to either a guest or a master bedroom.
It does suffer from a slight size issue, so be warned that it may get swallowed in a room that's very large.
The bed's natural companion is the little night stand/side table included in the pack. Because of the drapes I had to glitch the table just a bit closer.
Night of the Livingroom Chairs (and Fire Place…and Rug…and Coffee Table).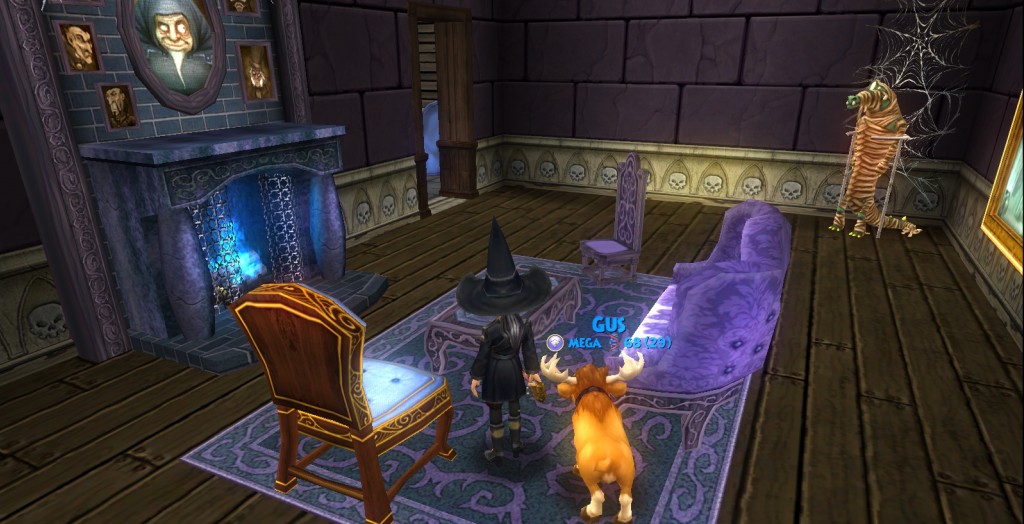 My Use:

As you can see, these furniture pieces went to a pretty straightforward use. The fireplace is my second favorite thing about this set. It's incredible! I just love the ambience it adds to the living room! (despite Dworgyn's weird face peering down at me). I actually felt that the fireplace was incomplete without the accompanying dark purple wall stones so I utilized them here and then got a second pack so I could use them in the upstairs bathroom as well. To pull everything together I mixed in a darkmoor dining chair which tied in nicely with the blue of the fireplace flames.
Potential Uses:

So many things! Besides the fireplace these furniture pieces are really versatile so I'm just gonna talk about the fireplace here
Secret Lair: I'm thinking dark and mysterious
Haunted Living Room: of course
Luxurious Haunted Master Bedroom: I can definitely see this fireplace on the opposite wall from a four poster bed! Of course there should be some nice, moody candelabras too!
Things to Keep in Mind:

Not much to keep in mind this time, the dining chairs are a little on the small size, but the rest of the pieces are actually really functional.
Natural fit for a living room in the death house!
The Rest (in Peace).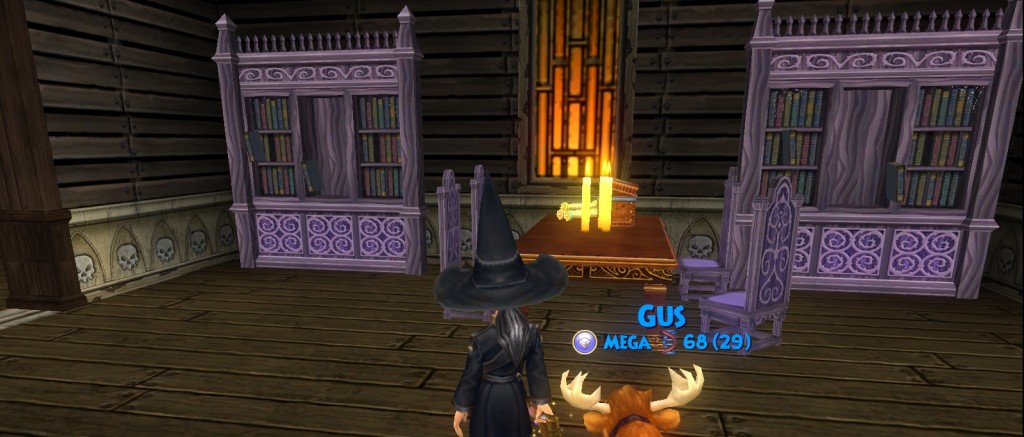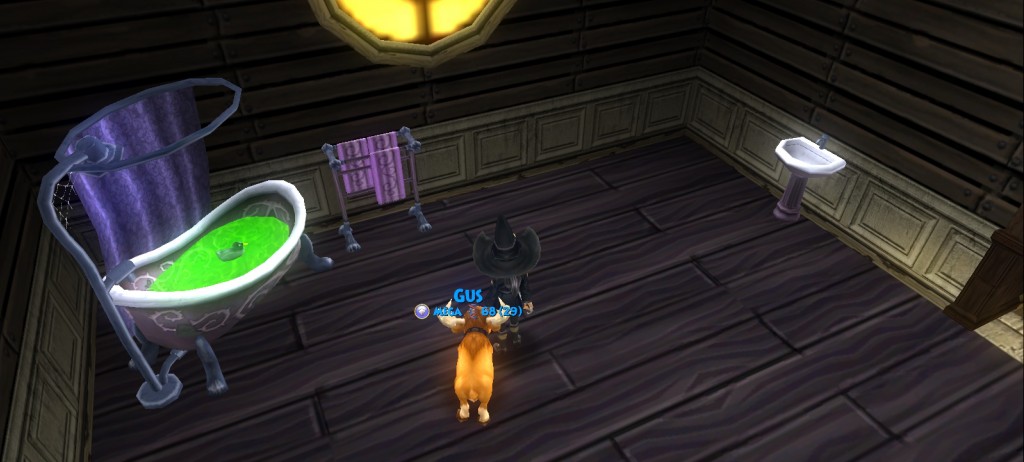 My Use:

I haven't gotten a solid footing as to what I want to do with the rest of the furniture in this set. As you can see I'm starting to form a library with the wonderful floating book shelves, but I'm really struggling with the furniture for the bathroom. While the book cases are really awesome and versatile size wise the bathroom furniture really suffers from being on the small side.
What are your thoughts on the death furniture! I hope you've been inspired by some of my uses! (very kitchen centric as usual, I know…)