August 4, 2019  August 4, 2022
Grizzleheim Lore Pack
---
Life wizards, rejoice! The Grizzleheim Lore Pack has the answer you've all been searching for… the Ratatoskr's Spin! This pack is available in the Crown Shop from August 2019 for the regular pack price of 399 crowns. Take a look below as we explore the unique items found within, as well as some other goodies that might be of interest to you.
Spells
---
Introducing 3 new lore spells – Ratatoskr's Spin, Hammer of Thor and Grendel's Amends! Needless to say, these are some of the most anticipated spells of the game. Life finally gets a 4 pip AoE attack and Myth gets a heal. They might all need some balancing out, but its a huge step in the right direction!
These spells are also available via spellements from King Borr in Grizzleheim.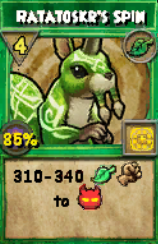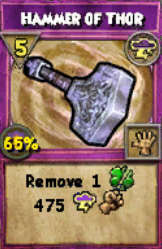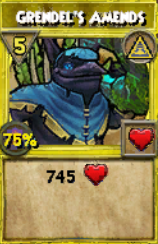 Loading ...
Gear
---
Similar to other pack gear, the gear found in the Grizzleheim Lore Pack is, how shall we say it… interesting. The stats are nothing out of this world, but they sure are aimed towards the more offensive stats, save for the robes. One thing that caught my attention is the Storm spell on Odin's Helm, Power Current. This spell gives an ally or yourself (depending who you target) between 1 to 4 regular pips. Furthermore, it turns any noob pips into power pips if the target has full pips. The thing with it is that it costs 0 pips to cast, so you are technically making pips out of nothing, not even mana. Take a look at all the level 130 gear below!
Allfather's Gear Set
Odin's Gear Set
Wotan's Gear Set
Allfather's Gear Set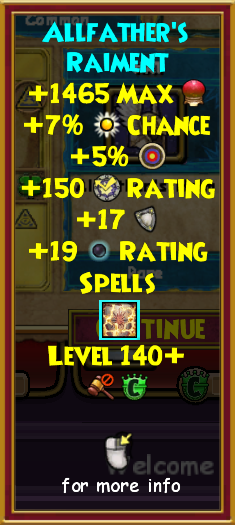 Odin's Gear Set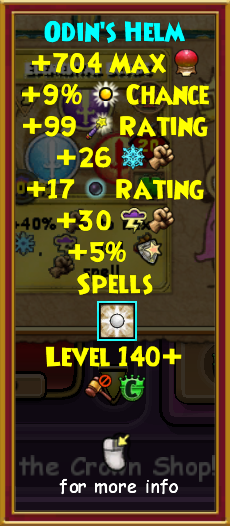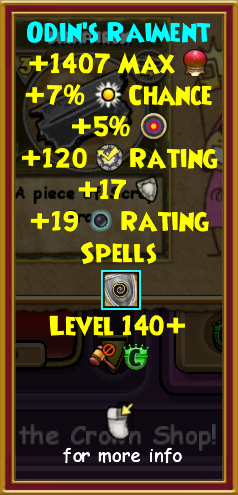 Wotan's Gear Set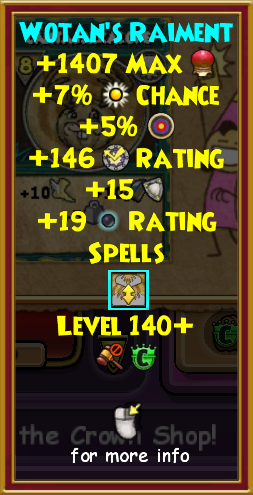 Weapons
---
Some powerful wands, but honestly not my first choice for a weapon. Nowadays, there are some truly noteworthy improvements that render these wands unremarkable. On the other hand, the may cast spell that they all share is thought provoking. It deals 750 storm damage and gives a 25% Aegis protected Balance Blade. Additionally, Odin's Gungnir weapon only has 3 wand hits, compared to the others that all have 6. While I understand that the weapon is for Ice and Storm and having a Storm wand cast can be powerful since the may cast is also Storm, it should be balanced out somehow.
Note: Currently, Wrath of Zeus targets the wizard that cast it rather than the enemy it was cast on.
Allfather's Gungnir

Odin's Gungnir

Wotan's Gungnir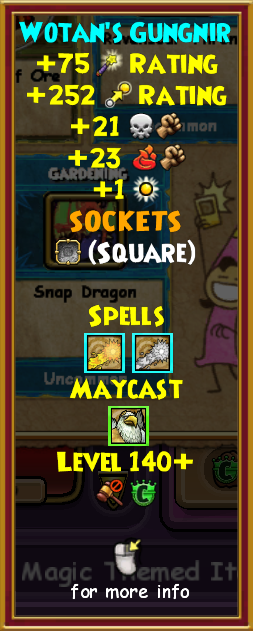 Pets
---
This pack is loaded with brand new and already seen pets, and from our pack openings we got plenty of the new ones! Meet Fenrir, Fenris and Fenric – three extremely similar pets in nature and in name. Check out their looks and stats below. If you have any of the talent information for these pets, let us know so we can update the article and credit you. Additionally, you can also obtain the Night Hawk, Raven, Pesky Beetle, Harpy and Imp pets from this pack.
Fenrir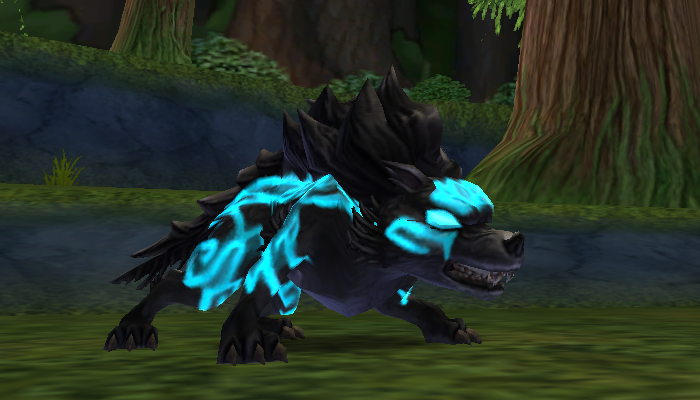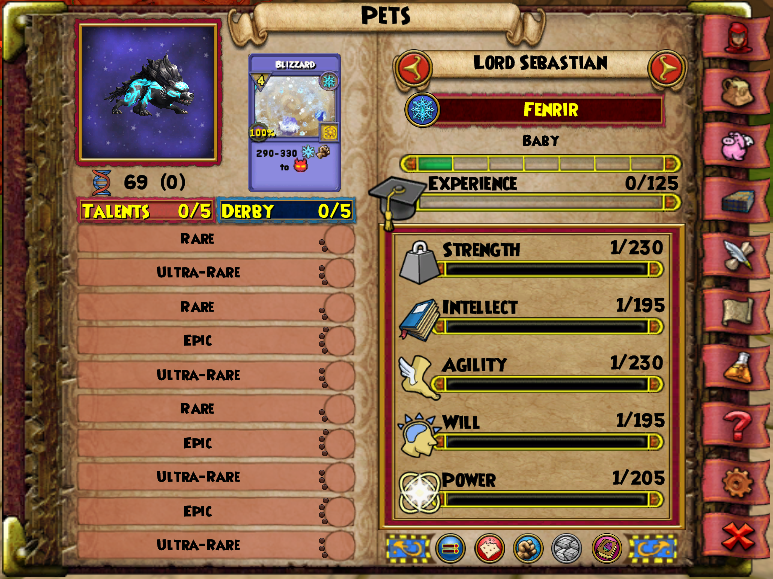 Talents:
PiP O'Plenty
Sharp-Shot
Sharp-Eye
Tower Shield
Snowborn
Mana Gift
Critical Striker
Critical Hitter
Armor Breaker
Armor Piercer
Fenris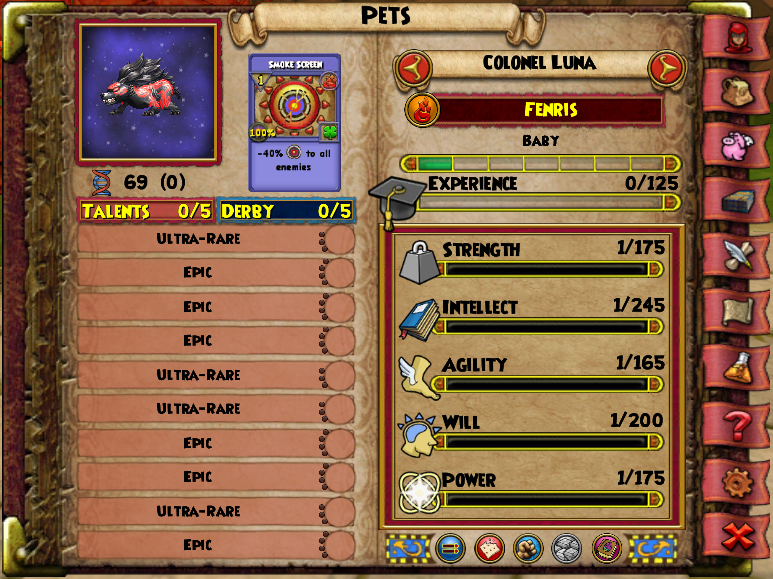 Talents:
Sharp-Shot
Stun Recalcitrant
Fire Assailant
Ally Glacial Shield
Balance-Ward
Storm-Ward
Critical Striker
Get Sunbird
Fire-Dealer
Armor Breaker
Fenric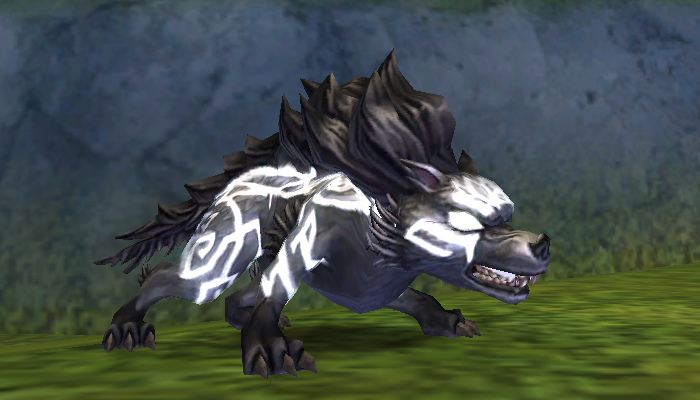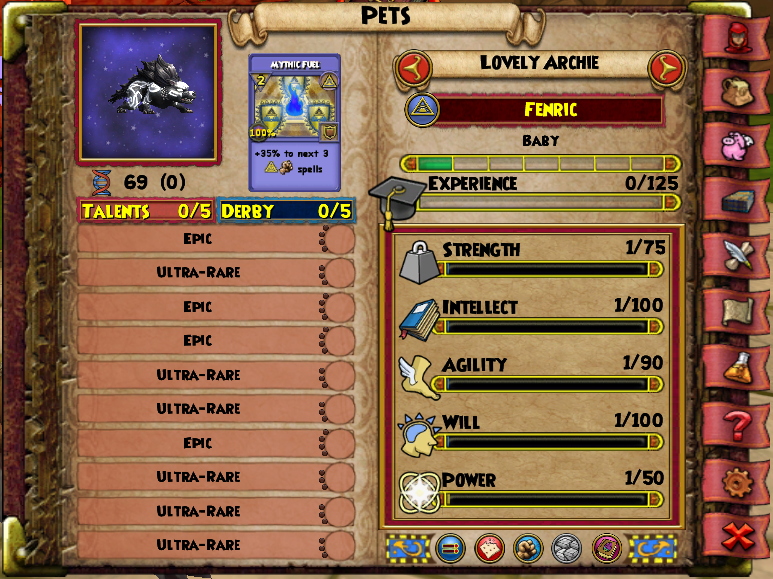 Talents:
Defender
Pain-Giver
Critical Striker
Piercemonger
Myth-Ward
Death-Ward
Myth Assailant
Myth-Dealer
Myth-Sniper
Armor Piercer
Grizzleheim Furniture
---
The Grizzleheim Lore Pack also comes with plenty of furniture items both new and old. Check out some of the highlights below for you housing decorators. Moreover, you will find that some really useful reagents drop, such as Brass, Steel, Black Pearl, Sunstone, Spring and Fossil.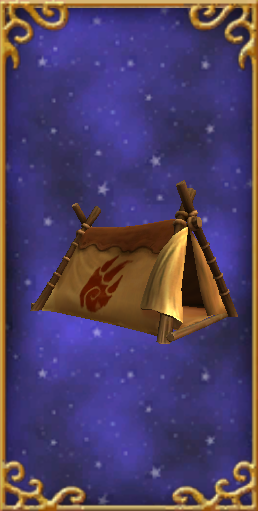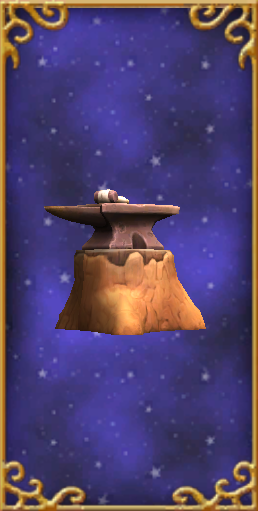 What do you think of the new Grizzleheim Lore Pack?
Check it out in the Crown Shop today!