October 18, 2019  December 21, 2021
Creepier Carnival Bundle
---
Halloween 2019 is full of surprises, including new mounts, packs, and perhaps an update #ComingSoon. In addition to all that excitement, Wizard101 fans also have the Creepier Carnival Bundle full of Kingsisle's latest ingenuities. The items you can find within include:
Evil Carnival Wagon Mount
Sinister Harlequin Gear
Mallet of the Midway Weapon
Scare Bear Pet
Scare-Us-Wheel Housing Item
5000 crowns or 1 month membership
Evil Carnival Wagon
---
Introducing the fourth four person mount – the Evil Carnival Wagon! As an avid quad-boxing player I find this mount a must have simply to add more mount choices to my backpack. Questing with it makes life a lot easier, that's for sure. One unfortunate drawback is that it only has the standard 40% speed, unlike the Creepy Clown Car that was introduced two years ago.
Sinister Harlequin Gear
---
The stitch of this gear is an absolute must for your Halloween costume. Whether you are planning to dress up in W101 or in real life, it's the way to go! Additionally, the gear set offers some interesting stats if you happen to find the right gear to combine it with. However, the item cards are what really got my attention. Notice the Dark Ritual and Weakening Mantle cards on the higher level options? I'll let you think about that some more…
Mallet of the Midway
---
An alluring name for an alluring weapon, wouldn't you agree? I must admit that Kingsisle went all out when designing the gear for this bundle. Well done to everyone involved! On the other hand, I'm not that impressed with the weapon stats we've been getting as of late. It is probably due to a shift in design philosophy, but newer wands are missing that extra edge that they used to provide. If the may cast Shatter was also present at lower levels would that be worthy competition for the Sky Iron Hasta?
Scare Bear
---
Fans of all things spooky will love this not-so-adorable bear. Be sure to get your hands on the not-so-adorable Scare Bear. If you have it, let us know what talents the first generation has and we will gladly credit you below!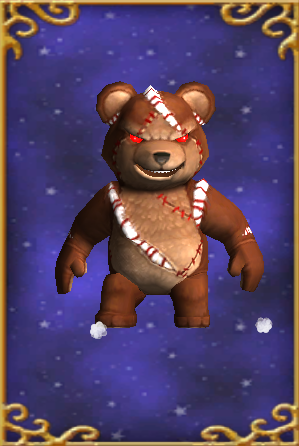 Scare Bear Stats & Talents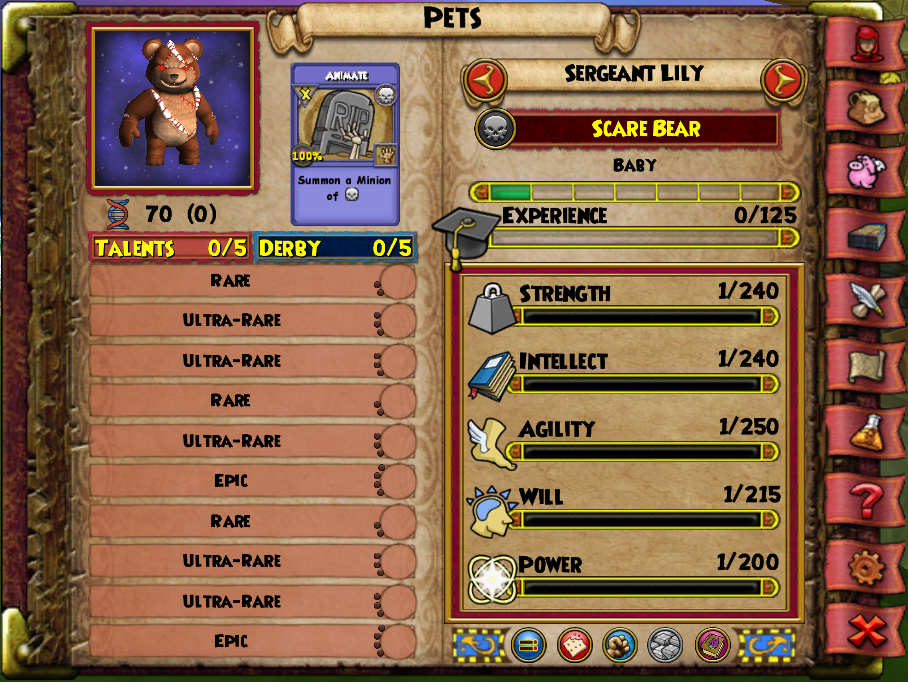 Scare-Us-Wheel
---
What's truly scary about this wheel are the shadowy hands coming out from the void beneath it. One wrong move and you are lost forever in a shadowy doom. On the bright side, it makes for an interesting castle decoration, especially when paired with the Scarousel from the Spooky Carnival Bundle.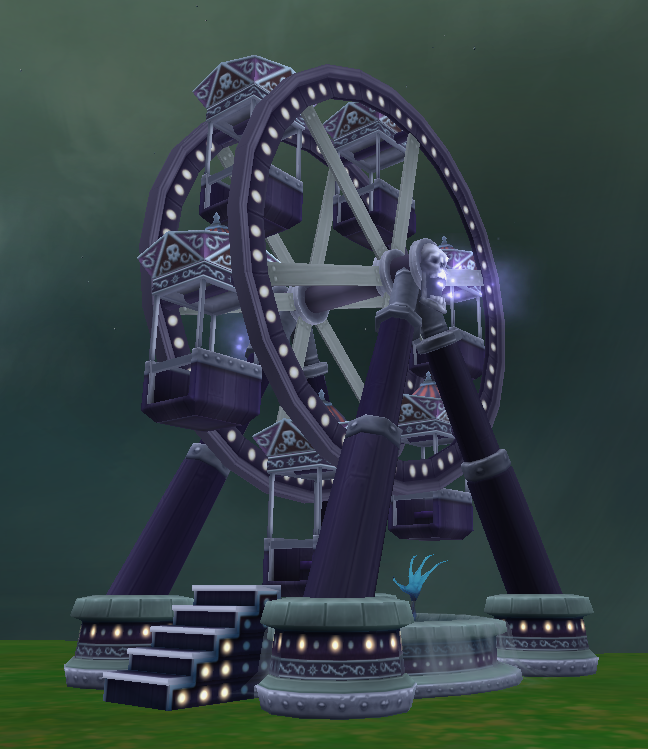 ---
What are your thoughts on the Creepier Carnival Bundle?
Does it live up to its name?

Let us know in the comments below!
---