March 5, 2021  November 5, 2021
Astrologer's Hoard Pack
---
Are you a fan of stargazing? Yes? No? Regardless of whether the answer to that question is yes or no, you need to check out the contents from the Astrologer's Hoard Pack! There are plenty of brilliant items to explore, so let's get to it right away!
Gear Sets
---
With a pack name like that, one could expect some Astral school themed items and they'd be correct. The item cards seem to all be Moon or Star spells. In all fairness, there is nothing out of the ordinary, but I must applaud the visual designs on this gear. Just take a look below and admire these gear sets. In terms of stats, this gear is pretty much what you'd expect to obtain in packs, without any gear set bonuses.
Gear Design - Front
Gear Design - Back
Astromancer's Set
Cosmographer's Set
Stargazer's Set
Here's the Astronomer Gear. This was really fun, mixing a little steampunk with fantasy space themes, and used star charts on the clothing. One of my favorite sets to design 🙂
@Wizard101
@KingsIsle
#wizard101
#astronomer
#stars
#videogames
#conceptart
#characterdesign
Adam Roush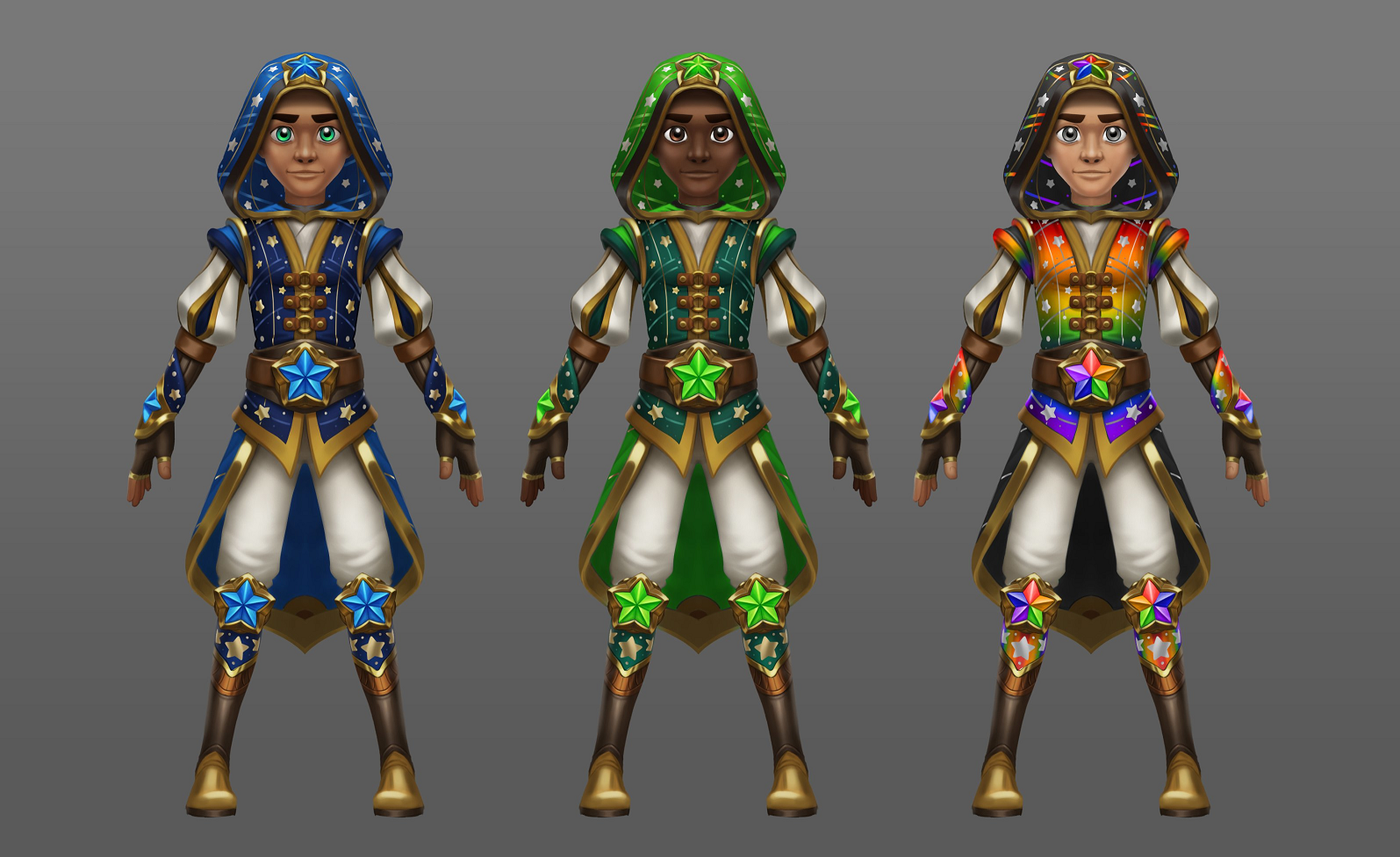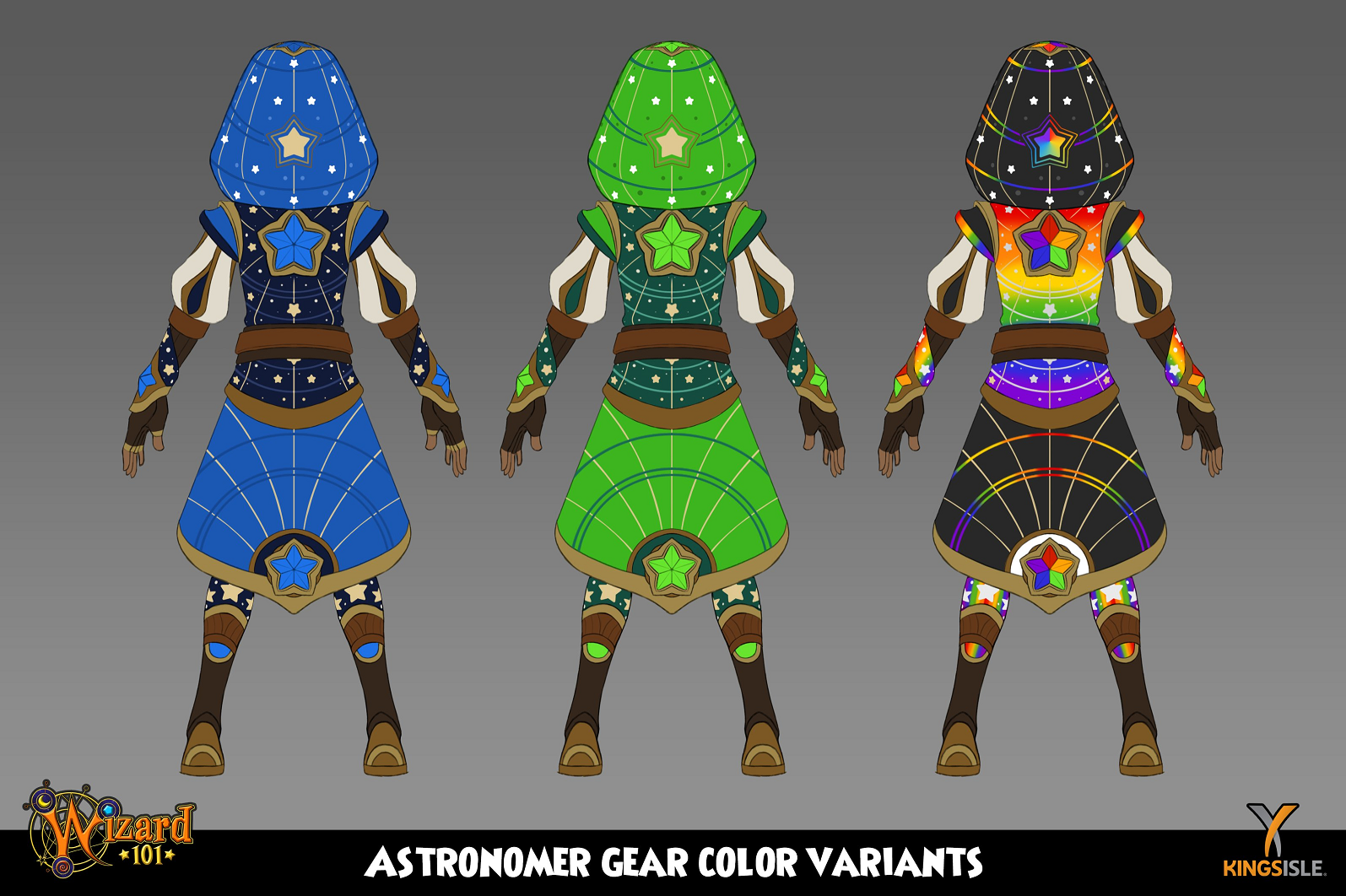 Astromancer's Set
(Life and Myth Schools)
Astromancer's Cowl
Astromancer's Tunic
Astromancer's Boots
Cosmographer's Set
(Balance and Ice Schools)
Cosmographer's Cowl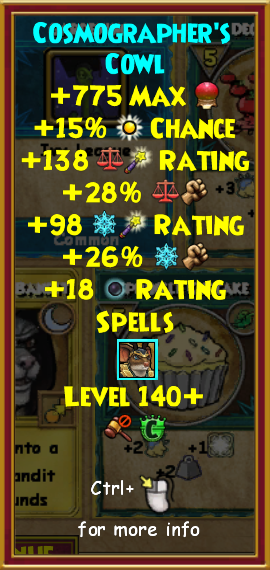 Cosmographer's Tunic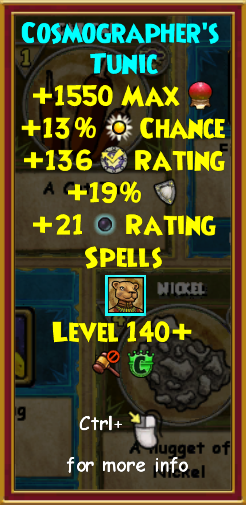 Cosmographer's Boots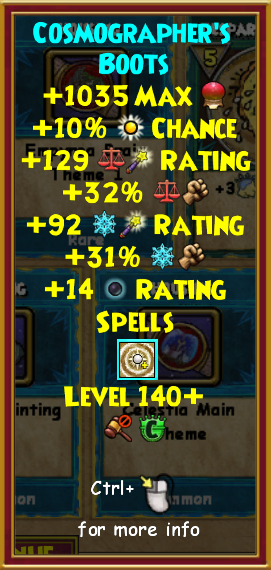 Stargazer's Set
(Death, Fire and Storm Schools)
Stargazer's Cowl
Stargazer's Tunic
Stargazer's Boots
Orrery Staff Weapons
---
Quite decent when it comes to power. From all the stats you'd expect to have on weapons nowadays, the only thing missing is pierce, but that still keeps them in the running. On the other hand, if the stats don't make the cut for you, take a look at their design. Below you will find the concept posted on Twitter by artist Adam Roush. Click on the image for more details.
Astromancer's Orrery Staff
Cosmographer's Orrery Staff
Stargazer's Orrery Staff
Rocket Mounts
---
Ready to reach for the stars? Check out the rocket ship mounts available exclusively from the Astrologer's Hoard Pack. These mounts are designed for one passenger and provide 50% speed boost.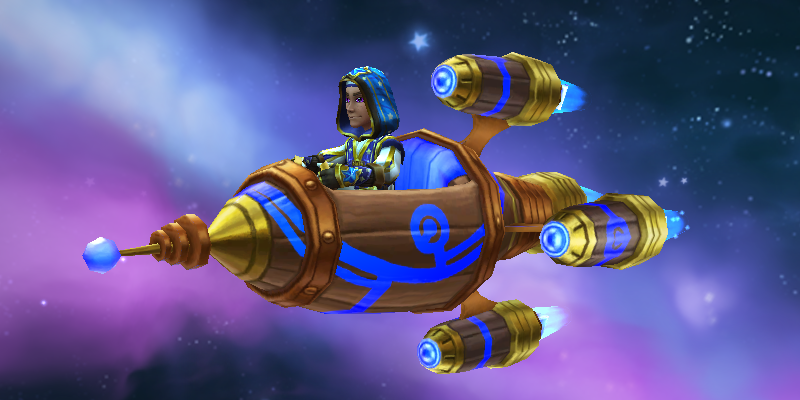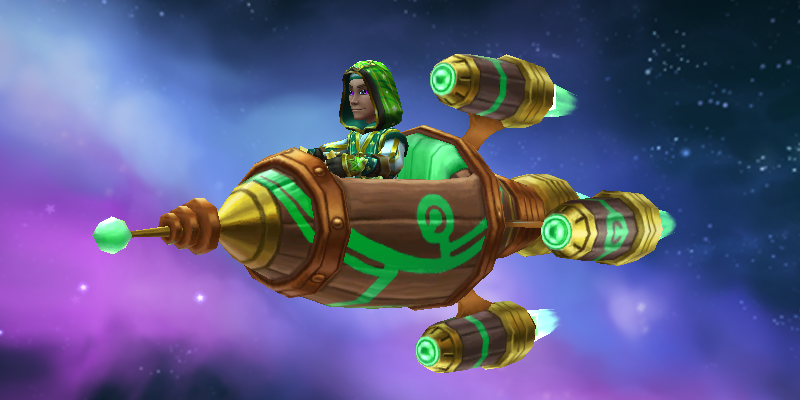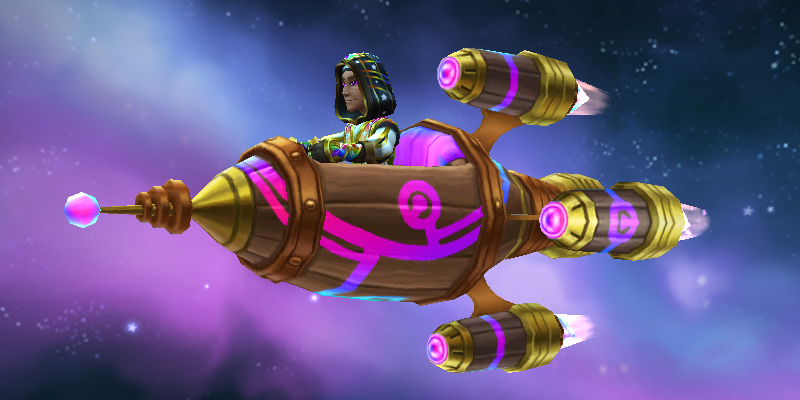 Rat Pets
---
Looking at the charming pet below makes me wonder how one could ever fear these creatures in real life. Then again, the amazing artists at Kingsisle do practice some unique magic of their own, so that might be it.
Astromancer's Rat
Cosmographer's Rat
Stargazer's Rat
Astromancer's Rat
Life-Giver
???
Life-Proof
Rugged (Selfish)
Canny (Selfish)
Life-Shot
Health Gift
Gifted (Selfish)
Medic
???
Cosmographer's Rat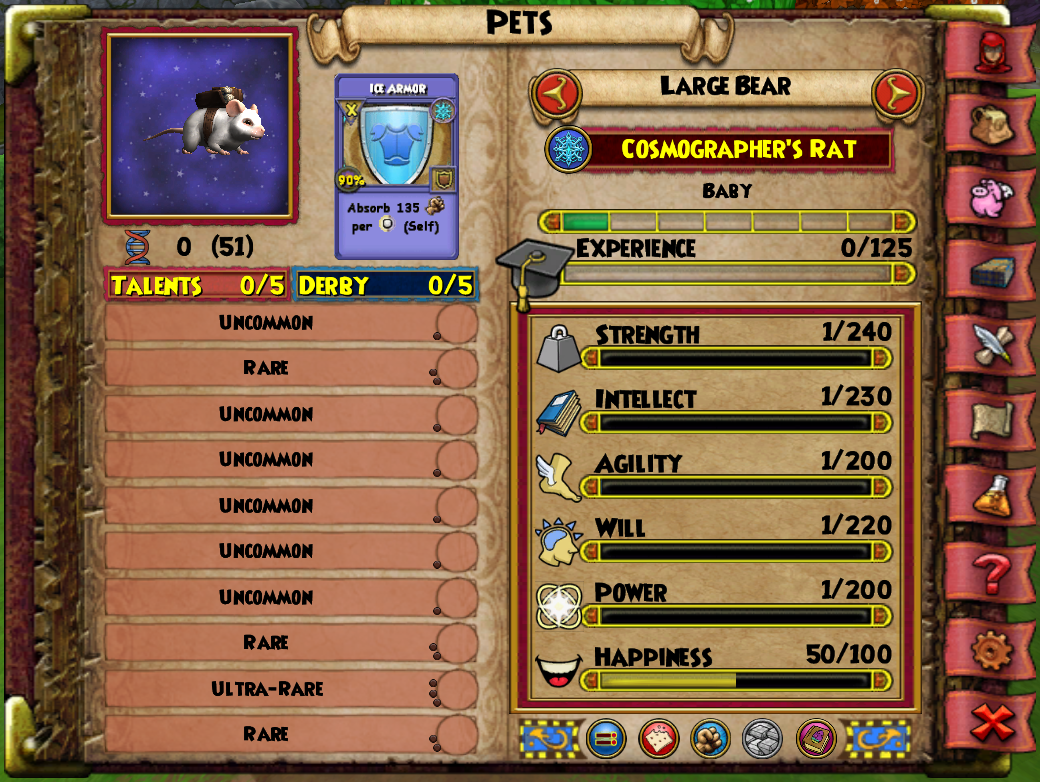 Sharp (Selfish)
???
Tenacious (Selfish)
???
Health Gift
Stargazer's Rat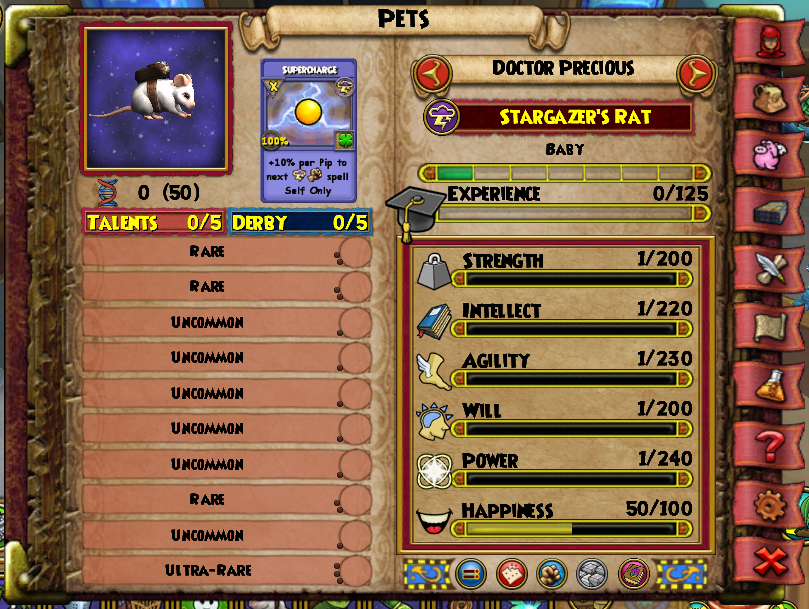 Thank you Hanchan on Discord for the image!
Efficient (Selfish)
Pip O'Plenty
???
Storm-Shot
???
???
???
Health Gift
Storm-Giver
Storm Striker
Miscellaneous Drops
---
Sadly, there is nothing major to report in this field. While this pack boasts metal reagents, low tier pet snacks and seeds such as Pink and Red Huckleberries, along with a ridiculous amount of Polymorph Treasure Cards, there isn't really anything amazing.
However, some noteworthy drops would be the wall paintings. They're quite common and there are loads of different ones. You may be familiar with them if you quested through Celestia's District of the Stars.
Closing Thoughts
---
I wouldn't rate the Astrologer's Hoard Pack amongst the top packs as the items fall mostly in the average category. Also, there isn't really that one item you MUST get for your wizard like we've seen from the mounts in the Ghulture's Hoard Pack. I'd say give it a try if you're interested, perhaps you will get lucky and get your hands on a mount or the gear to use for stitching.
What are your thoughts on the Astrologer's Hoard Pack?
Leave us a comment below!