June 19, 2016  October 3, 2018
Pirate101 Kane Gear Guide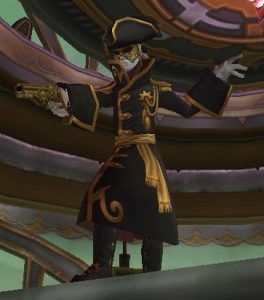 The gear is dropped by Kane in the final battle of Valencia 2 and by Captain Handle, who you fight at the end of the your Presidio companion promotion quest. Since the Captain Handle battle is not repeatable, Kane is going to be the main source.
Kane drops several hats, outfits, boots, totems, charms, and rings for every class.  He also drops some gear for any class, mounts and pets.
On a side note, the Pirate101 Kane dungeon provides a lot of gold for a full team (roughly 75-100K in gold and another 40-50K from gear).  So if you need gold and grow tired of the Moo tower drop rates, you now have the option to spend some quality time with Kane…
Happy farming!
Many thanks to Sierra who provided the gear to help start this guide.
Any Class
Buccaneer
Musketeer
Privateer
Swashbuckler
Witchdoctor
If you receive something not listed, please crop it and post it in the comments!