March 26, 2015  October 16, 2018

With the spring update of 2015, Wizard101 brought forth a new way to dungeon – the One Shot Dungeon! They are a hybrid between a Hoard Pack, and a Housing Gauntlet. Their price is 500 crowns per use!

You buy the gauntlet, and then you and three friends can go through it once.
Like a hoard pack, these gauntlets will give you a chance at new unique gear, weapons, pets, and even a mount!
You can set the difficulty of these gauntlets, and you can also use dungeon recall with these.
These are tiered, so the amounts of HP and ranks will be different for lower levels, as this is for the highest level (which is 80+)
You cannot port into these dungeons, even if you do not have a full group.

There are two different one shot dungeons to start out with – Baddle of the Bands and Tanglewood Terror
Tanglewood Terror
In the Wizard101 Tanglewood Terror dungeon Mrs. Dwagger is in a sticky situation! Something has taken over Wysteria, and is turning the vines against everyone! Even worse, they are causing.. MASSIVE PUNS! Can you stop the puns, and save Wysteria?
First fight

4 Meanest Flytrap – Myth Rank 12 Mob – 2,575 HP
Second fight

4 Dead Beets – Death Rank 12 Mob – 2,750 HP
Love to spam weakness, bad juju, and plague.
Third fight

4 Dispargaus, Life Rank 12 Mob – 4,275 HP
Love to spam gnomes.
Health and mana wisps appear after you beat them.
Fourth (and final) Fight

 Forest Grump – Rank 12 Fire Boss – 6,000 HP. 3 Forest Nymph – Rank 12 Storm Mob – 2,500 HP
This one is a fairly standard fight from our test runs. The Forest Nymphs are fond of using Tempest or Storm Lord (with a cool new animation!) on their first turn, so come into the fight expecting that. Forest Grump himself seems to be a standard boss enemy. We haven't observed anything cheat-wise!
Unique Drops
Here are some of the drops from the Tanglewood Terror dungeon.
Hat, Robes, and Boots
Cap of the Tanglewood Hero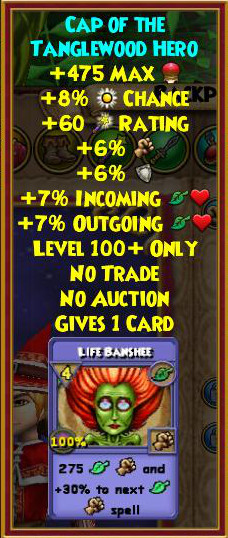 Tanglewood Terror Coif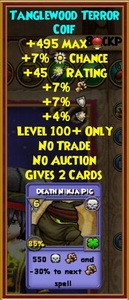 Cap of the Plant Punisher

Thanks to Destiny Stormflower in comments
Tanglewood Terror Robes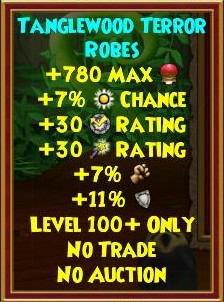 Tanglewood Hero's Footgear
Terror of Tanglewood Shoes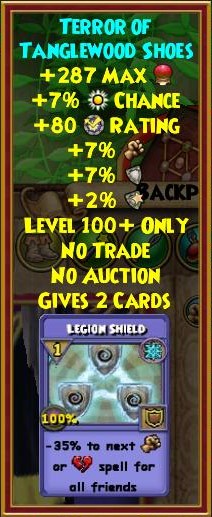 Thanks to Destiny Stormflower in comments
Tanglewood Terror Spear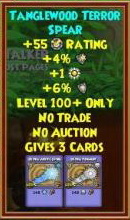 Tagnlewood Hero's Nettle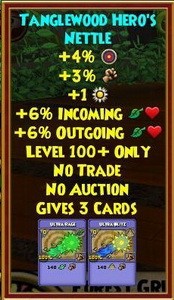 Thanks to James in comments
Stained Glass Roller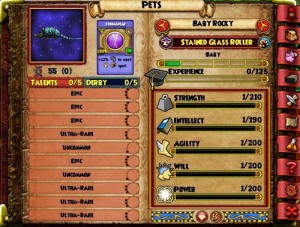 Thanks to Jonathan Lester in comments
Tanglewood Stalker