November 17, 2017  January 31, 2022
Empyrean Castaway Bundle
---
Another world, another bundle! Empyrea Part 1 brought us the Empyrean Castaway Bundle filled with wonders themed purely from the first part of this mysterious world. Big thanks to Kingsisle for providing the bundle for us at Final Bastion to review and share with you.
The bundle provides you with the following:
Castaway's Bungalow
Junk-Copter Mount with +50% Speed Boost
Puffy Packfish Pet
Raider Scrap Outfit
Raider Scrap Blaster Weapon
1 Month Membership or 5,000 Crowns
Puffy Packfish
The Puffy Packfish is a Life pet that looks absolutely adorable with its enormous eyes and the way it wiggles from side to side. Its stats aren't that bad for a first generation! It comes with two talents that haven't been seen before: Myth-Boon and may cast Calm. In addition, it has two may cast heal talents: unicorn and sprite queen.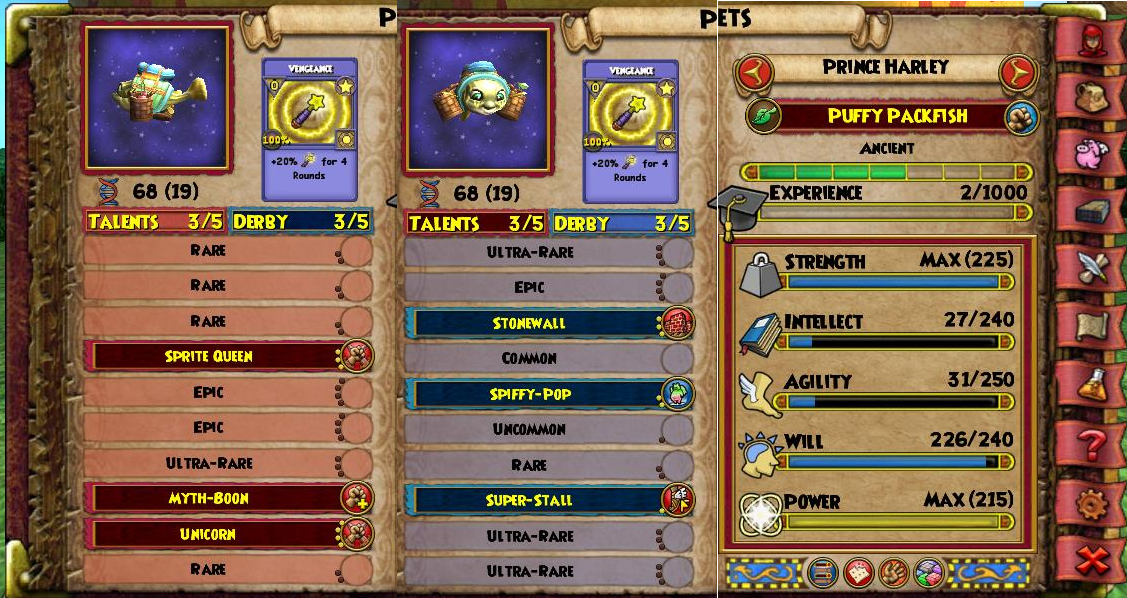 Junk-Copter Mount
The junk-copter mount comes with a 50% speed boost, woohoo!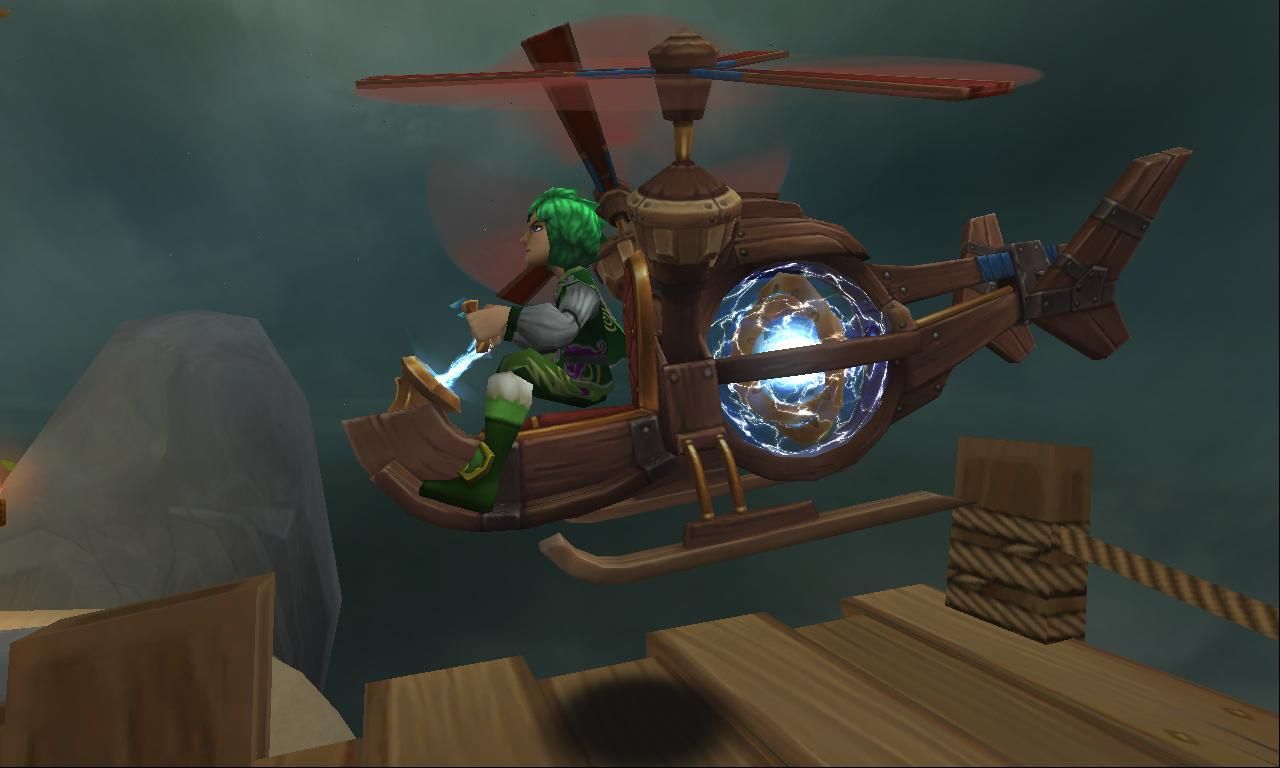 Raider Scrap Outfit
The Raider Scrap attire is pretty nice. Each level comes with two utility cards on each gear piece. That's a lot of utility! The looks are once again a disappointment to me, as a girl. I'd like gear to look a little more female. This gender neutral gear just isn't pretty to wear!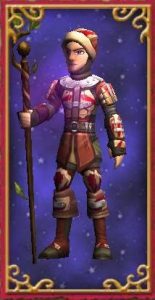 Any Level Raider Scrap Attire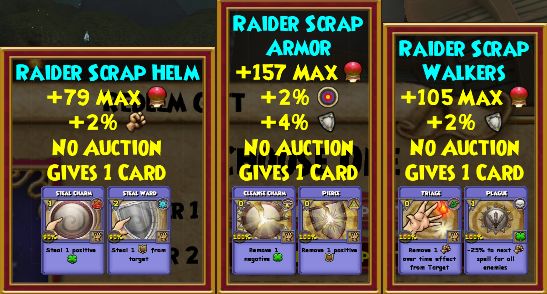 Initiate Raider Scrap Attire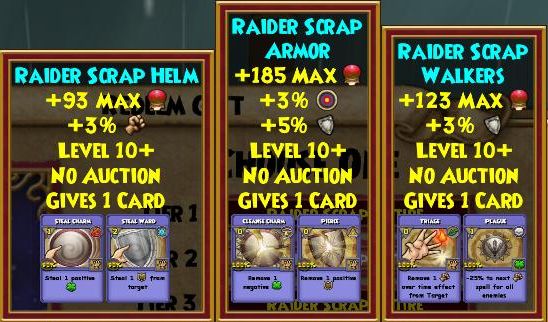 Adept Raider Scrap Attire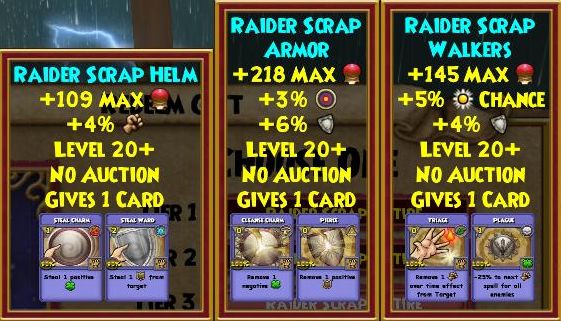 Magus Raider Scrap Attire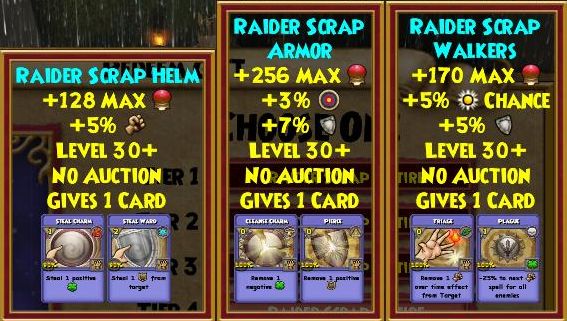 Master Raider Scrap Attire
Grandmaster Raider Scrap Attire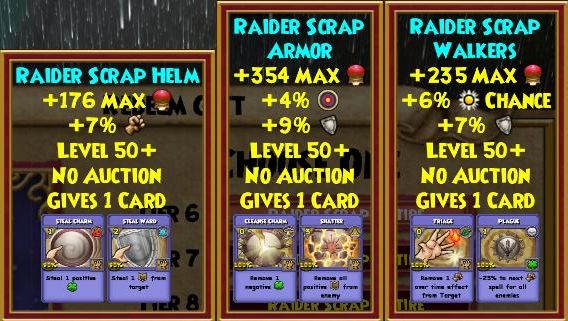 Legendary Raider Scrap Attire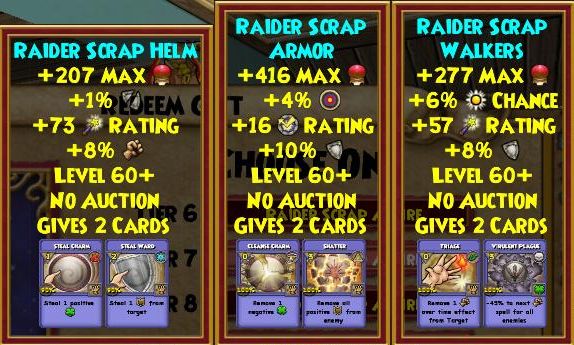 Transcendent Raider Scrap Attire
Archmage Raider Scrap Attire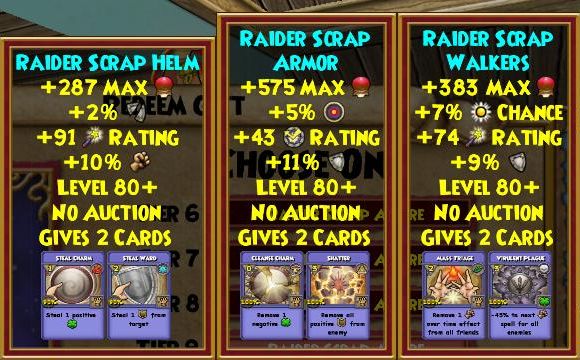 Promethean Raider Scrap Attire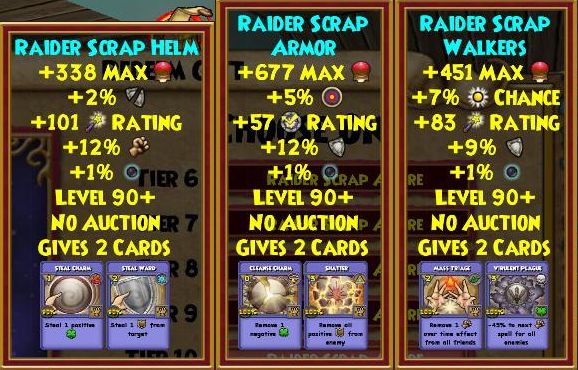 Exalted Raider Scrap Attire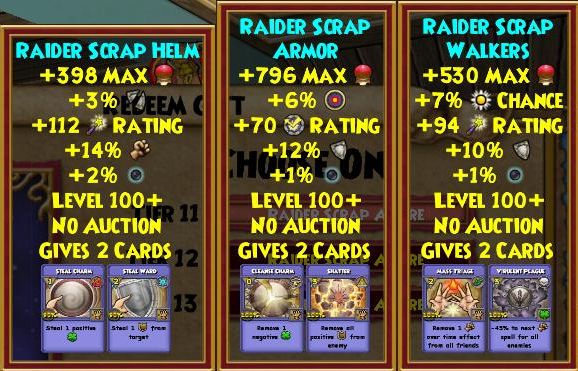 Prodigious Raider Scrap Attire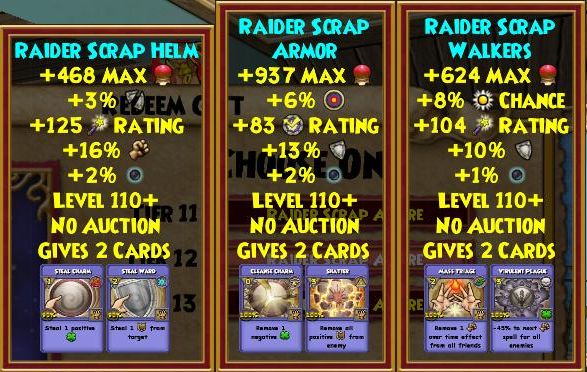 Champion Raider Scrap Attire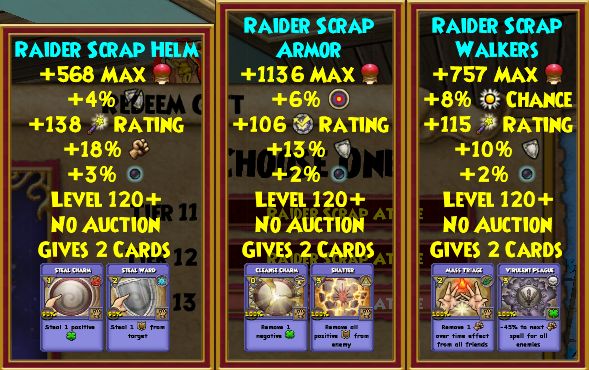 Visionary Raider Scrap Attire
Raider Scrap Blaster Weapon
The weapon looks very cool! Starting from level 100, it has a may cast, like most bundle weapons have these days. This time, it's a maycast Dragonspear (the blade that gives you 10% pierce).
Any Level Raider Scrap Blaster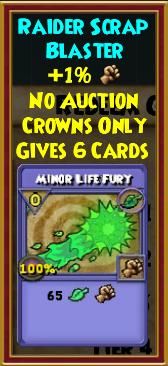 Initiate Raider Scrap Blaster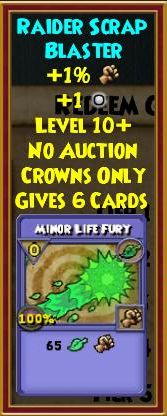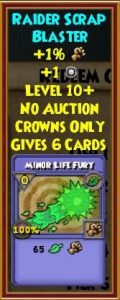 Adept Raider Scrap Blaster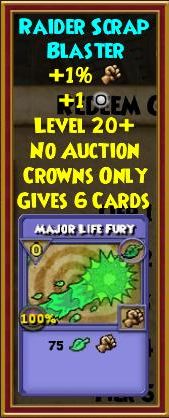 Magus Raider Scrap Blaster

Master Raider Scrap Blaster

Grandmaster Raider Scrap Blaster

Legendary Raider Scrap Blaster

Trascendent Raider Scrap Blaster

Archmage Raider Scrap Blaster

Promethean Raider Scrap Blaster

Exalted Raider Scrap Blaster

Prodigious Raider Scrap Blaster

Champion Raider Scrap Blaster

Visionary Raider Scrap Blaster
Castaway's Bungalow House
The house is pretty awesome, even if it leaks a little on the inside! I like how at times it's raining really heavily and at times just drizzling. This house comes with a battle circle, so you can PvP all your friends in the rain now! The house has a bar inside, with behind it a "lost and found" box, that will grant you one item every day if you interact with it. It seems to offer a variety of things: I've gotten housing items (Short Tiki Totem, Pie and Bone), pet snacks (Hot Ginger Snaps, Sandy Corn), treasure cards (Mutate Shark, Mutate Wyvern, Giant and Colossal), seeds (Dandelion, Maltese Tiger Lily, Fish on a Vine) and reagents (Diamond).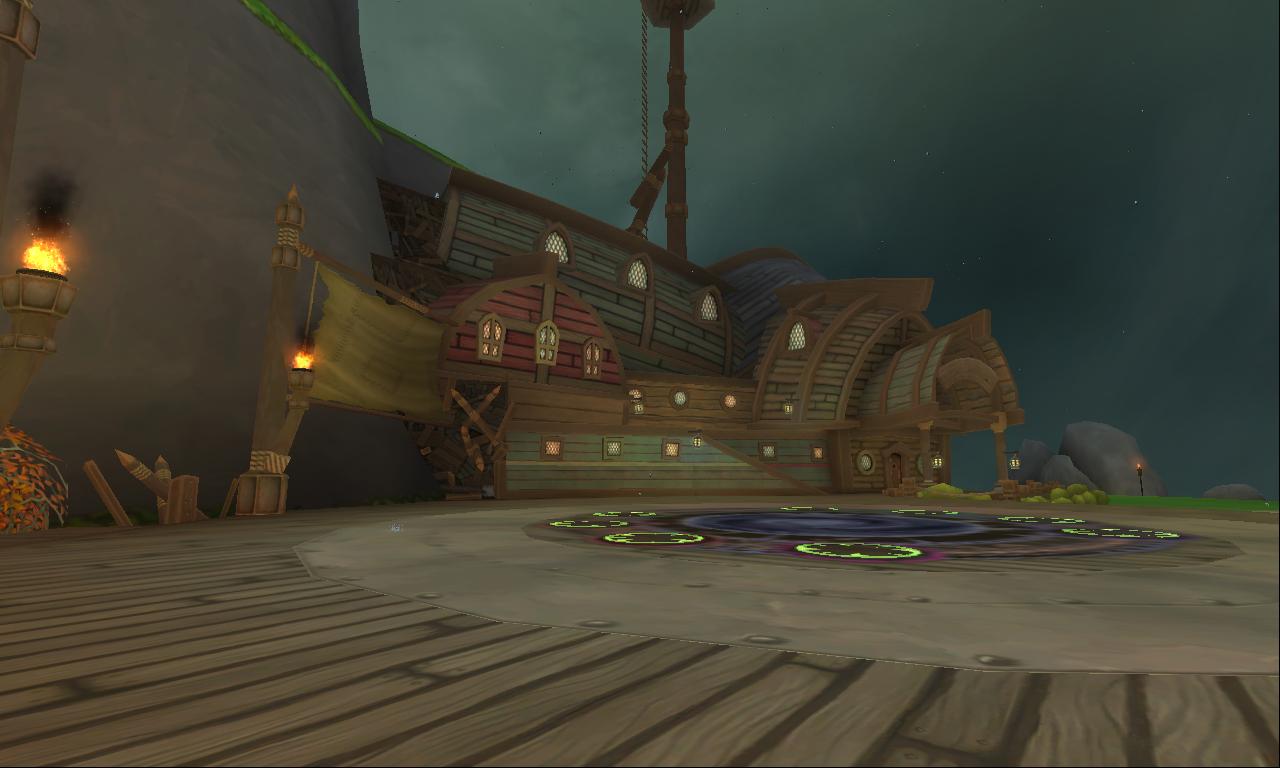 Are you looking forward to obtaining this brand new bundle?
Don't wait any longer and head to Gamestop right now!