The Health Ring: a Quick Visual Guide
Most of the time, we monitor our health in-game by glancing at the red globe in the lower left-hand corner of the screen. It's a fast, simple way to check your wizards well-being. However, when a battle begins, an additional method for viewing this stat becomes available: the health ring. Best of all, this ring can be viewed by all players, meaning that you can even see the health of other wizards, not just your own.
To help illustrate where the health ring is located and how it works, we can examine a series of screen shots from a recent battle between Kevin the Noob and a lost soul.
In this first image, you'll see that the match is just beginning. Let's look at the two primary indicators of Kevin's health: one arrow is pointing at the globe we normally use to see this. The other arrow is pointing inside of the platform where combatants stand. Look carefully at the green circle with a thorny, irregular shape: that is the health ring. Right now it is looking green and complete…Kevin is in good shape!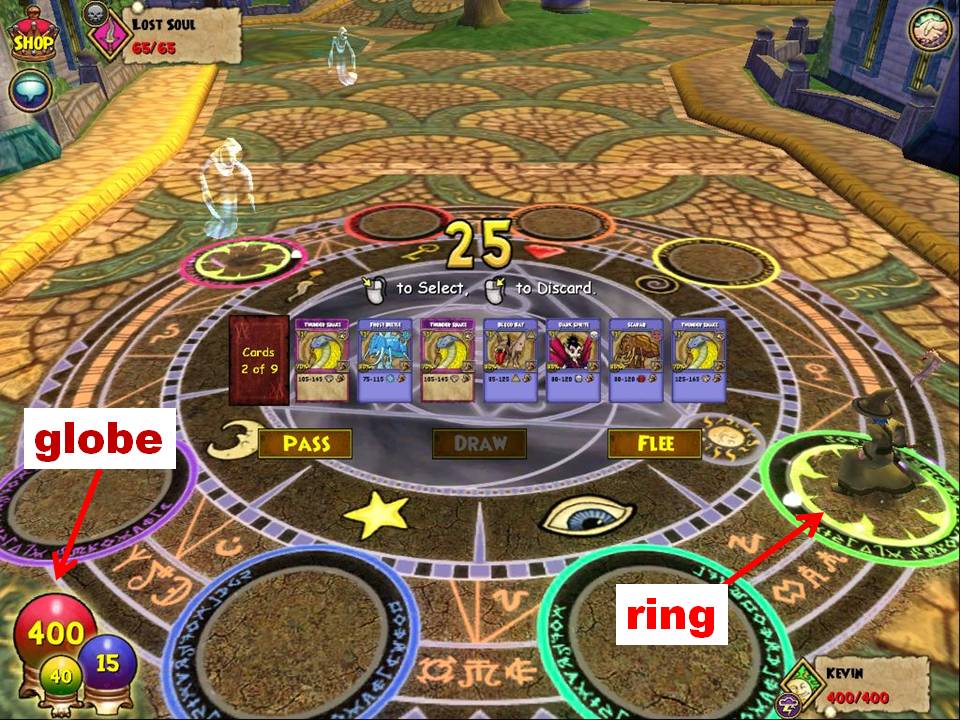 In the next image, we see that Kevin has sustained a little damage: the globe has lost some of it's red stuff, and the health ring is no longer complete…a little piece of it is now missing. Also, the health ring has changed colors…instead of a full, healthy green, it is now more of a cautionary yellow. But don't worry, Kevin, it's not so bad! You can do it!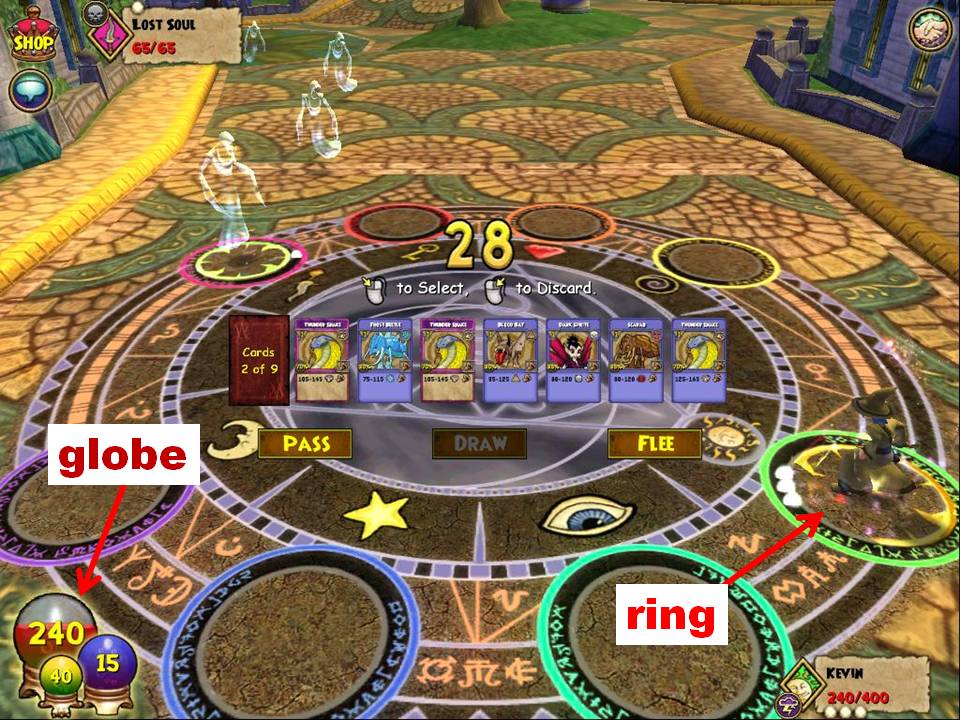 Uh-oh. In this third image, the battle has definitely taken a downturn for Kevin. At 155 health, his globe is more than half empty…and his health ring is more than half gone. Also, the ring has changed from yellow to red…never a good sign.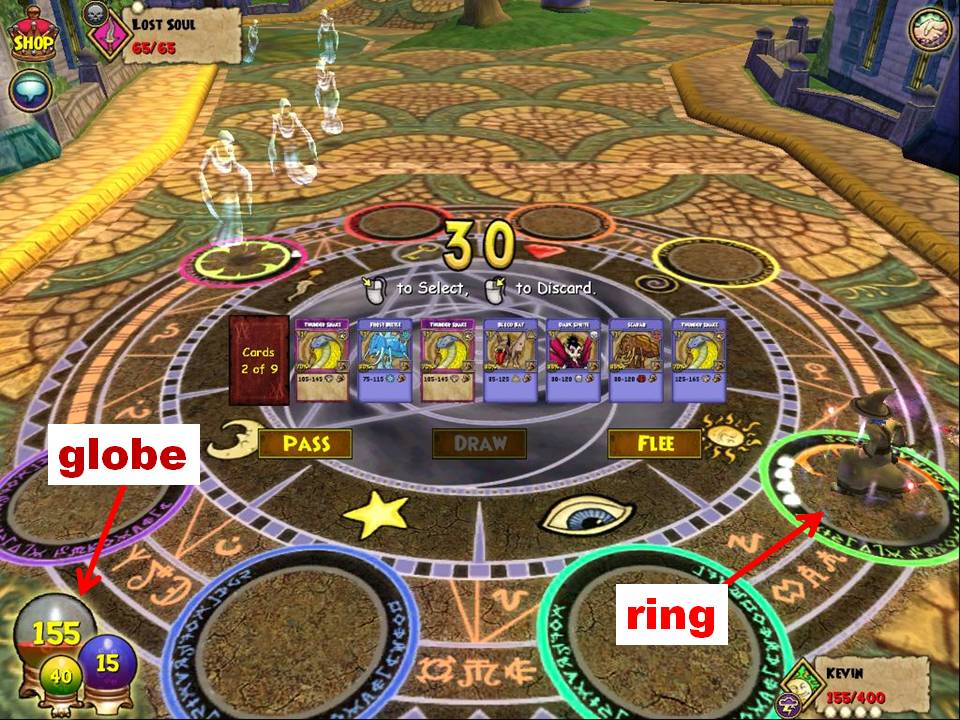 Ouch…Kevin is down to 5 health. The globe is almost empty, the health ring no longer visible…oh no!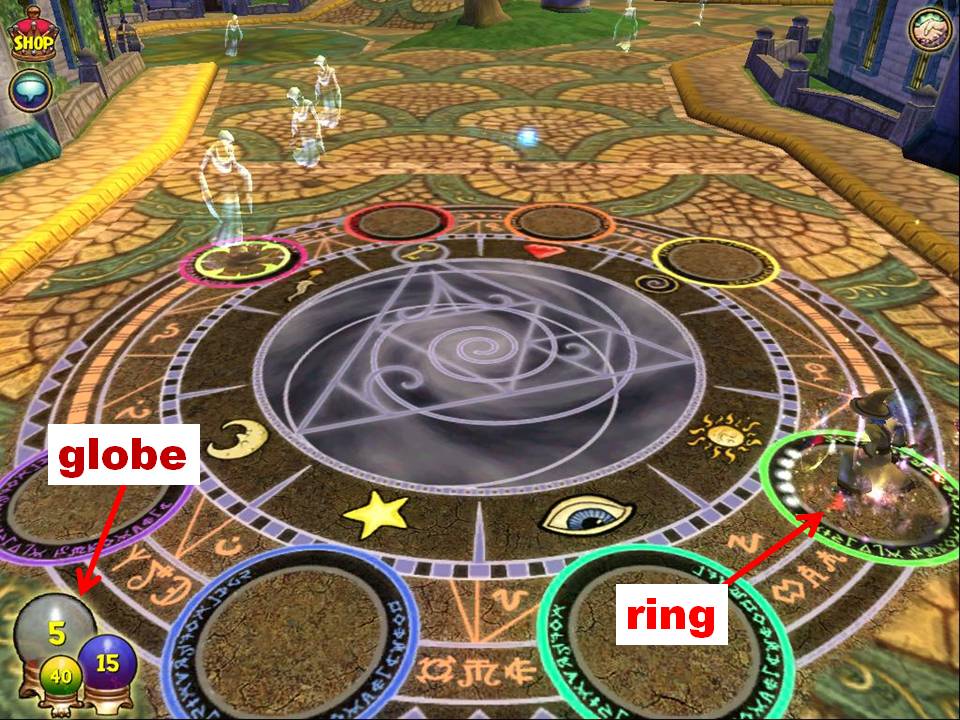 For the sake of Kevin's dignity, we won't say how the fight ended. The good news is that you can now glance at any wizard in a battle and quickly determine the status of their health. (And don't worry Kevin, there is always next time!)